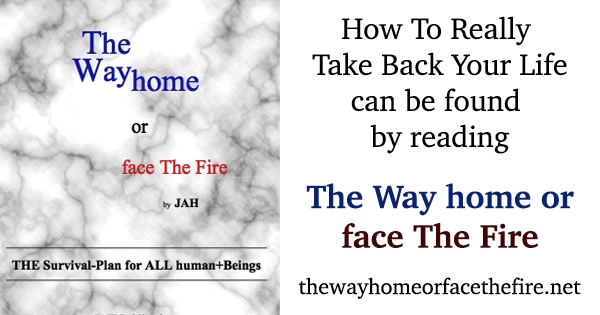 "Sure, we're going through tough times. No one denies that. But those that survive, those that get through the darkness and into the light will be those of sound body and mind, those with a connection to God. You can be of the few that make it. With a new year on the horizon, this is the perfect time to start. I believe in you. I know you can do it."

by Mike Stone, featured on henrymakow.com

There's a lot of talk in so-called conservative circles about "taking the country back." Whether it's talk of the midterms, cries of "Arm up!" or my personal favorite: "Trump in 2024!", the talk appears to be accelerating at a rapid pace.

I've got news for anyone thinking along those lines: you're not taking the country back. America is dead. It's gone. You can't take it back. What you can take back is your life.

It's easy to talk about taking the country back, because the blame for America's downfall can be conveniently projected onto others: "It's the Democrats, it's the socialists, it's the idiots in face masks who fell for the virus hoax! It's them, not us!"

Taking your life back is just the opposite. It's taking full responsibility for a lifetime of poor choices and bad decisions. It's owning up to your own shortcomings. It's feeling sorrow, remorse and contrition for all the people you hurt in your past. It's about blaming no one but yourself.

COWARDS NEED NOT APPLY

Taking your life back takes courage. It takes intelligence and determination. If you want a medal for bravery, this is where you'll find it.

Taking your life back is not for the squeamish and that's the primary reason why most people will never do it.

You won't find any mask-wearers taking their life back. You won't find the gloom-and-doomers doing it. It's much easier for them to lie down like cowards and say it can't be done, to curl up in a fetal position and cry, "We're all gonna die! There's no hope for anyone! Humanity is doomed! Boo-hoo-hoo!"

You could make an argument that the entire virus hoax is designed to get people NOT to take control of their lives; to submit, to surrender, to become part of the herd, dependent on authority to tell them what to think and how to behave.

Taking your life back is probably the most subversive thing you can do, and the thing the hoax-pushers fear most of all.

THE MIND/BODY/SPIRITUAL CONNECTION

Taking your life back is a three-part process. It consists of reclaiming your health, reclaiming your ability to think, and reclaiming your spirituality.