News about The Coronation Stone – Truth & Fiction
The fake Scottish Sandstone is to be moved from Edinburgh Castle to London for the Charles's fake coronation.
Truth:
The Stone of Destiny, not pictured being driven through Edinburgh in 1996 (as shown below), is in truth Jacob's Pillar Stone, used for inauguration ceremonies of Irish, Scottish and British kings for centuries. It's importance to the British-Israelites is that The Real Stone is the exact one that Jacob laid his head on described in The Bible.
Fiction: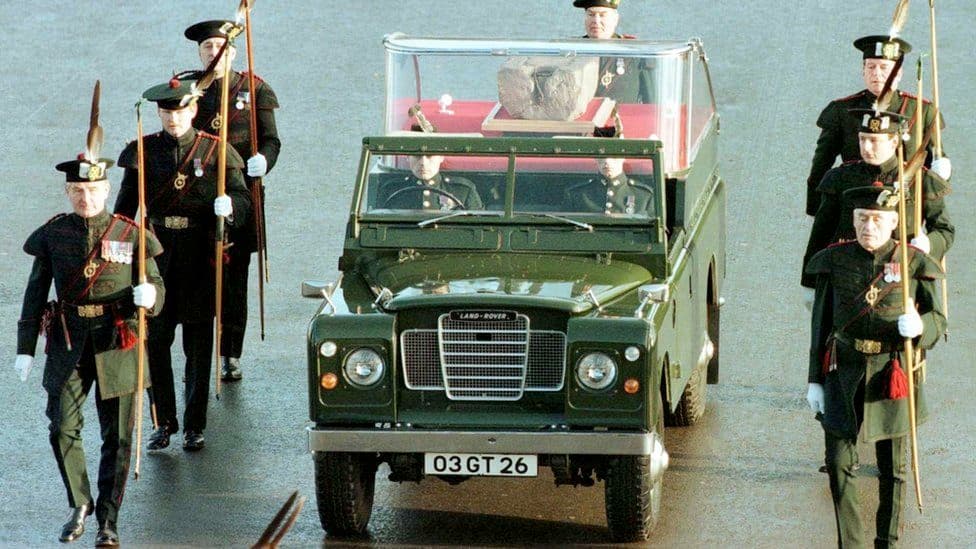 Made for public-consumption, to prepetuate the lie that Elizabeth was queen or that Charles could be.
The Queen sat above the fake stone when she was crowned in 1953; and it will feature in the ceremony for her son. The coronation date has not yet been set – Stone of Destiny to return to Westminster Abbey for coronation
If the Scots don't want Charles as their oppressive-ruler, then maybe it's time to bring out the Real Stone.
We know which one it is, as highlighted in Richard's letter
Truth:

The Real Stone is made of Porphyry, and much heavier.
Are they willing to finally HELP Christ or will they also keep of the charade?
The recent article on GM - Charles as Defender of Faith is Another Sick Joke focused on The Lord's quest for His Stone in Scotland. And I'd like to share other videos about the search for The Real Stone in Scotland that weren't featured in the article:
Richard Hall of Rich Planet spoke of the search in one of his shows:
Christ's Wants His Stone Back:
The Stone of Destiny - 2020 Vision:
There's also more post on DG about The Real Stone:
Is the too-hot-to-handle(?) fake British coronation stone/ "stone-of-destiny" being palmed off?
The Final Overturn of The Stone / Throne and British Monarchy – Christmas Day
As the corporate media focuses on the Scottish Sandstone being the coronation stone, we need to counter that propaganda with The Truth.
Truth:
JAH's Stone Page - The Lia Fail - Bethel Stone. and
JAH's Lia Fail Page.