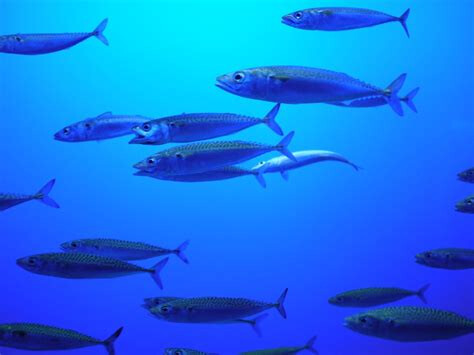 Many theories had been doing the rounds among fisherfolk: an increase in hungry predators such as the bluefin tuna and dolphins, overfishing, and epizootic diseases in the Gulf of Lions – the Mediterranean's richest pasture for sardines, anchovy and mackerel.

However biologists at the French Research Institute for the Exploitation of the Sea (Ifremer) debunked these hypotheses in a report published Monday, concluding the sardines were getting skinnier because their own food source – plankton – was drying up.>The microscopic marine organisms, which are carried along by tides and currents, have depleted by 15 percent while also becoming less nutritious. It's a consequence of global warming, given the plankton are usually fed by nutrients from cooler, deeper waters.

"Satellite images clearly show a drop in the quantity of microalgae in the mid-2000s … at the same time we started to see a decline in the size of sardines," says Jean-Marc Fromentin, a researcher at Ifremer.

More at link.
Also -
Using data to make fishing sustainable in the Mediterranean
The people along the coast in Tunisia live mainly from fishing. The Mediterranean has lost 34% of its total fish stocks in the past 50 years. Of the native species left, 93% are currently overfished.

For years, shrimp and other shellfish have been harvested from the seabed using dragnets. But rays, sharks, sea turtles, sponges and corals also ended up in the nets. The Med Bycatch project is trying to find more sustainable fishing methods to protect these endangered species.
What you watched Seaspiracy yet? – Netflix's 'Seaspiracy' Is Going To Change Your Thoughts On Seafood Forever
Concerning shellfish -
Leviticus 11:9 These shall ye eat of all that [are] in the waters: whatsoever hath fins and scales in the waters, in the seas, and in the rivers, them shall ye eat.
11:10 And all that have not fins and scales in the seas, and in the rivers, of all that move in the waters, and of any living thing which [is] in the waters, they [shall be] an abomination unto you:
How would Christ handle Environmental Issues?
Here's a clue - JAH's Environmental Page