Moscow prepares a show of force: "NATO will realize it has no air defense - Ukrainian Patriots will not see Kh-47M2 Kinzhal"
"Patriot system will be destroyed immediately"
The Russian nuclear-capable Kh-47M2 Kinzhal hypersonic surface-to-air missile proved to be highly effective and invulnerable to enemy air defenses during the special military operation in Ukraine.
This was stated by the Chief of the General Staff of the Russian Armed Forces and First Deputy Minister of Defense V. Gerasimov speaking to foreign military followers.
Kinzhal was one of six Russian strategic weapons unveiled by Russian President Vladimir Putin on March 1, 2018.
For the first time it was used in the special military operation in Ukraine.
"For the first time, ultrasonic weapons were used in combat conditions.
The Kinzhal airborne missile system proved to be highly effective and invulnerable to the reactions of Ukrainian air defenses, " the Russian military chief told TASS.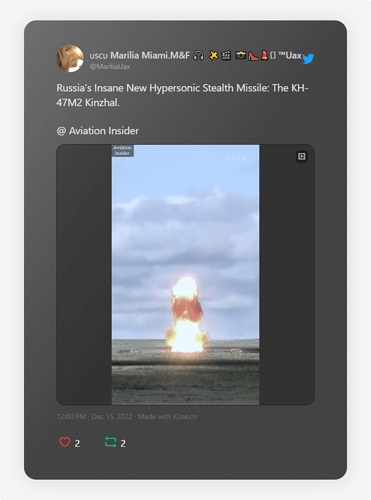 https://twitter.com/MariliaUax/status/1603449931255058432
Destroyed Ukrainian Infrastructure
Gerasimov went on to reveal that Russian long-range missiles hit more than 1,300 critical Ukrainian facilities during the special military operation.
The army chief said the strikes "significantly reduced the combat potential of the Ukrainian armed forces, disrupted the command and control system of the troops, paralyzed the work of the military-industrial complex and significantly hindered military deliveries."
By Patriot
Kinzhal was specifically designed to overcome any known NATO air-missile defense systems, including the MIM-104 Patriot, Terminal High Altitude Area Defense and Aegis.
Instead of using the latest supersonic glide and scramjet missile designs, it uses more classic ballistic missile technology with a supersonic speed of Mach 10-12.
Because it flies at supersonic speeds within the atmosphere, the air pressure in front of it forms a plasma cloud as it moves, absorbing radio waves.
Thus, the missile can achieve what is called "creature stealth".
The missile has a range of 2,000 kilometers when fired from MiG-31Ks and up to 3,000 kilometers when fired from Tu-22M3 bombers.
The Kinzhal's supersonic speed gives it better target penetration characteristics than lighter, slower ballistic and cruise missiles.
When armed with a 500 kg conventional warhead, the missile's impact can generate more than 16.9 gigajoules of kinetic energy, or the equivalent of 4,000 kg of TNT explosives.
The missile can also be armed with a 100–500 Kt nuclear warhead.
Despite its speed, the missile can achieve high accuracy thanks to an advanced GLONASS assisted inertial navigation system and an optical search system.
Gerasimov's remarks about Kinzhal were intended to warn Ukraine, which is set to receive Patriot artillery, from the United States and other NATO nations.
This is also Moscow's big bet: A quick destruction of the Patriot anti-aircraft system by the hypersonic Kh-47M2 Kinzhal will cause strong tremors in the West.
Several states including Poland, Romania, etc. will realize that they have no air defense against modern Russian weapon systems.
Yesterday, B. Putin stated that he is not worried. Russia is ready to neutralize any Patriot system given to Kyiv.