Masters of War by Bob Dylan
You're welcome.
Understood.
Focus on the good...
Good advice.

Thank-you.
Dreams are ambiguous in that they can have more than one interpretation. This particular dream was not prophetic. Most interesting (to me) was how the dream reset itself with an alternative (and improved

) version. My interpretation is that WAR IS NOT A SOLUTION.

or how about maybe your dream was telling you that we don't actually die - as we well know.
The bodies die; like those animals that shed their (dead) skins, and they carry on.
Maybe so. Dreams can have more than one interpretation.
For sure the body of that young woman in the dream died. I was running away and continued to do so, never actually seeing the shooter or shooters. I suppose she thought she could find shelter there ... do not know, but it was a mistake. Grateful for the reset as I would have awakened very disturbed and instead felt no upset at all, but remained fully at peace.


Possibly, it was prophetic

, but not in detail because the ages of the physical bodies were those from 40 years ago and the childhood friend's body that was blown to pieces, I have not seen her in 40+ years and she was someone I knew when I was living on the East Coast (NY).
Were your bodies childhood bodies or like now?
If like now then it could possibly be prophetic; about New York (/East coast - where the evil UN is; amongst other) at least.
Like all those many apocalypse-USA pictures depict: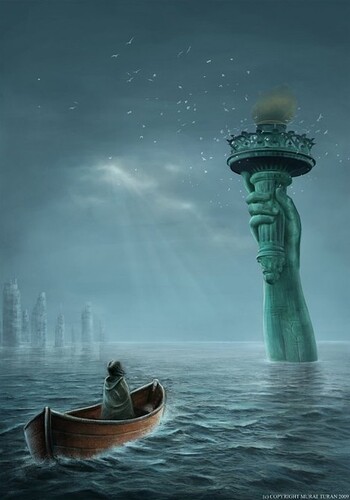 Closer to childhood bodies (not children, but young adults possibly as young as 17 or 18 years of age) and not at all the current age of what the bodies are or would be now.
New York (particularly New York City, but not isolated only to the city) is (or was; I've not been there in a very, very long time) is evil indeed. For one who is sensitive to their surroundings, the evil nature can be felt or sensed even though it may not be visual to the natural eyes.
Understood.
Yep, one of the centres of world government: U.N./ Wall Street/ Central bank etc.; probably more power than Washington D.C?
And with a very high concentration of Khazarian mafia.
Yes, understood.
Makes sense.
Washington is probably just New York's rubber stamp?
Yes, for sure. Sometimes referred to as 'Jew York'.

That is claimed to be an anti-Semitic remark, even though they are mostly not Semites. Insane.

LOL
Yes, totally insane


Peace be upon you, while reading the following scripture, the thought crossed my mind to share it here in regards to dreams

Found in King of kings' Bible - Aristeas
THE LETTER OF ARISTEAS*
-o-
PRAISING THE LAW OF MOSES
(*Who is mentioned in Rev. 23:9)
The letter was written during the time-period between
The Old and New Covenants and, as well as explaining
some of the principles of The Law, it explains the
source of the Greek Septuagint.
Chapter 9
9:11 Having praised him, the king asked the next, How he could be free from disturbing thoughts in his sleep? And he replied, 'You have asked me a question which is very difficult to answer, for we cannot bring our true selves into play during the hours of sleep, but are held fast in these by imaginations that cannot be controlled by reason. For our souls possess the feeling that they actually see the things that enter into our consciousness [during sleep].
9:12 But we make a mistake if we suppose that we are actually sailing on the sea in boats, or flying through the air, or travelling to other regions, or anything else of the kind. And yet we actually do imagine such things to be taking place.
9:13 So far as it is possible for me to decide, I have reached the following conclusion. You must in every possible way, O king, govern your words and actions by the rule of piety, that you may have the consciousness that you are maintaining virtue and that you never choose to gratify yourself at the expense of reason and never by abusing your power do despite to righteousness.
9:14 For the mind mostly busies itself in sleep with the same things with which it occupies itself when awake. And he who has all his thoughts and actions set towards the noblest ends establishes himself [in righteousness], both when he is awake and when he is asleep. Wherefore you must be steadfast in the constant discipline of self.'
There's a hole in this country where its heart used to be
And old glory's divided, on fire in the street
They say building back better will make America great
If that's a wave of the future, all I've got to say
Stick your progress where the sun don't shine
Keep your big mess away from me and mine
If you leave us alone, well we'd all be just fine
Stick your progress where the sun don't shine
They invite the whole world to come live in our land
And leave our countrymen dying in Afghanistan
They say let go of Jesus and let government save
You can have back your freedoms if you do what we say
Stick your progress where the sun don't shine
Keep your big mess away from me and mine
If you leave us alone, well we'd all be just fine
Stick your progress where the sun don't shine
They shut down our pipelines
And they shut down our voices
They shut down our main streets
And they shut down our choices
They bent us all over
But it's all over now
'Cause we've figured it out
We ain't backing down
Stick your progress where the sun don't shine
Keep your big mess away from me and mine
If you leave us alone, well we'd all be just fine
Stick your progress where the sun don't shine
Where the sun don't shine
Where the sun don't shine
Where the sun don't shine