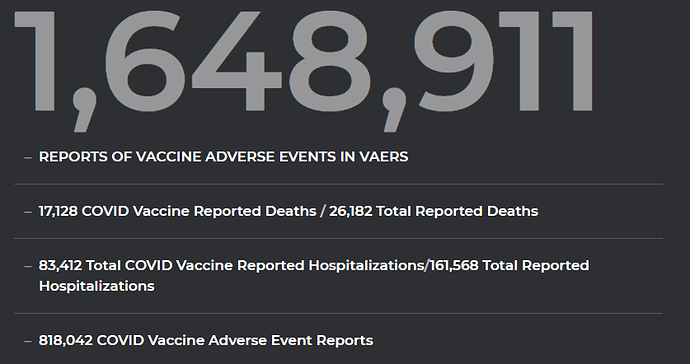 According to the lastest report from the Vaccine Adverse Event Reporting System (VAERS), Pfizer tops the list of COVID shots in which deaths have been reported out of the three manufacturers experimenting on the People in violation of the Nuremberg Code.

According to OpenVAERS, there are 1,648,911 reports of vaccine adverse events in VAERS.

Of those, there have been 17,128 COVID shot deaths reported in a total of 26,182 total reported deaths.

Additionally, there were 83,412 total COVID shot hospitalizations reported and that is out of a total number of 161,568 total reported hospitalizations.

The report also confirms that there were 818,042 adverse effects in response to the COVID shots reported through October 15, 2021.

Continued at the link.