UK PAYMENT CHOICE ALLIANCE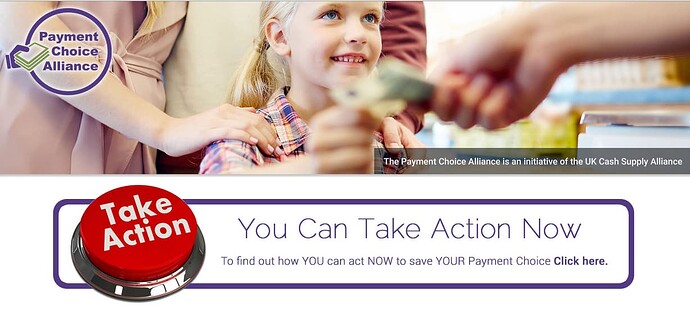 The top priority of the Payment Choice Alliance is to ensure the British public get the Payment Choice they deserve.
The Payment Choice Alliance has contacted EVERY MP in the UK, and has run an event in Westminster which all MPs were invited to attend. So EVERY MP knows about the Alliance.
How do the Alliance know what the British public believe they deserve?
WE ASKED THEM.
YouGov conducted a survey on behalf of the Payment Choice Alliance in early June 2023.
That survey revealed that only 3% of the UK adult population have stopped using cash entirely. This in turn means than over 50 million adults continue to use cash.
So cash remains of great interest to the vast majority of the British public.
The survey also told us that 88% of the public do NOT support the UK becoming a so-called "cashless" society.
And how about a UK Payment Choice Act?
The survey confirmed that 71% of the British public want a law put in place to guarantee they cash can use their cash, where and when they choose.
And that law is what the Payment Choice Alliance will work very hard to deliver!
While they have contacted every MP, they encouage Britons to do the same by letter or email
An email is obviously quicker and less expensive, but a letter can still be a powerful way of communication.
Dear ( MPs first name),

I am writing to you about my serious concerns in relation to cash acceptance in Britain.

Many retailers and businesses are now turning away customers like me, customers who continue to want to use cash.

This is completely unacceptable.

A recent YouGov/ Payment Choice Alliance Survey (June 2023) showed that 97% of the British public still use cash. The same survey revealed that 71% of the public want a UK Payment Choice Act passed to give them the right to use their cash - their £ - where and when they choose.

I am one of the 97% and 71%.

Please confirm that you support a UK Payment Act and what you will do to ensure one is approved by Parliament without delay.

Your response will be important as I decide who to vote for at the next General Election.

I look forward to hearing from you.

Yours sincerely
YOUR NAME
Patrick Hutchinson calls for people to take action to bring about a Payment Choice Act
As Patrick says in this heartfelt video, whether you are a regular cash user or not, it is important to know and understand the grave implications of losing it as a payment choice. Please take action and write to your MP about this. We even have a template to help you do so. And as Patrick urges, let's help bring about a Payment Choice Act for the UK that means cash will continue to be accepted in shops and businesses for the foreseeable future.
More on their efforts – "UK Payment Choice Act"