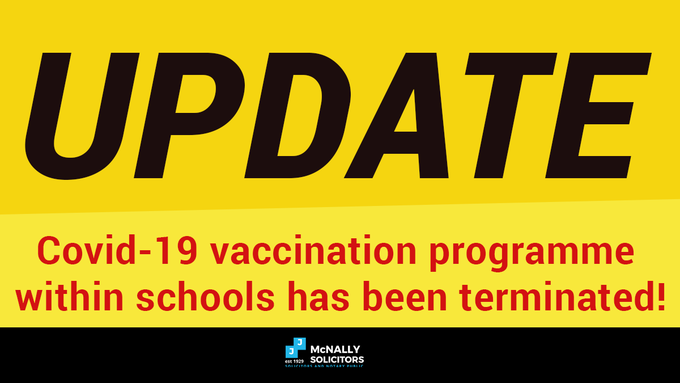 THIS IS NORTHERN IRELAND, AWAITING CONFIRMATION REGARDING WHOLE OF UK.

BREAKING NEWS. Update on Judicial Review challenge (in Belfast)

We (John J McNally & Co Solicitors) are delighted to note that the Department of Health (NI) have formally confirmed, through their solicitors, that their Covid-19 vaccination programme within schools has been terminated, thereby removing the unacceptable risk that a healthy 12-15 year old child could receive a Covid vaccine in the absence of their parents and, furthermore, in the absence of parental consent.

Whilst the primary objective of our challenge has now been achieved, our substantive challenge against the ministerial decision to disregard the scientific advice of the JCVI will continue.

We are acutely aware, through the UK Government's own safety surveillance data, that thousands of healthy children in the UK have reported adverse events in the aftermath of vaccination, many of these injuries can only be described as serious.

Our challenge has now been listed for an initial 'Leave' (Permission to proceed) hearing on the 21st of March.

We are very grateful for the overwhelming support that we have received from the community in relation to this matter.

Our office will continue to advocate for children who have been left voiceless and defenceless during the past 2 years.