Otero Group consolidates its expansion with new luxury projects in the Campo de Gibraltar area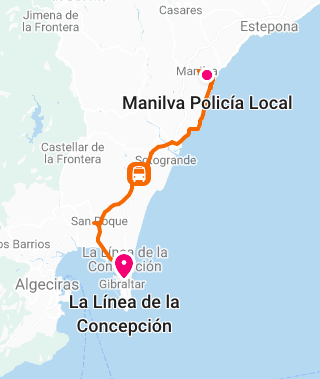 The total investment will be around 35 million euros for 25 luxury villas which will create 120 direct and indirect jobs.

The real estate construction is going extremely well on the Costa del Sol, and the projects on luxury villas multiply along our coast. Demand has not stopped despite the health crisis and the sale of villas with sea views are very much in demand.

Along these lines and constantly looking for new challenges, the promoters Otero Group have embarked on the development of Oceanic, a residencial development of 25 luxury villas situated in Manilva, between Sotogrande and Puerto de la Duquesa. It is its fourth real estate project in the municipality of Campo de Gibraltar, where the developer company is taking full control of the design, construction and marketing.
The new development is called Oceanic, which is Manilva – it's not in the Province of Cadiz, but in Malaga Province (Andalucia), on the edge of Cadiz.
"Manilva is a hidden jewel and often overlooked. Its landscape mainly consists of small hills separated by picturesque creeks forming pine tree valleys. The coastline combines beautiful coastal cliffs with sandy beaches of extraordinary quality such as El Negro, La Duquesa, La Chullera, and Los Toros. If you are looking to immerse yourself in the Spanish lifestyle, then it's a perfect choice. You can purchase a little more for your money in Manilva than in Marbella or Sotogrande." (Discovering Manilva, The Property Agent).
Sotogrande – Who owns property in this luxury development?
Sotogrande is the largest privately owned residential development in Andalusia Spain. Originally a gated community, it is located in the municipality of San Roque and is composed of a 25 square kilometres stretch from the Mediterranean Sea 25 km east of Gibraltar, back into the foothills of Sierra Almenara, providing contrasting views of sea, hills, cork forests and green fairways, including the Rock of Gibraltar and Morocco.

Some of the richest and most powerful families of Spain, Russia, and the United Kingdom reside in Sotogrande. Current and past regulars and inhabitants of Sotogrande include Peter Caruana, former Chief Minister of Gibraltar, Fabian Picardo, current Chief Minister of Gibraltar, Tony Blair, Emilio Botín, Ana Rosa Quintana, Royal Shakespeare Company actor Mike Gwilym, Vladimir Gusinsky, Boris Berezovsky, businessman as well as Prince Louis Alphonse, Duke of Anjou, the legitimist pretender to the throne of France.
Just a question: Who can own such new luxury, especially with a collapsing economy?
---
On a sidenote: Spain has many British expats and those that own holiday homes. Gibraltarians also own property in Spain; some of it passed down from family. While this is another reason to maintain good relations with Spain, the best solution is to Unite The Campo.