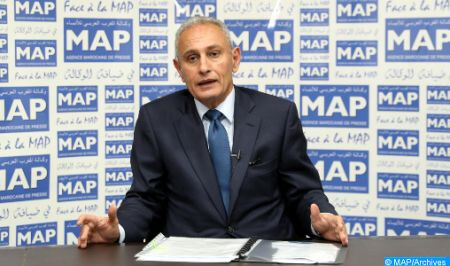 "Morocco is a key and very active partner not only within the Union for the Mediterranean but also in other important regional organizations such as the Forum of the two shores and Med 5+5," said Kamel who highlighted the proactive vision of the Kingdom in international relations.

"Morocco is an exemplary country in its way of being, proactive in its international relations. We can cite many examples: it is the first partner country of the southern shore of the Mediterranean in the European research program +Horizon 2020+, and also the first partner country at the African level of the European program Erasmus +," said the Secretary General of the UfM, recalling that since 2015, almost 10,000 Erasmus+ student and teacher mobilities have been organized between Morocco and the EU, in a wide range of disciplines and different study cycles.
The Union for the Mediterranean of 42 member states from Europe: the 27 EU member states and 15 Mediterranean partner countries from North Africa, Western Asia and Southern Europe. It was founded on 13 July 2008 at the Paris Summit for the Mediterranean, with an aim of reinforcing the Euro-Mediterranean Partnership (Euromed) that was set up in 1995 as the Barcelona Process. Its general secretariat is located in Barcelona, Spain.
The Union has the aim of promoting stability and integration throughout the Mediterranean region. It is a forum for discussing regional strategic issues, based on the principles of shared ownership, shared decision-making and shared responsibility between the two shores of the Mediterranean. Its main goal is to increase both north–south and South-South integration in the Mediterranean region, in order to support the countries' socioeconomic development and ensure stability in the region.
Med 5+5 – The 5+5 Dialogue serves as a sub-regional forum for the ten Western Mediterranean countries that take part since its creation, five from the north of the Mediterranean (Spain, France, Italy, Malta and Portugal) and five from the southern shore (Algeria, Libya, Morocco, Mauritania and Tunisia). It constituted one of the first prolific initiatives between Mediterranean countries and a prelude of the structures that were built with the Barcelona Process from 1995 onwards.