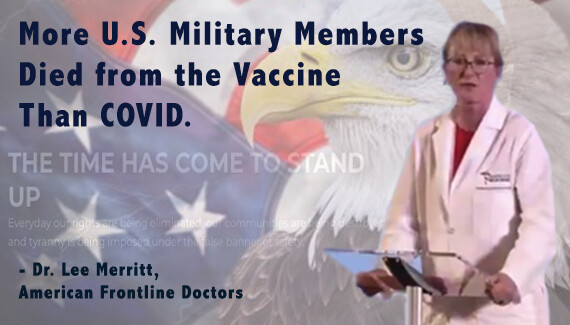 Dr. Lee Merritt: More U.S. Military Members Died from Vaccine Than COVID.
The 5-Year Fatality Rate of Myocarditis is 66%
Dr. Merritt (10-year Navy surgeon and member of American Frontline Doctors) -

There were only 20 deaths in 2020 of Covid of all the US Military.

We've had tumors and 80 cases of Myocarditis.

Myocarditis has a 5-year Fatality Rate of 66 percent.

The vaccine program killed more of our young active duty than Covid did.

In 31 years of the VAERS, there was 317 cases; now this year, there is 1,113.

Leukemia - that is 48 per year on average and according to VAERS we are now up to 229.

The question you have to ask is why are we not stopping this? We stopped many things for far less.

In my opinion, I think you have to look at your world view.

If you think we are fighting a virus, you are going to act like a victim.

If you think we are fighting a war, you are going to act like a warrior.

My argument is we are in a war. We have to determine who the enemy is.
Dr. Lee Merritt warns: Forced vaccines are a Holocaust-level crime against humanity