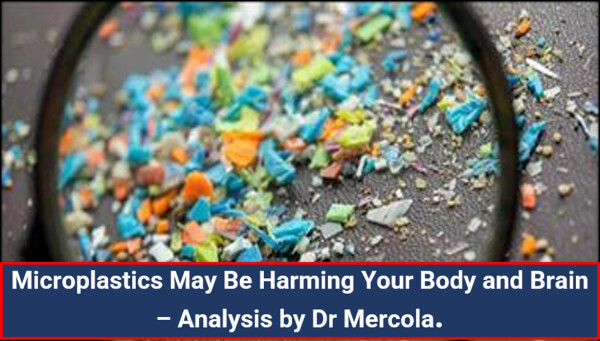 Analysis by Dr Mercola
Microplastics May Be Harming Your Body and Brain
Discarded plastic — both large and microscopic — circles the globe, choking our oceans and polluting our food supply, ultimately finding their way into your body where they can accumulate over time. In recent years, scientists have detected microplastic in all kinds of human tissues, including the placenta, lungs, spleen, liver, kidney, heart, brain and stool.
In 2022, Dutch scientists also confirmed the presence of microplastics in meat and milk, as well as the blood of both farm animals and humans.3,4 In all, nearly 80% of meat and dairy products tested contained microplastics. Shockingly, it was revealed that many feed producers will use expired food products in their processing — with the plastic packaging left on!
Microplastic Rapidly Enters Your Brain
In May 2023, The Guardian reported5 on Austrian research,6,7 which found plastic microparticles migrated into the brains of mice within two hours of drinking water contaminated with microplastic.
Continued at link.