@GodTaughtMeHow ,
Thank-you for the Scripture warning. It will be.
God bless
Insane, blaming water shortages on climate change and global warming?
Given Germany's dependence on Russian energy, it might not take much pressure from Putin to push it and the rest of Europe along with it, into an economic crisis.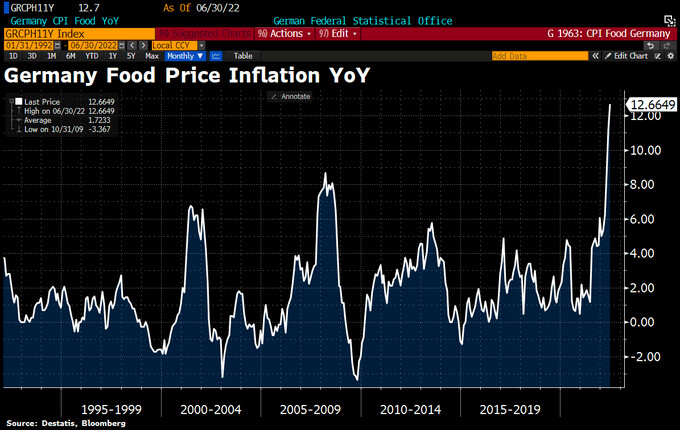 People should put their trust in God and The Lord instead of themselves or man...
2:23 The guards, being invisible, would also help to persuade the evil "fallen angels" to have respect, child-like faith and trust in the Lord's protection, from the equally invisible Devil, whilst being, themselves, unable to attack what they could not see or touch. Then, when, because of lack of faith in God's protection, He allows evil and mishaps to occur in their lives (Honi soit qui mal y pense), they will suddenly feel afraid, need and ask for His help, and receive it, bringing ever-increasing faith, trust and nearness to God, for those who had opened their spiritual-eyes, and were seeking to make sense of their lives.
2:24 For those who do not believe enough in, or seek God constantly, He sends calamities into their lives. How many people, who say they do not believe in God, when suddenly in fear for their lives, cry: "God please help me!!!"? If they talked to Him all the time, as they should, these calamities would not happen, because there would be no need for them, as God would not have to forcibly remind them to talk to Him.
2:25 Once the crisis is over, most people do not even have the common decency, and good manners, to thank Him, for having helped them solve their problem (by telepathically telling them what to do to solve the problem, or by sending them exactly the right type and amount, of physical help they need, at exactly the right time), and they go off, blindly ignoring Him again, until the next calamity.
thewayhomeorfacethefire.net
@GodTaughtMeHow ,
Thank-you for the update.
Agreed.
The only way out of HELL on earth as we now know it.
Fire Destroys Pendleton Flour Mill
August 11, 2022
Written by [Christen McCurdy]
Photo courtesy of Oregon Office of State Fire Marshal A flour mill in Pendleton burst into flames Wednesday morning. Officials say the building is a total loss.
Tennessee-based Grain Craft, which owns the mill, says it's working with farmers to handle wheat supply
The Grain Craft flour mill in Pendleton was destroyed in a fire that erupted Wednesday morning.
As of 7:30 a.m. Thursday morning, firefighters from Pendleton Fire and Ambulance were still on the scene of the fire and several blocks near the mill were closed to through traffic, according to Facebook updates from the Pendleton Police Department.
A press release issued by the city Thursday says firefighters "are going to have more long days ahead of them before this incident is over" due to "the size of the building, the material inside, and the lack of safe access."
The East Oregonian reports that the building burst into flames at about 4:30 a.m., though at 2:50 p.m. Tuesday firefighters responded to a plume of white smoke at the mill.
No injuries have been reported at the facility, which employs 22 people.
Pendleton assistant fire chief Tony Pierotti told The East Oregonian that the mill's silos were full of finished grain, so the fire fuel load was extreme. Pendleton police chief Chuck Byram told The Capital Press the fire was caused by mechanical failure.
Authorities are describing the building as a total loss and as of Thursday were keeping the area clear in anticipation of the possible collapse of the building.
A spokesperson for Grain Craft told The Capital Press the company is working with farmers to handle supply following the fire, which came in the middle of the wheat harvest.
Jeremy Bunch, CEO of Shepherd's Grain, a farmer-owned flour company, said there would be an interruption in flour supply as the company works to get wheat staged for movement to another mill.
"We are heartbroken by the fire that erupted at the Grain Craft flour mill in Pendleton," said a statement from Oregon Wheat Growers League President Ben Maney Wednesday. "These silos are a reflection of many years of hard work, time, and dedication from not only our wheat producers and their families, but also the team at Grain Craft Flour."
"The Pendleton flour mill began operation more than 100 years ago, and it was not only an important component in of providing our customers flour, but it was also a significant piece of history for the city of Pendleton and for the milling industry," said a press release issued by Chattanooga, Tennessee-based Grain Craft and shared by police Thursday. "All of us at Grain Craft are heartbroken by the events of yesterday."
Grain Craft is the third largest flour miller in the United States. The company was acquired by Redwood Capital Investments at the end of June.
Oregon is the 11th largest U.S. producer of wheat, which is the state's third largest cash crop, according to the Oregon Wheat Growers League. As much as 90% of wheat produced in Oregon is shipped to overseas markets, primarily in Asia.
Interrogation rooms for WHO? Who do these so called "Ministry of Climate Change" people, really prisoners, think they are to going out and be arresting farmers? Who needs to be arrested?
Dear @Persistent,
Exactly - THEY think they are gods within themselves.
Cheap food, cheap energy and abundant jobs; Western sanctions turn the fortunes around for Russians
Energy prices in Russia are much lower than the world average which is benefiting the local populace as well as the government of Russia
in Americas, Geopolitics, Global Issues, Russia
Reading Time: 3 mins read
(Cheap food, cheap energy and abundant jobs; Western sanctions turn the fortunes around for Russians - TFIGlobal)
Russia's special operation in Ukraine has been a game changer for the Kremlin's economy. Facts show that the west's aim to disrupt the Russian economy and pull in the gains for themselves has backfired.
Europe and the US came up with a plethora of sanctions that were supposed to initiate a severe crackdown on the Russian finances but they seem to have forgotten that Moscow's economy, in reality, is not a bubble and is backed by physical valuable resources like oil and natural gas.
UK To 'Burn 15 Billion Loaves Of Bread' A Year For Bioenergy
9/22/2022 2:51:35 PM
The Government's Department for Business, Energy & Industrial Strategy (BEIS) is currently consulting on the subsidies it needs to put in place to support Bioenergy with Carbon Capture and Storage (BECCS) from 2027-2050
Growing enough energy crops to make this work would require around 1.3 million hectares of UK land every year that is needed for food production.
If that land were instead used to grow wheat, it could produce 15 billion loaves of bread or enough calories to feed 4 million people for a year.
Some have estimated the cost of such technology at £31 billion and the Government has not ruled out paying for these subsidies through new levies on energy bills.
BECCS power plants produce less electricity because the actual technology requires a great deal of energy. At Drax power station in Yorkshire, installing BECCS technology and burning wood could reduce electricity output by the amount needed for 41,000 homes, risking blackouts. As such, by Drax's own figures, BECCS would therefore reduce the amount of power produced at the plant by at least 28%.
LONDON - SEPTEMBER 22, 2022 - A new report from Cut Carbon Not Forests (CCNF) shows that the UK Government's plans for Bioenergy with Carbon Capture and Storage (BECCS) – on which it is currently consulting – could undermine the country's food security. The Government's official climate change advisors believe BECCS will be needed to offset 35.4 million tonnes of carbon dioxide in 2050 from other parts of the economy - like aviation and industry.
Currently, most bioenergy uses imported wood from forests overseas. This has significant negative impacts on nature and the climate. But the Climate Change Committee and the Government have signalled that they may replace these imports with energy crops grown on UK farms. While existing biomass plants can only burn wood, new ones could be built to burn energy crops.
Deforestation
Growing enough energy crops to make this idea work would require around 1.3 million hectares of UK land every year that is needed for food production. If that land were instead used to grow wheat, it could make 15 billion loaves of bread, or enough calories to feed 4 million people for a year.
In addition to putting the UK's food production at risk, it would also threaten nature, worsen our climate, and undermine energy security. For these reasons, the CCNF coalition urges the Government not to support any Bioenergy with Carbon Capture and Storage.
"While the Government and industry desperately want to rely on BECCS to meet net zero goals, it doesn't make sense from any angle,' said Elly Pepper, campaigner at the Natural Resources Defense Council (NRDC) and the Cut Carbon Not Forests coalition. 'The fact that the Government's BECCS plan could mean the loss of huge swathes of land needed to grow food for UK families is unconscionable.'
'The one and only reason the UK government continues to pursue this ill-advised path is its cosy relationship with Drax – the UK's top polluter and largest bioenergy generator. Indeed, the Government's current plans for BECCS reads like Drax's wish list and would hand the company billions in subsidies, whether it successfully captures carbon or not. In the midst of a climate and biodiversity crisis and record food price inflation, the government must find real solutions to prevent global warming – not perpetuate the corporate capture that got us into this mess in the first place."
"Promising energy companies more bill payers' or public money if they install BECCS makes no sense for the climate, for energy security, nor for food security,' said Almuth Ernsting from Biofuelwatch."This proposal is first and foremost about handing Drax more money to continue burning millions of tonnes of imported wood pellets even less efficiently than they are doing now, with devastating impacts on forests and the wildlife and communities that depend on them, as well as on the climate. Potentially, the BEIS proposal could also cause energy companies to burn crops at the expense of UK food security and UK biodiversity.'
"We need urgent actions to address the climate emergency in tandem with fuel poverty and the worsening cost of living crisis. These must include large-scale support for home insulation and other energy efficiency and conservation measures as well as for low-carbon renewable energy and heat pumps - not handing ever more funds to companies for burning wood as well as fossil fuels."
To download the report, titled 'Burning Bread: How bioenergy with carbon capture and storage (BECCS) would undermine UK food security', please visit:
Media contact
Richard Scarlett
FINN Partners for Cut Carbon Not Forests
Fire causes 'substantial' damage at London chicken-processing plant
Publishing date:
May 23, 2022 • May 23, 2022 • 1 minute read •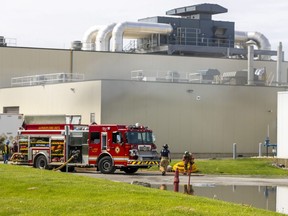 London firefighters are shown at the scene hours after an early morning fire at the Cargill chicken-processing plant in London. Photograph taken on Monday May 23, 2022. Mike Hensen/The London Free Press
An early Monday fire caused "substantial" damage to a portion of the Cargill poultry-processing plant in east London, fire officials say.
Firefighters descended on the plant on Cuddy Boulevard about 4:30 a.m. after a number of employees reported heavy smoke in the building, said Kirk Loveland, platoon chief with the London Fire Department.
Missouri & Florida Hit By MASSIVE Warehouse Fires! Food Shortages & Supply Chain Crisis Update! - Patrick Humphrey Preparedness
The country is slowly and quietly being undermined and taken down