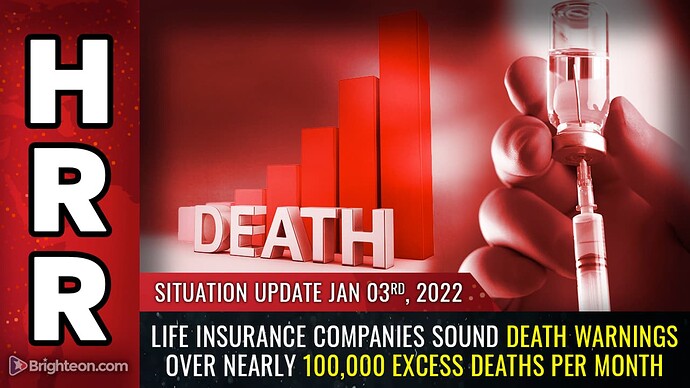 There are nearly 100,000 excess deaths happening per month in the USA right now, according to life insurance companies that are sounding the alarm over what Dr. Robert Malone calls a "mass casualty event" that's unfolding due to covid vaccines.

This is a red alert situation unfolding right in front of us. The human race is being slaughtered through the injection of "clot shots" that are deliberately designed to reduce global population through death and infertility. All the politicians, scientists, regulators and journalists who are in on this are committing genocidal crimes against humanity, and they are even targeting children.

An article published by The Center Square (Indiana) reveals how Scott Davison, CEO of OneAmerica (a life insurance company) is sounding the alarm over a 40% increase in total deaths among Americans aged 18 to 64 (i.e. working-aged Americans).

Continued at link.
---
By John Rolls

Quick observation.

Almost all my boosted friends, sick.

All my double jabbed friends, scared of MORONIC, but suspicious of booster.

A few unvaxxed friends, who don't take natural remedies, sick with SPIKE PROTEIN SICKNESS, courtesy of the shedding vaxxed they come in contact.

All my unvaxxed friends who use various natural remedies to treat or prevent, healthy, or only mild seasonal maladies, or mild shedding symptoms from the vaxxed.