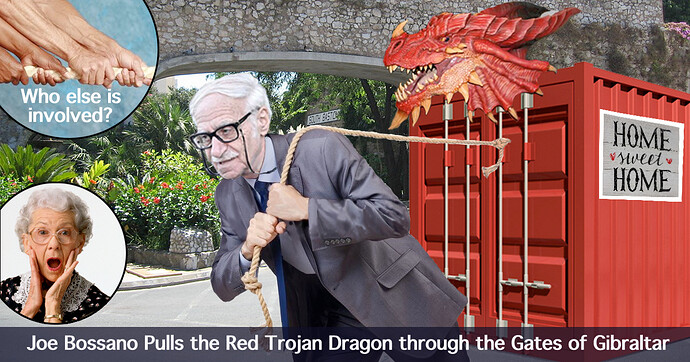 GSD 'does not support' Government's joint venture transaction with Chinese sub-state owned construction company
Response to this article and Joe's interview on Viewpoint (and then some):
If this modular-unit development were a positive build for Gibraltar, everything would be out in the open for all to see. But many things in Gibraltar are "sold to the people" as being "for the people"; but time and time again, it's about a few making lots of money. And through the Government of Gibraltar's Ministry of Propaganda (aka Gibraltar Chronicle and GBC), we often only hear one side of the story – the government's propaganda.
The local media SPIN news in GoG's favor; and that's propaganda, not journalism. Picardo ridicules any ideas not akin to his – that's arrogance and ego, not humility and service to the people. If your voice actually mattered, you could rely on proper journalism to report it; and not have to use social media to be heard. If your voice actually mattered to the government, you'd be given a proper platform for proper debate; instead of the 5G-Debate controlled by government spin, and edited in their favor before publication.
Your opposition might be 'noted', but you will not be given a voice; aside from a reporter pretending to ask the GoG your questions – but in reality these questions have been carefully crafted, approved, and known about in advance, so that the government can pretend to address your concern, with it's own views.
In his interview on the Government of Gibraltar's Viewpoint, Joe Bossano said some pretty interesting things. On GBC YouTube channel, the entire interview isn't up; instead, less than 2 minutes is featured, with what the government wants you focus on – the building.
They probably would like you NOT to focus on a few other things that Joe said – like when he said, "Dealing with China, you can buy products that are not what they claim to be." He essentially said that by having a joint partnership with a Chinese company, Gibraltar could ensure the quality of the product. Really?
Do we want to really talk about the quality of Chinese products?
Then, let's talk Chinese steel.
After all, these modular units, as Roy Clinton pointed out, are basically "shipping containers". And shipping containers are made out of steel. Cheap steel – cheap building.
The UK steel industry has declined, because its government and corporations prefer China's cheap steel. Both the US and UK have criticized cheap Chinese steel, because they use additives, which weaken it.
READ:
1. Chinese Steel Quality Vs American Steel Quality
American steel requires some rigorous testing before it can be sold, but Chinese companies are not required to conduct these tests. These tests help keep buildings standing after a hurricane or earthquake and help prevent the steel from becoming brittle and beginning to crack when it is being welded.
Some Chinese companies were found putting Boron in their steel to earn a tax rebate. This addition to the steel makes the metal crack easier and is an overall safety hazard. While there are some welding methods that can help prevent the metal from cracking during welding, but the exact amount of Boron added to the metal needs to be disclosed, which they often are not.
2. Warning Chinese steel imports could be safety threat
Chinese steel being imported into the UK could be putting lives and buildings at risk, as well as jobs.
Additives in some Chinese steel used to reinforce concrete can affect the metal's strength when it is welded and now UK industry is highlighting the dangers posed by it.
[It's always about a few making a killing, isn't it?

]
3. Britain's steel industry: What's going wrong?
UK imports of Chinese steel have increased dramatically.
Can we really blame China for Britain's declining Steel industry?
No, blame the British individuals and companies who buy Chinese steel instead of British steel, which was at one time a quality product. The U.K.'s famous Steel City – Sheffield – has lost almost all of its steel-works and workers.
What really went wrong?
Under God's Law, His people were not to make covenants with strangers (Exodus 23-32-33), but they allowed their governments and corporations to do so, blindly leading them to their own destruction.
Stop putting your faith in leaders out to make a profit, while taking your jobs away, no matter how they try to sell it – only a few make a killing and the rest suffer.
Under God's Law, all are prosperous.
SEE ALSO:
Corbyn urges Cameron to recall parliament over Tata Steel crisis
The government does not accept that it has been too soft on blocking Chinese steel dumping. Officials have argued that granting China market economy status does not stop Europe increasing tariffs on Chinese steel, and claimed that the government's action in the EU has been to stop changes to a ruling that could harm British consumers in areas other than steel.
[The government is often in denial when it comes to wrong-doing. And if something goes wrong with this project, who are they going to blame?]
The fact is that the UK has been hit with over-supply from Chinese manufacturers for years.
It really can't be spun in the government's favor, if you have eyes to see.
Chinese steel has been used for decades; which decimated the steel industry and coal industry that supplied coal for the blast-furnaces in the UK. It's not about quality, because if that were so, then UK steel would be sourced, not cheap inferior Chinese steel.
Is Gibraltar really going to trust Beijing Liujian Construction Company for "quality-control"? This company has a thing to learn about quality – like the "quality of life" its workers are entitled to. Yet, "quality of life" for cheap Chinese labor (slave labor) isn't their concern, nor is it the concern for investors, and traitors within governments, who want to make lots of money.
Imported Chinese Laborers' Work-Conditions Shock Caribbean Nation
http://inthesetimes.com/working/entry/5069/imported_chinese_laborerss_work_conditions_shock_caribbean_nation
The incident has highlighted the growing number of Chinese workers sent by state-owned Chinese companies (in this case, the Beijing Liujian Construction Company ) to work in Trinidad and Tobago's government-sponsored projects. The conflict has spurred a debate on who is responsible for deplorable working conditions.
Both the Chinese embassy and the T&T government (along with the company) have all skirted responsibility for fear of igniting an international incident and intruding on private business matters.
But beyond the wage dispute, local officials and media who visited the camps in the town of Cunupia, in central Trinidad, were appalled by the inadequate living standards.
The public has also criticized Trinidad and Tobago's government for hiring the companies, and pressure has grown to enforce local labor laws and international regulations to which they are a signatory.
Something doesn't add up between what is being sold and reality.

What does add up is British Insurrection Against God.
The British were chosen to be a Witness for Him, not to rape and pillage third world countries. They were supposed to bring the world to one-nation under God, indivisible. Yet, they have allowed traitors to take advantage of others – so everyone in the nation went a whoring for the god of mammonism (materialism) and financial greed, which is against the first Great Commandment. And everyone started using the third world as slave labor, which goes against the Second Great Commandment, and stealing their natural resources.
Mark 12:28 And one of the lawyers came, and having heard them reasoning together, and perceiving that he had answered them well, asked him, Which is the first COMMANDment of all?
Mark 12:29 And Jesus answered him, The First of all the Commandments [is], Hear, O Israel; The Lord our God is one Lord:
Mark 12:30 And thou shalt love the Lord thy God with all thy heart, and with all thy soul, and with all thy mind, and with all thy strength and serve Him ONLY: this [is] the first COMMANDment.
Mark 12:31 And the second [is] like, [namely] this, Thou shalt love thy neighbour as thyself. There is none other COMMANDment greater than these.
Mark 12:32 And the lawyer said unto him, Well, Master, thou hast said the truth: for there is one God; and there is none other but He:
Mark 12:33 And to love Him with all the heart, and with all the understanding, and with all the soul, and with all the strength, and to love [his] neighbour as himself, is more than all whole burnt offerings and sacrifices.
Matthew 22:36 Master, which [is] the Great Commandment in The Law?
Matthew 22:37 Jesus said unto him, Thou shalt love the Lord thy God with all thy heart, and with all thy soul, and with all thy mind.
Matthew 22:38 This is the First and Great Commandment.
Matthew 22:39 And the second [is] like unto it, Thou shalt love thy neighbour as thyself.
Matthew 22:40 On these two Commandments hang all The Law and the Prophets.
Do you think God hasn't prepared China to punish His Witnesses (UK and USA)? Read Revelation. They are going to be defeated in the coming war.
China is exacting revenge. It learned the "market-system" game and has used it to build an arm – using the money it makes from the West by selling it cheap products; and uses it for a geo-political strategy to dominate the world. The BRI is a military strategy.
Plus, the Chinese have been able to exact revenge on the UK for turning it into an opium den, and its people into addicts. Now, China supplies the drugs to addicts in the West, pharmaceutical and otherwise, like China-White heroin and fentanyl, etc. Yet, the royal family is still the biggest drug dealer in the world, with the poppy fields in Afghanistan that UK soldiers were sent to protect. The second biggest drug pusher is the CIA, where George Bush Sr., earned the name "Poppy" Bush; and US Soldiers guard the opium.
Back to Bossano ­– on China, Spain and Gibraltar:
Bossano said it was enough for him that China doesn't support Spain, when it comes to Gibraltar's self-determination. He did clarify that in meetings at the UN, China officials didn't support Gibraltar either, by the way. Is that enough for you too?
Before you answer that, research how China is exerting pressure on Spain to conform. Is Gibraltar so special that they treat it differently than any other country? And perhaps, if Joe and other Gibraltar officials romanced the U.S., as much as he/they does/do the atheist anti-God red dragon of China, some trade deals could happen between God-fearing countries. Perhaps, if they supported UK companies, by buying UK products, the economy would rebound in favor of the British.
This is unlikely to happen because too many traitors are in bed with the enemy whilst their people are asleep; and all will suffer the consequences. The entire nation is going to be punished for blindly following Luciferian Marxists and Fabianists.
In the interview, it was ascertained that the company, which will be doing business with Gibraltar, has been involved in projects at the Manchester Airport and Newcastle University. That company comes up as CIMC, which is the same company featured in the interview about how the modular units are made.
SEE:
1. Modular offsite construction is delivering results for Newcastle University
2. Chinese construction company confirmed as part of Manchester Airport City development group
"We see our involvement in Airport City as an extension of the memorandum of understanding between China and the UK, where we have been looking to further explore joint infrastructure opportunities for some time."


Does it make you wonder if there are "extensions" of the MOU signed between China and Gibraltar? Maybe these are understandings that more and more business will be done between the two in a variety of sectors.
What understandings do they have?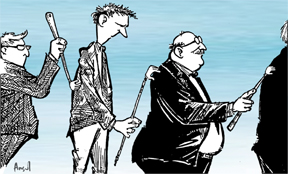 And if this modular building gets the go-ahead, and saves money, does that mean that savings will be passed on to Gibraltarians?
The world has experienced an economic crisis, even outside the covid19-related one. If China's exports were down, doesn't this mean shipping container production might also have taken a downward turn? Portable building are nothing new, but an increase in modular-building projects would be strategic.
They are being marketed as sustainable building, creating less of a carbon footprint. Really?
READ:
1. Dealing with Environmental Pollution in the Iron and Steel Industry: The China Case Study
China even cut its production in 2017 to address the pollution issue:
2. 'Beautiful China': Beijing starts the biggest shutdown of steel factories in history
There are lots of stories about China's air pollution if one wants to dig, especially in Wuhan where the people were demonstrating against the government about air-pollution and breathing problems, before they got quarantined with the Covid-1984 plandemic. So, is it the Christian thing to say, let China pollute their air to save ours?
It really doesn't work that way, because we actually live in a world that turns, where air travels and what happens in one place can have effects elsewhere. Soot from the 1,000 oil-well fires in Kuwait in 1991 was soon found on the Pacific Islands.
3. The Global Impact of China's Air Pollution Problem
Hurricanes and cyclones are becoming more common each year in various parts of the world and scientists see the correlation between the increase of air pollutants and devastating storms. The world has never been more informed, and this is valuable in the fight against pollution.
After the Chernobyl disaster in 1986 (the Third Trumpet of Revelation), radioactive particles were found in the UK and Scandinavian countries.
With partnerships between UK and China (like CIMC) to bring foreign-made products into the nation, modular building will likely continue, because corporations make the decisions for the government, and bribe them to pass legislation in their favor, which is known as fascism. The true definition of the word fascism is "corporatism" because it is the merging of corporate and state power.
Even if modular building was the trend of the future, how hard it is to build them in the UK, using UK steel?
Chinese products are chosen because they are cheap – and one gets what they pay for. Besides, the CCP and Chinese officials are reaping the benefits from the own slave labor within their borders.
Modular Designs have been used in hotel design and quarantine facilities. Again, it may be the trend but local construction jobs will suffer.
Holiday Inn Express builds modular hotel – A great hotel plan comes together
Modular construction has proved a winning formula for building projects in UK.
When China's CIMC Modular Building Systems completed the construction of the 220-room Holiday Inn Express in Manchester in only 39 weeks, it made history as the first large-scale modular building of its kind in northwest England.
Holiday Inn Express in Trafford City wins 'Best Offsite Construction' award at 2018 North-West Regional Construction Awards
The 220-bed Holiday Inn Express, opened in June 2017, is constructed from purpose-built steel shipping containers complete with factory-finished interior fixtures and fittings, all of which were installed before being delivered to site. The scheme uses a bespoke system developed by modular manufacturer, CIMC, which worked closely with the design team, led by Chapman Taylor, to develop a full-scale brand compliant prototype for the project before progressing manufacture for the whole scheme.
Hong Kong builds Covid19 quarantine facility:
CIMC Modular Building Systems set up temporary quarantine facilities for HK
Using shipping containers isn't necessarily a bad idea for some. Many people have turned them into homes, but they still must understand the pros and cons – Rust and Corrosion In Shipping Container Homes.
Wouldn't it be better to have highly-trained quality-inspectors for major development projects? They are able to identify problems by being on site; and catch where corners have been cut, so to speak.
Joe continues to pull the Chinese "Trojan" Dragon through the gates of Gibraltar. He then wants to push it north and south.
Why is he really doing this?
For those people who don't know about the "Trojan" Horse: it was built by and filled with Greek soldiers, and left outside the Gates of the impregnable, walled Fortress City of Troy. The Trojans thought it was a parting gift from their Greek enemies who had given-up the fight, and the Trojans foolishly pulled it inside their gates. During the night, whilst the Trojan people were asleep, the Greek soldiers climbed out of the horse and opened the city gates, letting the Greek army into Troy, where they killed all of the Trojan men, raped the women, ransacked and looted the city, and burned it to the ground.
If this is a joint venture transaction between the GoG and a Chinese sub-state owned construction company: why and how, when it's completed, is it going to belong to a private company? Why isn't it a joint venture between the Chinese company and the private company that is going to own it, instead of the GOG using the public's money? Who is going to really make the money on this transaction?
You can also read more about Gibraltar-Chinese relations on this thread: China's Interest on The Rock (Albert Isola & Joe Bossano pull the trojan dragon through the gates)
You might also be interested in this discussion:
Danny Feetham and Joe Bossano have an exchange in Parliament on the new Chinese investment and its potential effects on the local construction trade.
Bossano, "I'm not going to tell you what the business plans are for the joint venture."
https://www.facebook.com/268644129832550/posts/3388670704496528/?vh=e&d=n
If this video link doesn't work, or is broken, copy and paste this url in a new window: Redirecting...