Another Dark Winter is upon us...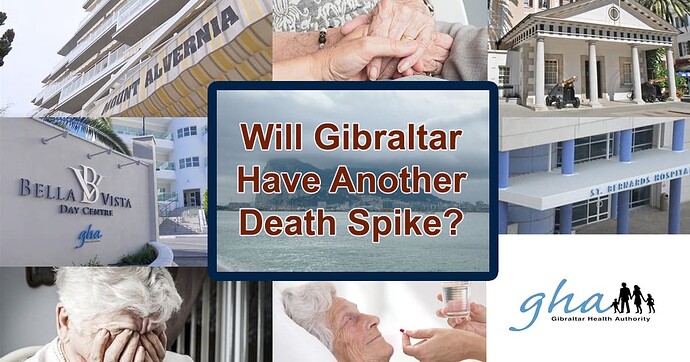 The elderly death spike started Jan 2021 in Gibraltar and given this news about what the UK Government is doing, is Gib also going to experience another round of elderly deaths - as the government sets its sights on those who survived the first round of the Nazi Euthanasia scheme to relieve the nation of those it deemed as a burden to society.
Read this article on the Daily Expose and look at the steps Gibraltar is also taking:
The UK is about to experience a huge wave of deaths among the elderly and most vulnerable population in scenes that will resemble those of April 2020. The public will be told that Covid-19 is to blame, but the truth is that the recipe for disaster that has been cooked up by the UK Government and its circle of scientific advisors will be solely responsible.

A recipe that has included mandating vaccines for carers, dedicating the energy of the entire NHS to administering "booster" jabs to the nation, and the mass purchase of a drug known as midazolam yet again.

In March 2020 the British people were ordered to stay at home, to protect the NHS, and save lives. But in reality the evidence suggests that the British people were ordered to stay at home, so the NHS could give midazolam to the elderly and vulnerable and pretend that they were Covid-19 deaths.

Now the authorities are about to play this whole game again, this time under the guise of the alleged Omicron Covid-19 variant.

On the 12th November 2021, the UK Governments Department of Health and Social Care (DHSC) published a tender inviting suppliers to bid for 'The Supply of ITY Medicines and End of Life Care Medicines for Covid-19 Preparedness'. With the description stating that the DHSC wish to "top up the stockpile holdings of Midazolam and Noradrenaline medicines in preparation for further waves of Covid-19 in Winter 2021 / Spring 2022".

Tens of thousands of elderly and vulnerable will be forced into end of life care treatment involving the administration of Midazolam because of the policies this Government has put in place prior to Winter 2021...

Continued at link.
Midazolam was previously brought up on Defending-Gibraltar – Gibraltar Deaths After Covid Vaccine Push - #140 by Cheeky-Monkey.
Other drugs that could have been contraindication to giving them the jab were also brought up – Gibraltar Deaths After Covid Vaccine Push - #84 by Cheeky-Monkey – because the risk of pneumonia.
The UK has been criticized for removing the elderly from hospitals and isolating them in care homes to carry out measures away from prying eyes.
Didn't Gibraltar do the same?
In March 2020, the Government of Gibraltar began its meaures to isolate the elderly – all under the guise of protecting them – only later to be discovered it was a covert plan to target and euthanize them, and of course, blame Covid.
16 March 2020 – Government Legislates to Protect the Elderly – The Cabinet decided, by a unanimous vote of all Ministers present, to impose a number of restrictions by law on the movement of all elderly citizens above the age of 70. The law introduces a civil penalty for anyone who fails to comply.
24 March 2020 – [Relocation of Elderly Residents from St Bernard's Hospital] – Residents from the two ERS wards, John Cochrane and Calpe Wards will be temporarily relocated to other Elderly Residential facilities, within Bella Vista and Mount Alvernia, which have been "specially adapted to cater for their needs".
Unfortunately, it is still unknown if Gibraltar administered Midazolam and Noradrenaline medicines to its elderly. However, they did conduct a large flu jab campaign prior to it. See COVID JABS PRECEDED BY FLU JABS.
If they were receiving drugs from the NHS, as Krish Rawal said, was Midazolam one of them? – Krish Rawal revealed GHA will be essentially be PART of the NHS, when he spoke about securing VACCINES.
HMGoG did brag about having Dexamethasone in June 2020 – GHA Holds Ample Supplies of Life-Saving Drug - 402/2020."Following a medical breakthrough in UK, NHS hospitals have been advised to start using the drug Dexamethasone immediately as there are hopes that it brings a new era of treatment for the disease. The drug costs about 50p per patient per day. The GHA currently holds sufficient supplies of Dexamethasone to be able to treat over 180 patients for a 10 day course of treatment. This would be enough for a potential spike of active cases but, in order to cover all possible eventualities, the GHA is now acquiring additional stocks of the drug."
A fair question: "Were the elderly who died shortly after being jabbed also given Dexamethasone."
Dexamethasone is recommended by the National Health Service in the UK – UK Government rules out Ivermectin in favour of making billions for 'Big Pharma' with "new" drug to treat COVID-19 – The Expose

From the article: Note that the UK claims to have discovered dexamethasone for COVID-19, while the drug, as well as other corticosteroids, usually seen as more effective, were already widely used in other countries.

According to Professor Pierre Kory, who was the first to challenge the recommendation against corticosteroids for COVID-19, the dexamethasone dosages tested in the UK were also insufficient, yielding to sub-optimal therapeutic outcomes.
Interestingly, Gibraltar's Ministry of Propaganda published an article related to midazolam in July 2020 – 'Music medicine' can help calm nerves – research, which it pointed out that midazolam could be used as a sedative, which can have side-effects that affect breathing and blood flow. This isn't anything compared to the hit list from the Daily Expose article.
And there's this – Doctors question sedative dose used in Oklahoma execution | The Star which gives a whole new meaning to its use as a sedative before "execution".
One contraindication is "concurrent treatment with live virus vaccines including smallpox vaccine".
Also – "The safety and effectiveness of dexamethasone or other corticosteroids for COVID-19 treatment have not been sufficiently evaluated in pediatric patients and caution is warranted when extrapolating recommendations for adults to patients aged <18 years." – Keep this in mind as more and more children become ill after being shot.
Also – "Dexamethasone adverse side effects cannot be ignored. Our review will help medical professionals in the prognosis and follow-up of patients treated with dexamethasone. In addition, given that a considerable amount of uncertainty, confusion and even controversy still exist, further studies and more clinical trials are urgently needed to improve our understanding of the parameters and the effects of dexamethasone on patients with SARS-CoV-2 infection" – https://www.ncbi.nlm.nih.gov/pmc/articles/PMC8298044/
Another drug in question is Remdesivir. Was Remdesivir part of Gibraltar's arsenal?
We must understand the complications of trusting witch doctors – "In Paul's Letter to the Galatians Ch. 5:20 the Greek word Pharmakeia was originally translated into English as witchcraft, to try to hide its true meaning of pharmacy, and likewise Simon the Witch was translated as Simon the Sorcerer/Magician, because he had been using witchcraft/ pharmacy to bewitch and deceive people into believing that he was a great healer, just like modern-day pharmacists do.." – Life or Death: Pharmaceutical "Plandemic" Poisonous Vaccines, or the Healing of the Holy Spirit – Your choice
By August 2020 – the HMGoG further targeted and isolated the elderly – ERS Step up COVID-19 Safeguarding Measures - 545/2020
In January 2021 – HMGog had secured the poisonous jabs and began with their first targets – the elderly and vulnerable.
Isn't it interesting how there seems to be a dual-label to those identified as suspectible of getting covid? Because they are supectible to having adverse reactions to jabs too.

The rest is history – Gibraltar Deaths After Covid Vaccine Push.
Will History Repeat Itself this Winter 2021-2022? It's looking like things are getting "dark" again, wouldn't you say?
View also:
Attorney Clare Wills Harrison warning about the plan to use more midazolam this winter: