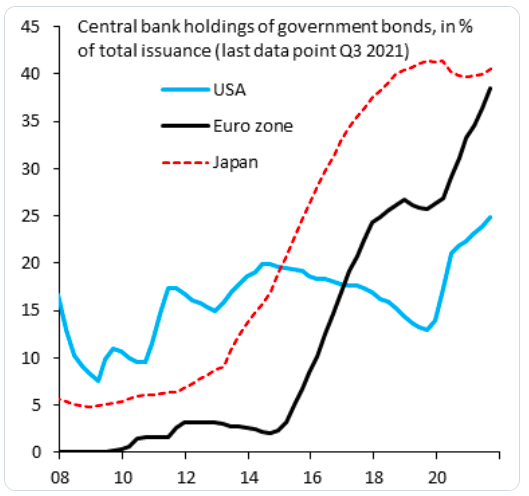 What about Britain? According to the latest quarterly report from the UK Debt Management Office, the Bank of England now owns a third of UK government debt, which is not that dissimilar from the Eurozone. However, while HMG is in debt to a central bank under its ultimate control, the Eurozone countries are in debt to a central bank largely controlled by foreigners — and especially the Germans.

Governments around the world have borrowed their way through the Covid crisis. Increasingly, they've relied on their own central banks — like the US Federal Reserve or the Bank of England — to buy-up government bonds.

But where do the central banks get the money they need to do this? The answer, of course, is from nowhere. It is created out of nothing through the magic of quantitative easing or QE.

More at link.
How Banksters Rule The World – Shifting from Central Planning to a Decentralised Economy
How Banksters Rule The World – European Bank for Reconstruction and Development ( EBRD)
How Banksters Rule The World – A DIGITAL EURO
Bank of International Settlements on Digital Currency "We will have total control on who spends money and on what they spend it."
Bankers are drowning Gibraltarians in more debt – Gibraltarians need to understand who the bankers are, and what they have planned for them