Gibraltar: 100% Vaccinated – Corona Incidence is Going Through the Roof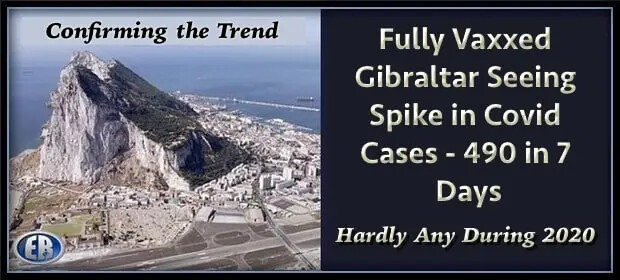 Gibraltar hardly had any Covid cases during 2020, until they began mass vaccination at the very end of 2020, starting with almost 300 newly-vaccinated Spanish healthcare workers working on the island, who travel in daily from the Spanish mainland. Vaccination was started on the local population on January 10. Cases and deaths started to spike quickly.

Gibraltar was sold in the media as a prime example of how wonderfully "normal" life could be if only every citizen dutifully picked up his vaccination: on the small peninsula with fewer than 34,000 inhabitants, a vaccination rate of 100% was actually achieved. In the meantime, however, it has become suspiciously quiet around the oh-so-successful country. This is hardly surprising, because the incidence in Gibraltar has exploded: it is currently well over 400.

Data from Gibraltar already raised serious questions at the beginning of the year when, just in time for the start of the vaccination campaign in January, the previously low corona death rate in the country began to rise massively. Fact checkers financed by the pharmaceutical industry tried to deny any connection between the deaths and the vaccination – but, as usual, they could not provide any counter-evidence: The conclusion was simply that a causal connection was not officially confirmed. Of course, that means nothing – so far, every serious side effect of the Covid vaccine has been downplayed unrestrainedly, until sooner or later an official warning had to be issued.

Continued at link.
Please note much of the background has posted under the Gibraltar Deaths After Covid Vaccine Push.
It's important to note that the Europe Reloaded article "53 deaths in 10 days after experimental jab" has been corrected on Defending-Gibraltar. It was not 53 deaths in 10 days - but 37 in 10 days. 53 was a total amount from the start of the scamdemic.