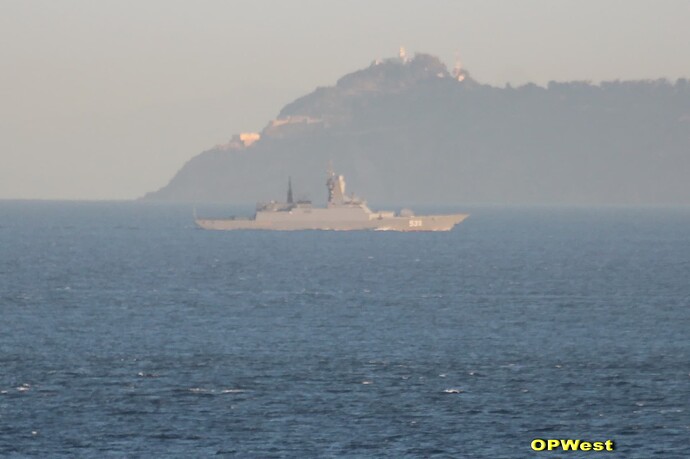 English translation of - Cuatro buques de guerra rusos cruzan el Estrecho de Gibraltar
The convoy consisted of the frigate Admiral Grigorovich, the corvettes Soobrazitelny and Stoikiy, and the supply ship Kola
Up to four ships of the Russian Navy crossed the Strait of Gibraltar last Saturday. The convoy, consisting of three ships and a supply vessel, came from the Mediterranean and was seen in the waters of the strait heading for the Atlantic.
The presence of Russian vessels in the area is nothing new. The strait is the gateway to the Mediterranean and an obligatory crossing point on the route that connects the ports of the Russian Navy in the Baltic with those of the Black Sea and the Russian bases in Syria.
In fact, until not too long ago Russian Navy vessels stopped in Ceuta. However, since the beginning of the war in Ukraine the ships of the Russian Federation are closely followed by both the British Navy - in the case of Gibraltar - and the Navy. On this occasion, on the Spanish side, the movements of the Russian ships were monitored by the frigate Santa María (F-81).
The frigate Admiral Grigorovich is the first unit of the class to which it gives its name. Since 2016, it has been part of the Black Sea Fleet and that same year it was integrated into the combat group of the aircraft carrier Admiral Kuznetsov that participated in the Kalibr missile attack on Aleppo in Syria. It has 3,800 tons of displacement and 125 meters in length. It has 100 mm cannon, anti-submarine torpedoes, anti-aircraft missiles and anti-ships. On its deck you can carry a helicopter KA-27 Helix.
Earlier in January, the offshore patrol vessel Serviola and the frigate Méndez Núñez carried out a similar follow-up to the Russian frigate 417 Admiral Gorshkov, equipped with Zirkon hypersonic missiles, during its navigation through Atlantic waters.
Meanwhile, the corvettes Soobrazitelny and Stoikiy are part of the same class, the Steregushchiy. With a displacement of 1,800 tons and 105 meters in length, they are equipped with 100 mm guns, VLS anti-aircraft and anti-ship missile system.