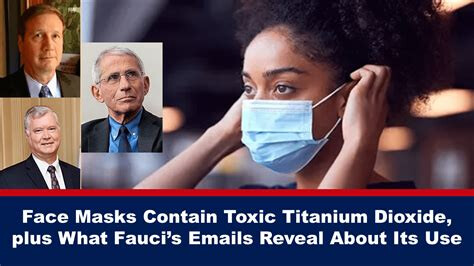 In February 2022, a study published in Nature revealed that levels of titanium dioxide that "systematically exceeded the acceptable exposure level" had been found in common face masks used during the Covid era. Below are some extracts from the abstract of the study:
Although titanium dioxide (TiO2) is a suspected human carcinogen when inhaled, fibre-grade TiO2 (nano)particles were demonstrated in synthetic textile fibres of face masks intended for the general public. STEM-EDX analysis on sections of a variety of single use and reusable face masks visualised agglomerated near-spherical TiO2 particles in non-woven fabrics, polyester, polyamide and bi-component fibres.

The estimated TiO2 mass at the fibre surface … systematically exceeded the acceptable exposure level to TiO2 by inhalation (3.6 µg), determined based on a scenario where face masks are worn intensively.

No assumptions were made about the likelihood of the release of TiO2 particles itself, since direct measurement of release and inhalation uptake when face masks are worn could not be assessed.

These results urge for in-depth research of (nano)technology applications in textiles to avoid possible future consequences caused by a poorly regulated use and to implement regulatory standards phasing out or limiting the amount of TiO2 particles, following the safe-by-design principle.

Verleysen, E., Ledecq, M., Siciliani, L. et al. Titanium dioxide particles frequently present in face masks intended for general use require regulatory control. Sci Rep 12, 2529 (2022). Titanium dioxide particles frequently present in face masks intended for general use require regulatory control | Scientific Reports
As The Daily Sceptic noted, this is concordant with an earlier study in Water Research, which found lead, cadmium, antimony and various plastic and organic substances in face masks, and stated:
"The toxicity of some of the chemicals found and the postulated risks of the rest of the present particles and molecules, raises the question of whether [disposable face masks] are safe to be used on a daily basis and what consequences are to be expected after their disposal into the environment."
The discovery of titanium dioxide being used in face masks may somehow link to a curious email exchange found in Fauci's "smoking gun" emails. To put these emails in context, first, we look at what titanium dioxide is and the concerns regarding its use.
---
Titanium Dioxide Overview
Titanium dioxide (TiO2), also known as titanium (IV) oxide or titania, is the naturally occurring oxide of titanium.
We briefly glanced over the comprehensive information contained on the page for titanium dioxide on ScienceDirect's website and extracted some information to give a general feel for what titania is and what it's used for. It is worth visiting the page for yourselves to put what we've extracted into context.
Continued at the link.