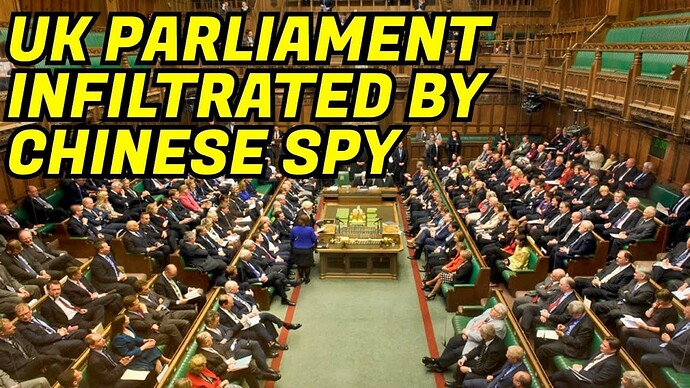 In a rare move, the United Kingdom's domestic spy agency, MI5, has warned that an alleged Chinese agent has infiltrated the British parliament and has been working on behalf of China's governing Communist Party to interfere in UK politics.

Issuing a note to Parliament on Thursday, House of Commons Speaker Lindsay Hoyle said Christine Ching Kui Lee, a Chinese national, has been trying to improperly influence British MPs on behalf of the CCP. Lee, whose current whereabouts are unknown, had allegedly transferred donations to politicians, with funding provided by foreign nationals in China and Hong Kong.

China has denied the allegations, accusing the UK of "smearing and intimidation". This comes amid a growing number of espionage allegations against China, which is being accused of stealing information and manipulating politics around the world.

But who is Lee and how is she involved with UK's top lawmakers?

Continued at link.
Farage Predicts 'A Lot More' Chinese Spies Will be Found in Westminster
Brexit leader Nigel Farage has warned that there are likely "a lot more" Chinese Communist spies operating in Westminster after it was revealed that an alleged Chinese spy had donated hundreds of thousands of pounds to left-wing politicians in Britain.

It has been reported that Lee had given some £700,000 in political donations, the vast majority of which was directed to the Labour Party, in particular leftist Corbyn acolyte Barry Gardiner MP. The leader of the Liberal Democrats, Sir Ed Davy, also received £5,000 from Ms Lee. Both politicians have denied that they have been influenced by the CCP.

Commenting on the spying scandal, Brexit's Nigel Farage said that he was not surprised by the revelations, noting that the "British establishment have been sucking up to China for a long time."
Also:
The British Olympic Association has advised Team GB not to bring their mobile phones to Beijing, due to spying fears.
Team USA Urges Athletes to Use Burner Phones to Thwart Chinese Spying at Genocide Games