Inflation falls in Spain but some still struggle to make ends meet
The inflation in Spain dropped to 9 percent in September from 10.5 percent in August, but some people are still struggling to make ends meet.
Lines at food banks grow as inflation soars in Spain - La Prensa Latina Media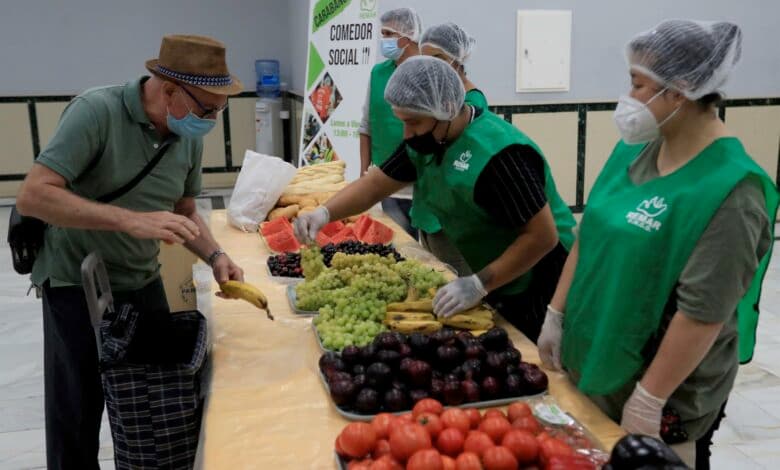 The increase in food prices due to rising inflation driven by the war in Ukraine is causing lines at food banks to swell as more people fall into poverty in Spain. According to social organizations, queues at food banks have grown in recent months, with a new profile of people waiting in line to receive a free meal and basic supplies. At the Madrina Foundation, an association that offers food and hygiene products to babies and their mothers, the number of applicants has grown by 30% in recent months, to an average of 250 people queuing in the street everyday. Continues.
A study published Friday by the European Anti Poverty Network (EAPN) revealed that around 380,000 more people were driven into poverty in Spain last year.

In total, 27.8% of the Spanish population was found to be at risk of poverty and social exclusion – fourth highest rate in the EU, after Romania, Bulgaria and Greece.

The study is the first comprehensive look at how the coronavirus pandemic affected poverty in Spain.

Although researchers say Spain's social safety net protected 1.5 million people from falling into poverty during the pandemic, COVID-19 "aggravated" the trend of increasing economic hardship for the most vulnerable.

Overall, 44.9% of Spanish residents had some trouble making it to the end of the month in 2021, according to the report.

Before the war in Ukraine sent energy prices skyrocketing, 14.3% of Spain's population could not afford the cost of adequately heating or cooling their homes.
Spain: The Last Advanced Economy To Recover Pre-Covid Levels, In 2026, According To The IMF
It will take us Spaniards six years to get back to where we were in 2019. After the latest slowdown in growth, the International Monetary Fund (IMF) has revised its forecasts for world GDP per capita. And the result is that, of the 24 countries that make up what the organisation calls 'advanced economies', 23 are going to recover their pre-covid-19 standard of living before Spain. Continues.
Gibraltar feeling it too -
Cost of living crisis: more people rely on soup kitchen as the end of the month and pay day approach
A soup kitchen next to St Theresa's Church in Gibraltar prepares 40-50 meals a day, with a higher number of people relying on the free food as the end of the month and pay day approach.
The "controlling" elites in Gibraltar don't care about those they view as beneath them, despite their lip service - https://defending-gibraltar.net/t/housing-for-the-mega-rich-while-locals-forced-to-live-in-spain/2210/3. They will continue to build housing for rich foreigners. They will continue to enrich themselves, while they send more and more people to the soup kitchen. Face it; they are d/evils.
The Campo of Gibraltar Can End All This By United Under Christ
Relying on evil, corrupt politicians who take orders from Satanic globalists who intend to depopulate by the world by pharmacy, war and starvation is madness. T.H.E.Y. are building a technocracy to control every aspect of your lives.
The people of the Campo of Gibraltar need to side with Christ. Find out more on Gibraltar Messenger -