@jeremy ,
Yea, let's use this distraction, opportunity, to do our dirty work.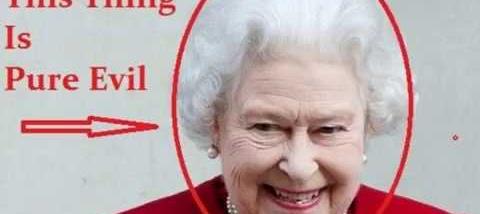 https://jforjustice.net/e2go.html
...
7:17 If thou shalt say in thine heart, These nations [are] more than I; how can I dispossess them?
7:18 Thou shalt not be afraid of them: [but] shalt remember well what the "I AM" thy God did unto Pharaoh, and unto all Egypt (and pharaoh ruled the whole known world at that time) ;
7:19 The great temptations which thine eyes saw, and the signs, and the wonders, and the mighty hand, and the stretched out arm, whereby the "I AM" thy God brought thee out: so shall the "I AM" thy God do unto all the people of whom thou art afraid.
7:20 Moreover the "I AM" thy God will send the hornet among them, until they that are left, and hide themselves from thee, be destroyed.
7:21 Thou shalt NOT be affrighted at them: for the "I AM" thy God [is] among you, a mighty God and terrible.
7:22 And the "I AM" thy God will put out those nations before thee by little and little: thou mayest not consume them at once, lest the beasts of the field increase upon thee.
7:23 But the "I AM" thy God shall deliver them unto thee, and shall destroy them with a mighty destruction, until they be destroyed.
7:24 And He shall deliver their kings into thine hand, and thou shalt destroy their name from under heaven: there shall no man be able to stand before thee, until thou have destroyed them.
32:28 For they [are] a nation void of counsel , neither [is there any ] understanding in them.
32:29 O that they were wise , [that] they understood this , [that] they would consider their "latter" end ! (The Fire).
32:30 How should one chase a thousand, and two put ten thousand to flight, except their Rock had sold them, and the "I AM" had shut them up?
32:31 For their rock [is] not as our Rock, even our enemies themselves [being] judges.
32:32 For their vine [is] of the vine of Sodom , and of the fields of Gomorrah : their grapes [are] grapes of gall, their clusters [are] bitter:
32:33 Their wine [is] the poison of dragons (Rev. 12:9, 13, 17), and the cruel venom of vipers (Matthew chapters 3:7; 12:34; 23:33).
32:34 [Is] not this laid up in store with me, [and] sealed up (Revelation/Apocalypse chapter 5) among My treasures?
32:35 To Me [belongeth] vengeance, and recompence; their foot shall slide in [due] time: for the day of their calamity [is] at hand , and the things that shall come upon them make haste.
The Fraud continues.
11th September 2022
King Charles III was proclaimed King of Gibraltar during a historic parade in Convent Place at midday on Sunday.
The proclamation statement was read by the Governor, Vice Admiral Sir David Steel, from the balcony of The Convent, where he was joined by Gibraltar's political, civic and religious leaders.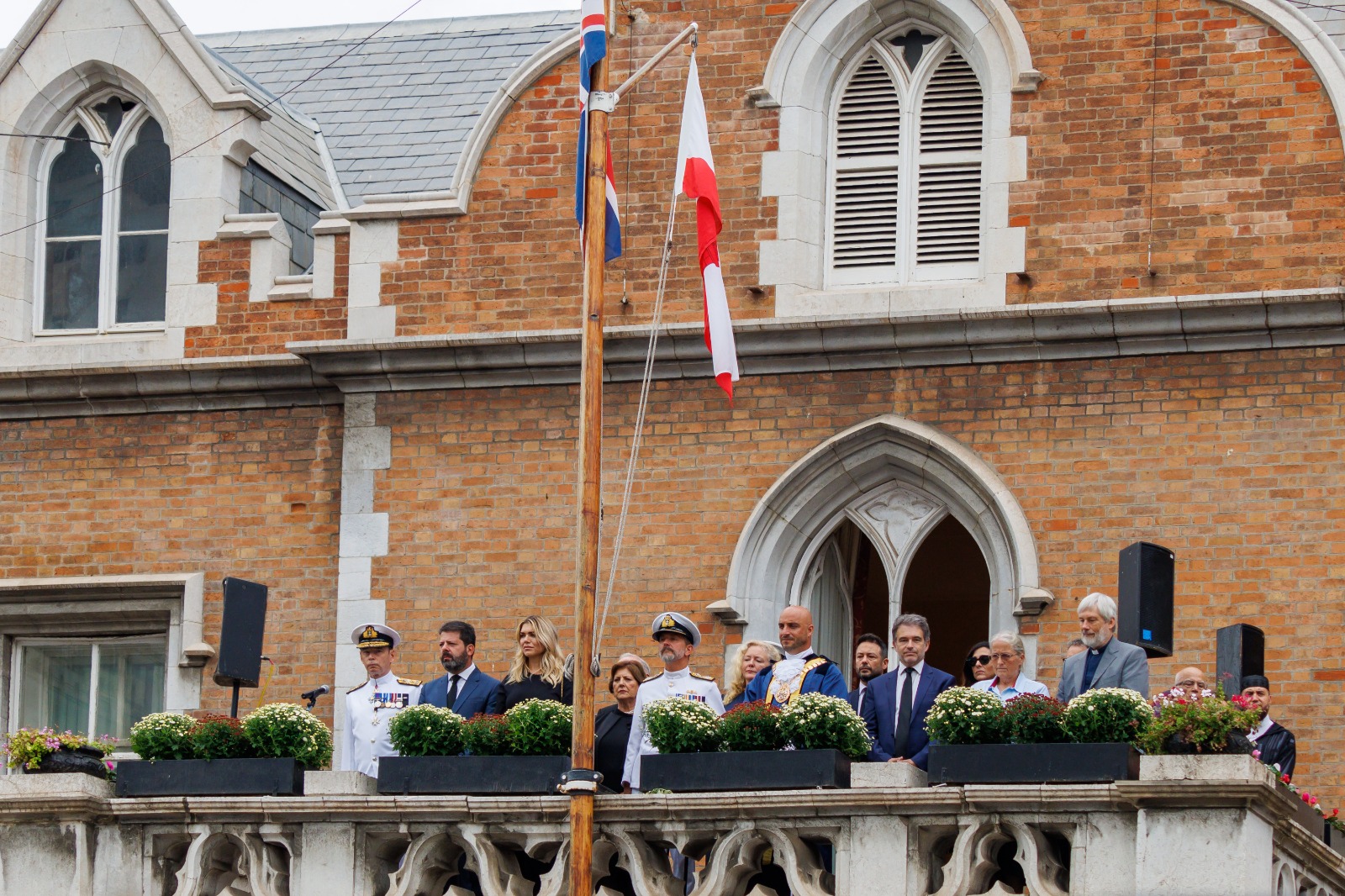 It was a public pledge of Gibraltar's continued allegiance and loyalty to the British Crown.
Large crowds gathered in Convent Place to watch a parade of soldiers from the Royal Gibraltar Regiment and men and women from Gibraltar's various uniformed bodies and to hear the proclamation.
After the proclamation, Sir David declared "God save the King" and led the parade and the crowds in three resounding cheers for Charles III.
The proclamation in Gibraltar and across locations in the UK unfolded at the same time as the Queen's coffin left Balmoral on a six-hour journey to Edinburgh, where it will lie at St Giles' Cathedral.
In bright sunshine, the hearse carrying the late monarch passed through the gates of the royal residence which was the summer refuge for the former head of state.
Draped with the Royal Standard of Scotland and with a wreath of flowers on top, it had remained at rest in the Balmoral ballroom so the late monarch's loyal estate workers can say their last goodbyes.
The proclamation in Gibraltar came a day after King Charles III paid tribute to the reign of the late Queen, "unequalled in its duration, its dedication and its devotion", as he was formally declared the nation's new monarch.
The new monarch became King the moment his mother died, but tradition holds that an Accession Council must be convened following the death of a Sovereign – usually within 24 hours.
During a poignant and sombre meeting of the Accession Council on Saturday, the King spoke movingly about his mother and the grief his family is experiencing, but said the "sympathy expressed by so many to my sister and brothers" had been the "greatest consolation".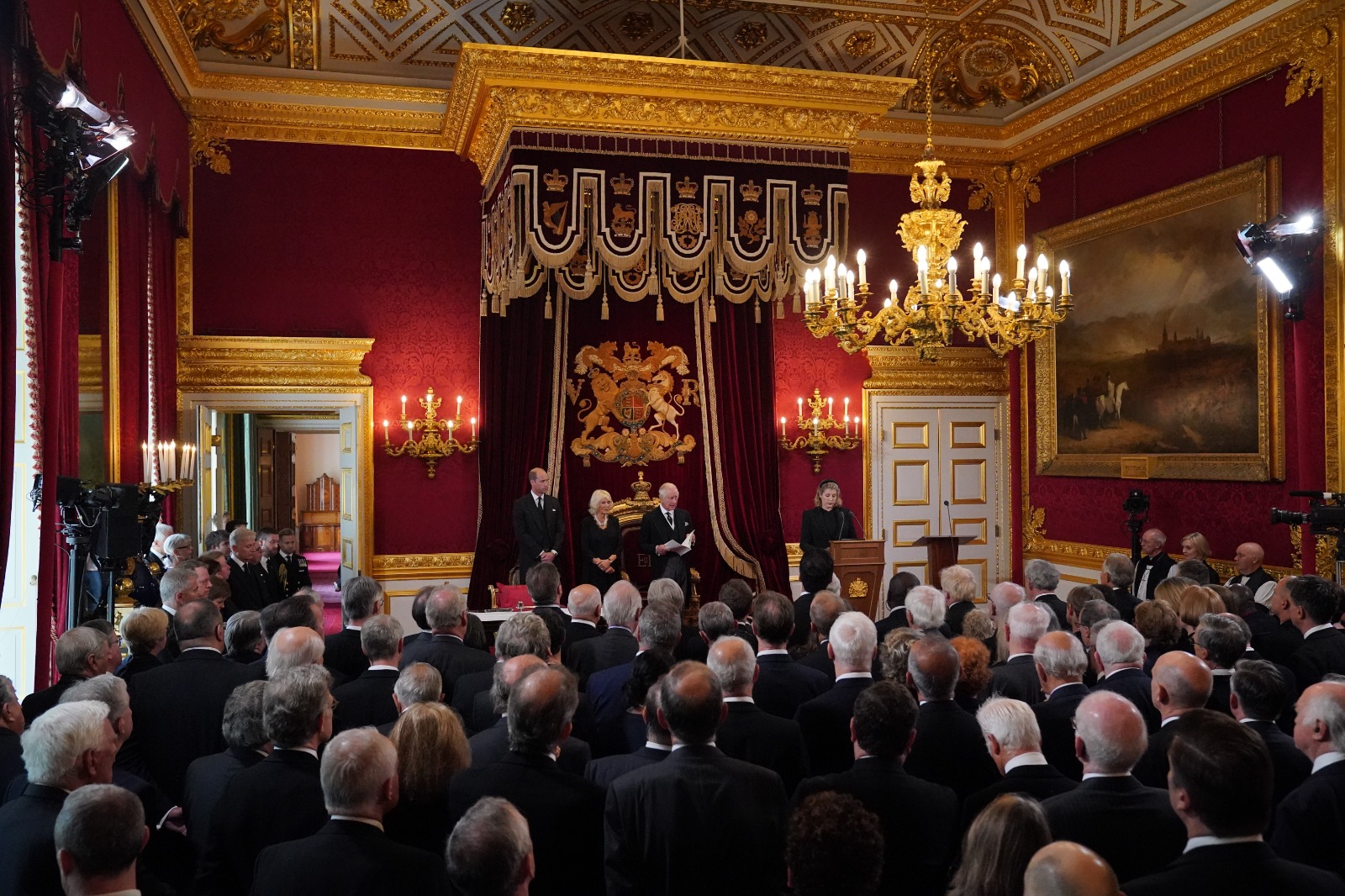 Watched by the Queen Consort, the new Prince of Wales and more than 200 privy counsellors – including six former prime ministers – the King pledged himself to the task now before him and the "heavy responsibilities of Sovereignty".
After the proclamation in Gibraltar on Sunday, the Royal Gibraltar Regiment fired a 21-gun salute from Devil's Gap Battery.
Flags over official buildings had been raised on Saturday to mark the proclamation of King Charles III in London and here.
After the last salvo from Devil's Gap Battery, they were again lowered to half-mast as the period of mourning for the passing of the Queen continues.
The Queen's state funeral will take place at Westminster Abbey on September 19 at 11am.
In case you can not reach the original article go here.
In keeping with Royal Protocol, the Government of Gibraltar on Monday confirmed that Gibraltar would follow the UK and declare a bank holiday in Gibraltar on the day of the funeral.
Additionally, a minute silence will be observed at 9pm on Sunday September 18 in Gibraltar, coinciding with a UK-wide minute silence that night.
"Gibraltar is proud to be joining the United Kingdom in holding a minute silence on the eve of Her Late Majesty Queen Elizabeth II State Funeral," Mr Picardo said.
"As a sign of respect to Her Late Majesty, I have authorised, in like with Royal Protocol, a Bank Holiday for Monday 19th September and call upon all Gibraltarians and residents on Gibraltar to reflect on the immense dedication and contribution Her Late Majesty gave in her 70 Years as Queen."

Queen Elizabeth ll greets King Juan Carlos of Spain with a kiss during a State Visit on April 22, 1986 in London.
The Spanish government has allegedly asked the late Queen's cousin and former king of Spain not to attend Her Majesty's state funeral amid a row threatening to drive a wedge between government and monarchy.
No sooner had Buckingham Palace issued an invitation to King Juan Carlos I than had Spanish government representatives stepped in to make clear that King Felipe VI, the son of Juan Carlos and current king of Spain, was their preferred choice to represent the state abroad.
Spanish government officials privately contacted 84-year-old Juan Carlos I a few days ago to ask him not to attend the funeral, according to El Debate.
But the former king may choose to attend in his own capacity — without the blessing of the Spanish government.
As a cousin of Queen Elizabeth II, the Royal Family extended him an invitation, but photos of Juan Carlos I at the state funeral would be the first of the former king captured at a royal event since his abdication — potentially undercutting the position of King Felipe VI, nephew of the late Queen Elizabeth II.
Quotes from the article:
Rubbish. I do not consent.
Go do so for your dead fake-queen, if you choose. I, on the otherhand, will not observe your minute of silence, but will Sound the Shofar for the Living and only "True King" and not your false-queen and false-king.
Shofar Sounds
Article originally published 11 September 2022.
Wellwishers will get their first chance to pay their last respects at the Queen's coffin today.
Memorial services usually include viewing the dead body. Instead there is a viewing of a coffin. Exceptions are made when a dead body has been maimed due to cause of death, i.e. accident, burn injury, etc. That is not the case with E2. People are viewing a coffin and not the dead body. Articles are reporting about transporting and viewing a coffin. Isn't that odd?
Could an anti-monarchy placard get you arrested after the Queen's death?
Protests can now be broken up if they cause "significant impact" on those near by - and some people say it's disrespectful to demonstrate over the monarchy so soon after the Queen's death. Others believe the recent arrests of protesters is "appalling".
Tuesday 13 September 2022 09:02, UK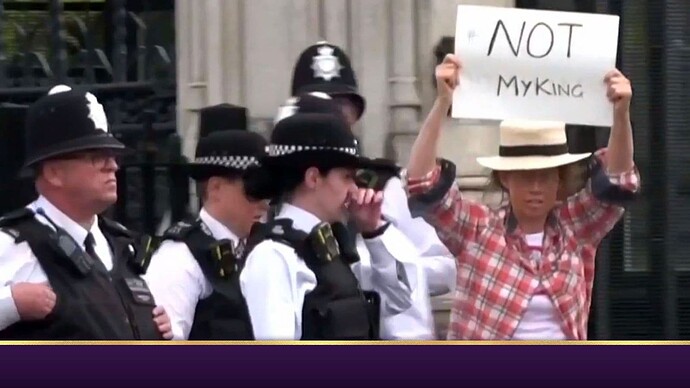 Whether you are a monarchist or republican, most will consider this a time to reflect on an incredible life of service.
But some will want the Queen's passing to signal the end of the institution itself and will think this the perfect time to make themselves heard.
In response to the occasional booing or placard-holding, police have a set of choices: ignore it, try to move the protester on or, in some instances, make arrests. But the question is what should they do?
Mourners view Queen's coffin after royal vigil led by King - latest updates
As the Queen's coffin made its way up the Royal Mile in Edinburgh, a young man near the barrier heckled Prince Andrew, who was walking behind.
Many in the crowd responded by trying to drown him out, chanting "God Save the King".
Someone then decided they had had enough and pulled him backwards to the floor by the collar.
On the pavement behind, a police officer intervened to try to calm the situation. Tempers among the public were raised and some pushed the protester as he was steered away down an alley.
"I've done nothing wrong!" he said. Later, he was arrested.
Please use Chrome browser for a more accessible video player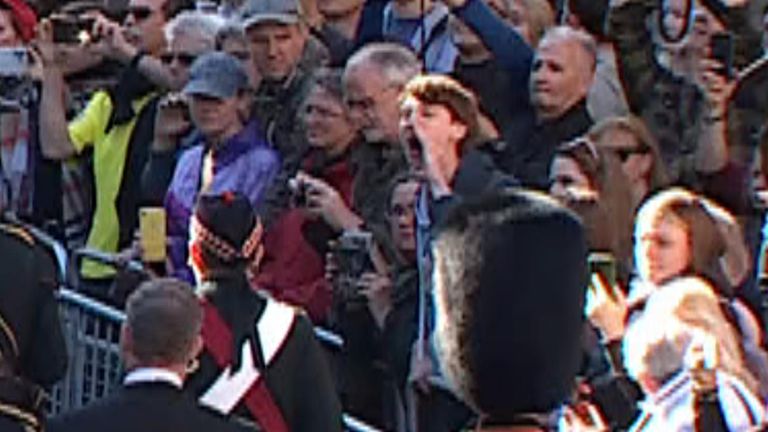 0:47
Man heckles Prince Andrew as he walks behind hearse
I showed footage of the incident to police officers patrolling outside Windsor Castle. "The problem is sometimes you have to detain people for their own protection," one said.
In Scotland at least, two people have not only been arrested but also charged with breaching the peace over royal protests.
One was a woman holding an anti-monarchy placard among a crowd of people who had turned out for a formal proclamation of Charles as King in Edinburgh on Sunday.
In Oxford, a man was seemingly arrested for making a single comment. Symon Hill said he happened to be passing the King's proclamation on Sunday and shouted "Who elected him?"
He was handcuffed and arrested and said he was shaken by what happened.
"Are we really in a place now in 21st-century Britain where a new head of state is proclaimed, we are told to accept this person without any question, and somebody who speaks out against it is dragged off and arrested?" he asked.
"I felt like I'd slipped into the 16th century for a minute."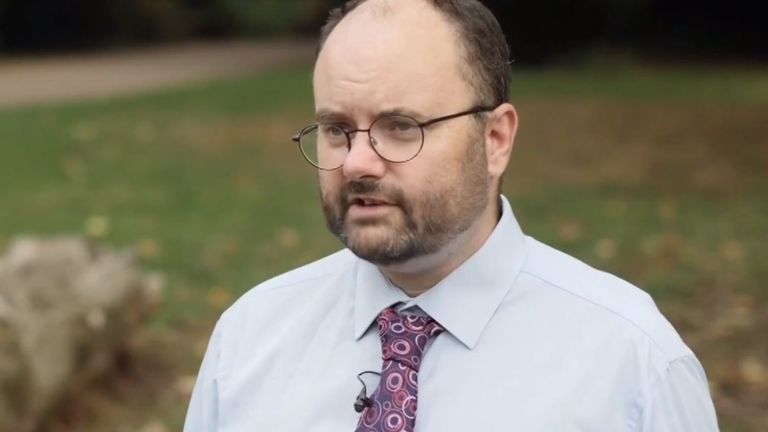 Image: Symon Hill said he was handcuffed after shouting 'Who elected him?'
Thames Valley Police said: "A 45-year-old man was arrested in connection with a disturbance that was caused during the county proclamation ceremony of King Charles III in Oxford.
"He has subsequently been de-arrested and is engaging with us voluntarily as we investigate a public order offence."
Policing events leading to the Queen's funeral is a large and complex operation and there are new laws around protests.
The Police, Crime, Sentencing and Courts Act, which became law this year, gives police more power to disrupt protests deemed to cause "significant impact" on those near by.
'Intimidation, harassment, alarm or distress'
A government factsheet states that "impact" is defined as intimidation, harassment, alarm or distress, with the police then having to consider whether the impact is "significant".
Interpretation of that clearly depends on the circumstances and sensitivities of the situation. What is complicated in this instance is that two things are happening at the same time.
From video: I find all of this very strange,..she died at Balmoral castle..baal moral?
Rev. 20:8 And shall go out to deceive the nations which are in the four quarters of the Earth, Gog and Magog, to gather them together to battle: the number of whom [is] as the sand of the sea (Ezekiel 38 and 39).
London bridge is falling down.
two days before 9-11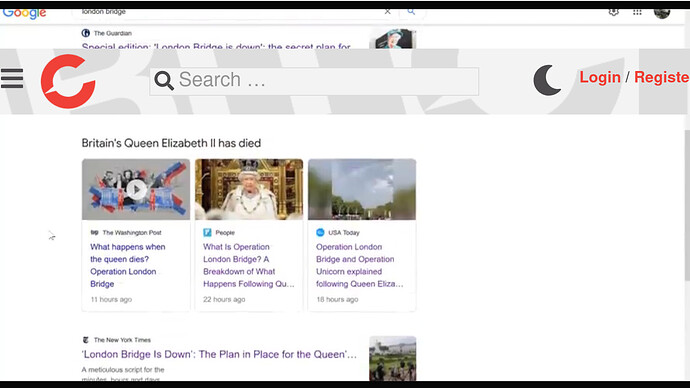 The question is was it actually on 8 September or some other date (maybe even a couple of years ago)? Is that why her body is not for viewing for her memorial?
Interesting about the rainbow. Oddly, the singer/songwriter called "Prince" had a similar rainbow appearing over his residence in 2016 on the day he was pronounced dead. A weird coincidence? Also, it has been said he was murdered because he was increasingly outspoken about exposing the truth about 9 Sept 2001. He was found dead reportedly due to an overdose of pain medication that he was taking for his back pain.
Something Strange Happened This Week...
A medical expert has weighed in on what could be the reason for the King's chubby hands.
...
The King has even reportedly taken a lighthearted approach to the appearance of his digits in the past, referring to himself as having "sausage fingers" in a letter to a friend after Prince William was born.
"I can't tell you how excited and proud I am. He really does look surprisingly appetising and has sausage fingers just like mine," he is quoted as saying in the biography Charles, The Man Who Will Be King by Howard Hodgson.
The queen was also rumoured to be dead last year and it all went silent. Anything is possible with these lunatics.
Psalm 2:1 Why do the unenlightened rage, and the people imagine a futile thing?
2:2 The kings of the earth set themselves, and the rulers take counsel together, against the "I AM", and against His Anointed, (2 Esd. 13:34) [saying],
2:3 Let us break Their bonds asunder, and cast away Their cords from us.
2:4 He that sitteth in the heavens shall laugh: the Lord shall make fools of them.
2:5 Then shall He speak unto them in His wrath, and terrify them in His fury.
2:6 Yet have I set My King (to govern - Isa. 9:6-7) upon My Holy Hill of Gathering (Isa. 33:16; 2 Esd. 13:35).
2:7 I will declare the decree: the "I AM" hath said unto me, Thou [art] My Son; this day have I created for thee.
2:8 Ask of Me, and I shall give [thee] the unenlightened [for] thine inheritance, and the uttermost parts of the earth [for] thy possession.
2:9 Thou shalt break them with a rod of iron; thou shalt dash them in pieces like a potter's vessel (Rev. 12:5).
2:10 Be wise now therefore, O ye kings: be instructed, ye judges of the earth.
2:11 Serve the "I AM" with fear, and rejoice with trembling.
2:12 Kiss My Son, lest he be angry, and ye perish [from] The Way, when his wrath is kindled just a little (Luke 19:27). Blessed [are] all they that put their trust in him.