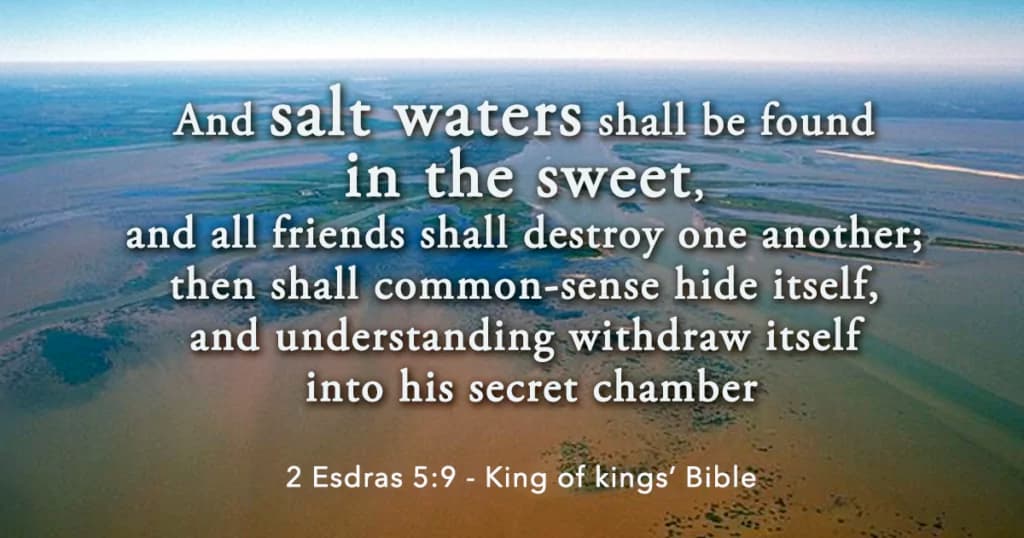 Please read and share the latest post on the Gibraltar Messenger Website -
Thank you.
Mississippi River drought hits record level, revives supply chain concerns: report
NWS predicts Mississippi River level dropping to 11.1 feet below sea level.
The Mississippi River is set to face a number of problems due to low water levels that could impact the supply chain during a crucial period of recovery.

The National Weather Service Memphis Office released projections that the river will drop to 11.1 feet below sea level – a record low for the river that could end up creating significant problems for the shipping industry that uses it as a main artery for trade along the middle of the country.

The U.S. Department of Agriculture's weekly transportation report indicated that southbound shipments dropped by more than 20% due to difficulties navigating the river.

The river has dropped so low that Charles Peek from the Weather Channel posted video on Twitter showing people walking across the dried-out riverbed, saying people have also driven across the space that would normally remain underwater.
Too much saltwater is flowing up the Mississippi River, impacting drinking water in Plaquemines
WWNO - New Orleans Public Radio | By Kezia Setyawan
Published September 29, 2022 at 1:56 PM CDT
Overview of Plaquemines Parish, where the encroaching saltwater wedge threatens drinking water quality for residents.
Due to dry weather causing a lack of freshwater outflow, saltwater from the Gulf of Mexico is encroaching into the Mississippi River — and it's concerning state and local officials.
Saltwater heading upstream is a naturally occurring and periodic condition that happens about every ten years, according to the U.S. Army Corps of Engineers. In a typical year, the heavy outflow from the Mississippi River is enough to keep saltwater from encroaching.
This condition, called a saltwater "wedge," is when denser saltwater flows upstream along the bottom of the river under less dense river freshwater.
Saltwater far enough upstream can ultimately affect municipal drinking water and industrial water supplies in Plaquemines Parish and the greater New Orleans area.
NPR reported previously that Plaquemines Parish paid to have water piped in from New Orleans and other municipal systems and also sent barges upriver to gather freshwater back when the saltwater wedge occurred in 2012.
This time around, the parish has secured two reverse osmosis machines that will run at the Boothville and East Pointe à la Hache water facilities to mitigate the issue. This will cost the parish about $40,000 per machine, per month.
"These plants will take out the chloride in the water and still produce approximately 1 million gallons of water for everyday use," Plaquemines Parish President Kirk Lepine said.
Lepine declared a state of emergency before the press conference Wednesday, and by doing so, hopes to share the cost with state and federal partners.
Plaquemines Parish has also issued a drinking water advisory due to higher levels of sodium and chloride. The parish press release advised residents who have sodium sensitive diets to consult with their health care provider on how much sodium per day is safe to consume.
"We're at the mercy of the river every 10 years — we have to go through this," Lepine said.
To combat this, USACE Emergency Manager for the New Orleans' District Heath Jones said that they are installing an underwater sill to slow the wedge enough to keep the salt levels low enough for water treatment and protect the water treatment plants in Belle Chasse and further upriver.
The USACE is building the sill on the bottom of the Mississippi River at about mile 63 above the Head of Passes, which is between Belle Chasse and Myrtle Grove. Jones said they expect construction to begin in about three weeks and be done by early November.
"What we're trying to accomplish this time is get out in front of it a little bit better than we have in the past," Jones said.
The sill has been constructed three times previously in 1988, 1999 and 2012 and is expected to cost about $10 million to build. Jones said that they will build the barrier in five-foot increments and check salinity levels along the way. It could become a 45-foot-tall sill.
Hurricane Ian's storm system will not affect the saltwater wedge in any capacity, according to Jones. The storm system is too far east to end up in the Ohio River Basin, where the influx of water then traveling through the Mississippi River would push the saltwater wedge back out to the Gulf.
The problem will be resolved once the dry spell ends and more freshwater makes its way downstream, but it is unknown when this will happen.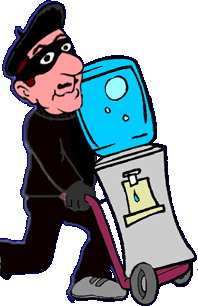 One of the problems - a huge and universal one, is the theft of entire bodies of water from the underground aquafiers, for means of control, $$$,fear, and wars.
Several examples below:
Southern water wars open a new Supreme Court vein
Mississippi is seeking $615 million in damages to account for the loss of 252 billion gallons of groundwater that it says Memphis Light, Gas and Water Division siphoned improperly from the Middle Claiborne Aquifer. The dispute is part of a rare class in which only the U.S. Supreme Court has jurisdiction, and a court-appointed special master issued his report on the matter last year, recommending dismissal of Mississippi's case.
https://www.courthousenews.com/southern-water-wars-open-a-new-supreme-court-vein/
Mississippi Claims Memphis Is Stealing Its Water
The State of Mississippi claims Memphis Light Gas & Water has stolen billions of gallons of water from it by siphoning from a subterranean reservoir under Desoto County.
Mississippi's lawsuit against Memphis and MLGW seeks compensation for water taken since 1985 and estimates the value lost at $1 billion. The suit further says Memphis' pumps have created a "cone of depression" in the aquifer which flows under three states – Tennessee, Arkansas, and Mississippi.
The Great Lakes being siphoned by corporations.
Water theft and water smuggling
Growing problem or tempest in a teapot?
https://www.brookings.edu/research/water-theft-and-water-smuggling/
Fresh water is vital for human survival and health, the production of food and energy, industrial activity, and the functioning of the entire global economy, as well as for the survival of other animals, plants, and natural ecosystems. Water scarcity, whatever its cause—natural catastrophes, pollution, poor water management, or theft—can have grave consequences. In this paper, Vanda Felbab-Brown examines the highly controversial and emerging topics of water theft and smuggling, and the policy failures that give rise to problematic illegal water markets around the world.
Water experts, water-focused nongovernmental organizations (NGOs), governments, and communities do not agree whether there is any such a thing as water theft.
Nestle is on of the most abusive offenders- as they dont believe water is a human right.
The fight to stop Nestlé from taking America's water
Creek beds are bone dry and once-gushing springs are reduced to trickles as fights play out around the nation over control of nation's freshwater supply.
Last year Nestlé siphoned 45m gallons of pristine spring water from the creek and bottled it under the Arrowhead Water label.
Though it's on federal land, the Swiss bottled water giant paid the US Forest Service and state practically nothing, and it profited handsomely: Nestlé Waters' 2018 worldwide sales exceeded $7.8bn.
The Forest Service recently determined Nestlé's activities left Strawberry Creek "impaired" while "the current water extraction is drying up surface water resources".
Drought-hit California moves to halt Nestlé from taking millions of gallons of water
Nestlé, accused of taking millions more gallons than it is entitled to, receives draft cease-and-desist order from state officials
Drought-hit California moves to halt Nestlé from taking millions of gallons of water | California | The Guardian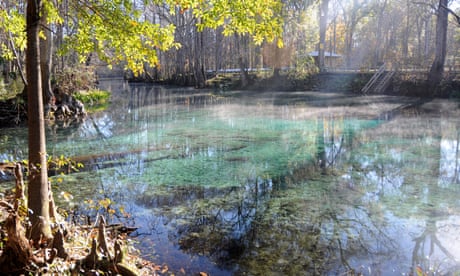 Nestlé plan to take 1.1m gallons of water a day from natural springs sparks outcry
Read more
(Nestlé plan to take 1.1m gallons of water a day from natural springs sparks outcry | Nestlé | The Guardian)
Meanwhile, the state is investigating whether Nestlé is illegally drawing from Strawberry Creek and in 2017 advised it to "immediately cease any unauthorized diversions". Still, a year later, the Forest Service approved a new five-year permit that allows Nestlé to continue using federal land to extract water, a decision critics say defies common sense.
While Nestlé extracts millions of litres from their land, residents have no drinking water.
While Nestlé extracts millions of litres from their land, residents have no drinking water | Indigenous peoples | The Guardian
The horrific scam that water billionaires are running on poor Countries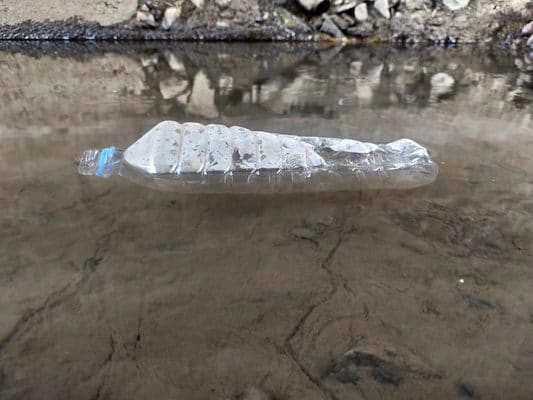 Mega corporations like Coca-Cola, Pepsi, and Danone are making around 494 times what they spend by bottling water in Mexico and selling it back to locals who have no choice but to buy it.
In Mexico and other poor countries and regions, companies are taking water from aquifers, springs, rivers, and lakes, and putting it in plastic bottles or turning it into flavored and sugary drinks, then dumping their used and dirty water back into water sources. That, along with other industrial pollution which is disproportionately disposed of into rural, Indigenous, and poorer communities, means locals are not able to drink tap water and end up paying extortionate prices to the European and US corporations.
In exchange for taking Mexico's water, Mexicans give water bottling corporations US$66 billion a year. Coca Cola, Pepsi, Danone, Nestle, Bimbo, and other bottling and junk food companies extract over 133 billion liters of water, and then dump at least 119 billion liters of contaminated water back into water basins and aquifers.
Stealing water and polluting waterways is very profitable
The global bottled water market was worth US$230.4 billion in 2020, and the top beneficiaries are all US and European companies.
Inside the bitter feud over the source of Arrowhead bottled water
BOTTLED WATER GIANT BLUETRITON ADMITS CLAIMS OF RECYCLING AND SUSTAINABILITY ARE "PUFFERY"
BlueTriton, owner of Poland Spring and other brands of water packaged in plastic, stated in a court filing that its claims of sustainability are "vague and hyperbolic."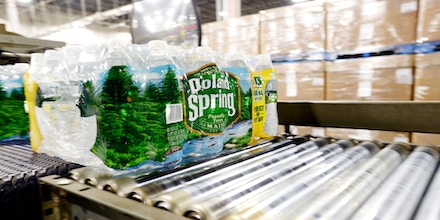 BlueTriton made a revealing argument: its claims of being environmentally friendly aren't violations of the law, because they are "aspirational."
BlueTriton made a revealing argument: its claims of being environmentally friendly aren't violations of the law, because they are "aspirational."

BlueTriton — which owns Poland Spring, Pure Life, Splash, Ozarka, and Arrowhead, among many other brands — is estimated to contribute hundreds of millions of pounds of plastic to U.S. landfills each year. BlueTriton used to be known as Nestlé Waters North America, which was bought by the private equity firm One Rock Capital Partners in March 2021. The company, which has a history of draining aquifers to get the water that it encases in polluting plastic, owns about a third of bottled water brands in the U.S. Yet with sleek, green — and blue — PR materials, BlueTriton markets itself as a solution to the problems of plastic waste and water.
Bottled Water Giant Admits to Environmental "Puffery"
Nestle Russia boycott: CEO Mark Schneider accused of being complicit in the death of innocent civilians in Ukraine | Fortune
Nestlé's plan to pump 65 million gallons of Arkansas River water to Denver for bottling stirs contentious fight
China is in on the deal as well, as many worldly politicians sold their soul to the devil and allowed the Chinese to take the water for pennies - bring it back to China, put whatever they like into the drinking water they package, (some say prozac, some say sedatives, some say nanobots), and sell it to unsuspecting americans making a "killing" in the process.
And the great world wide water wars.
How water shortages are brewing wars
Unprecedented levels of dam building and water extraction by nations on great rivers are leaving countries further downstream increasingly thirsty, increasing the risk of conflicts.
As much as a quarter of the world's population now faces severe water scarcity at least one month out of the year.
Water scarcity affects roughly 40% of the world's population and, according to predictions by the United Nations and the World Bank, drought could put up to 700 million people at risk of displacement by 2030.
"If there is no water, politicians are going to try and get their hands on it and they might start to fight over it,"
"With very rare exceptions, no one dies of literal thirst," he told Reuters. "But more and more people are dying from contaminated water or conflicts over access to water," said Peter Gleick.
"We categorised water conflicts in three groups," Gleick told BBC Future. "As a 'trigger' of conflict, where violence is associated with disputes over access and control of water; as a 'weapon' of conflict, where water or water systems are used as weapons in conflicts, including for the use of dams to withhold water or flood downstream communities; and as 'casualties' or 'targets' of conflicts, where water resources or treatment plants or pipelines are targeted during conflicts."
As much as a quarter of the world's population now faces severe water scarcity
Nowhere is the dual effect of water stress and climate change more evident than the wider Tigris-Euphrates Basin – comprising Turkey, Syria, Iraq and western Iran. According to satellite imagery, the region is losing groundwater faster than almost anywhere else in the world. And as some countries make desperate attempts to secure their water supplies, their actions are affecting their neighbours.
During June 2019, as Iraqi cities sweltered through a 50C (122F) heatwave, Turkey said it would begin filling its Ilisu dam at the origins of the Tigris. It is the latest in a long-running project by Turkey to build 22 dams and power plants along the Tigris and the Euphrates that, according to a report by the French International Office for Water, is significantly affecting the flow of water into Syria, Iraq and Iran. It claims that when complete Turkey's Guneydogu Anadolu Projesi (GAP) could include as many as 90 dams and 60 power plants. (See how dams such as the Ilisu are reshaping our planet.
the quality of their water deteriorate.
Turkish border – with less freshwater flowing down the Tigris and Euphrates, saltwater is intruding further up the river (from the Persian Gulf). Over time, it's ruining crops and it's making people sick."
Who would have thought?

WHAT IF WE DRAINED THE MEDITERRANEAN?
But for once, this isn't a result of climate change — we're doing it on purpose! If we blocked off the Mediterranean's main water source from the Atlantic Ocean, we'd be essentially creating a new desert that connects Europe with Africa.
This new supercontinent would not only make international trade easier, but it could also provide some much-needed renewable energy resources. But what kind of environmental impact would come with removing an entire body of water?
How could we use the new land? And what happened the last time that someone tried something like this?
[Obviously recently]
If this whole idea sounds a little familiar, it's because it was proposed back in the 1920s by a German architect named Herman Sörgel. As intriguing as Sörgel's idea was, the project never really took off because, for one thing, there wasn't enough concrete in the world to build a dam large enough to block off the Mediterranean.
And on top of that, Germany was crippled by losing the First World War. But times have changed, and here we are, desperate for renewable energy solutions. So why not give this idea another shot? What could possibly go wrong?
Draining the entire Mediterranean Sea would be no small feat. It's approximately 2.5 million square km (965,222 square mi), and it has an average depth of 1,500 m (4,921 ft).
We wouldn't drain this body of water in the same way that you would drain a bathtub. Instead, we would have to focus on blocking off its intake of the water coming in from the Atlantic Ocean.
You see, the water in the Mediterranean is evaporative, meaning that more water evaporates from it than flows in from rivers and streams. The water that the Mediterranean Sea needs mainly comes from the Atlantic Ocean, through the Strait of Gibraltar. So, if we can cut off that flow we can, in theory, drain the Sea over time.
Blocking the water flowing in from the Atlantic would cause the Mediterranean Sea to decrease by 1.65 meters (5.4 feet) each year. But we wouldn't want to drain the entire thing dry. Instead, we could split the Sea into a couple of different water levels, with the middle one being completely dry land.
This would allow us to install a hydroelectric dam at the Strait of Gibraltar to produce some much-needed renewable energy for Europe and Africa. Renewable energy is always nice, but would it be worth it in this case?
Sure, we'd have a whole new stretch of land to develop between Europe and Africa, but most people wouldn't want to move there. It would become a very hot desert, probably the hottest region on Earth because it would be so far below sea-level.
At its deepest points, with canyons reaching around 5,000 meters (16,404 feet) below sea level, temperatures could become close to 80°C (176°F). To put that in perspective, the hottest temperature ever recorded on Earth was 54°C. And because the water from the Mediterranean Sea is so salty, the uncovered land would just be salt flats and useless for agriculture.
Soon, the surrounding land would become desert as well. Southern Europe and Turkey would start to dry up, and as a result, rainfall would decline, which could significantly impact agriculture in Europe.
Any animals that lived near the Mediterranean would have to choose between migrating away from the coast or dying because the remaining water would be too salty and shallow. And the negative effects wouldn't just be limited to our new supercontinent.
All the water from the drained sea would be redistributed throughout the world's oceans, causing a 10 m (32 ft) rise in sea levels. Cities like New Orleans, Sacramento, Amsterdam, Copenhagen, and Shanghai would all be completely underwater.
.