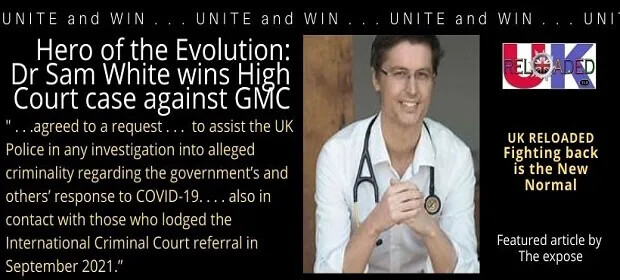 In mid-September, Dr. White filed an appeal in the High Court against a Medical Practitioners' Tribunal Service's determination and the conditions placed on his practice that Dr. White should not be able to post on social media about the Covid pandemic and all "associated aspects" and that he should remove all posts.

Dr. White's legal team are Philip Hyland, PHJ Law Solicitors, and Francis Hoar, a barrister who specialises in election/public, commercial and employment law. The latest update on Dr. White's Crowd Justice page states "Judgment in the High Court appeal against the IOT [interim order] determination is awaited. The appeal was heard on 4 November 2021."

On Friday the waiting was over.

The judgement found that orders placed on Dr. White breached his human rights including his right to take part in debate on current events.
Letter from Dr White's legal team to the NHS:
GP Dr Samuel White speaking out about ending his career because of the lies: