You are certainly welcome.
Dear Nam,
Truly, slavery is a tragedy and particularly more so when the Solution is here / within grasp. Tragic.
Lev. 19:31 Regard not them that have familiar spirits, neither seek after wizards, to be defiled by them: I [am] the "I AM" your God.
1 Sam 15:23 For rebellion [is as] the sin of witchcraft, and stubbornness [is as] iniquity and idolatry. Because thou hast rejected the word of the "I AM", He hath also rejected thee from [being] king.
2 Chron 33:6 And he caused his children to pass through the fire in the valley of the son of Hinnom: also he observed times, and used enchantments, and used witchcraft, and dealt with a familiar spirit, and with wizards: he wrought much evil in the sight of the "I AM", to provoke Him to anger.
Sura 21 21:3 Their hearts toying with trifles. The wrong-doers conceal their private counsels, (saying), "Is this (one) more than a man like yourselves? Will ye go to witchcraft with your eyes open?"
2 Corinthians 6:14 Be ye not unequally yoked together with unbelievers: for what fellowship hath righteousness with unrighteousness? And what communion hath light with darkness?
2 Corinthians 6:15 And what concord hath Christ with Wickedness? Or what part hath he that believeth with an infidel?
2 Corinthians 6:16 And what agreement hath The Temple of God with idols? for ye are the temple of the Living God; as God hath said, I will dwell in them, and walk in [them]; and I will be their God, and they shall be My people.
2 Corinthians 6:17 Wherefore come out from among them, and be ye separate, saith the Lord, and touch not the unclean [thing]; and I will receive you,
1 Peter 2:9 But ye [are] a chosen generation, a royal channel, an holy nation, a peculiar people; that ye should show forth the praises of Him Who hath called you out of darkness into His marvellous Light: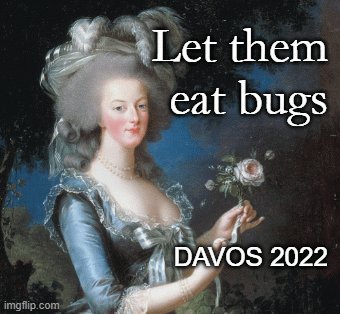 Wawoo thank you sister for this wonderful write up
You are welcome. Likewise thank-you @Maria

@Maria You are certainly welcome. Likewise thank-you too.

And high levels of oppression.
We are really greatful for the solution, otherwise we would still be drinking their wine and running in cycles.
LLTK.
@Nam ,
From this end both links open right to the article on Hanna Michaels Time to Think. Possibly your end, browser?
LLTK
Probably poor network, will check tomorrow at school God willing.
@Nam ,
Grateful for the solution indeed, otherwise we'd be drinking wine out of old wineskins; their lies mixed with truth.
Thomas 8:4 No man drinks old wine and immediately desires to drink new wine; and they do not put new wine into old wineskins, lest they burst, and they do not put old wine into a new wineskin, lest it spoil it.
LLTK
Try it with non-TOR Brave browser.
People actually applaud this man's plan.
Okay please, thank you kindly.
POWER GRAB: Klaus Schwab And The World Economic Forum Say That Gas Prices Must Go Even Higher In Order To 'Save Democracy' From Climate Change
July 11, 2022
By
The World Economic Forum (WEF) released a position paper Monday that inexorably links two claimed global crises as one – "climate change" and the "decline of democracy."
On the Podcast today, we talked about how the Left's endless quest to 'solve Climate Change' has very little to do with saving the planet, and everything to do with controlling the means of production when it comes to energy. It is literally all about power – political, financial and energy – and who gets to control it. The entire Plannedemic was and is about taking power, but it's the power of darkness. The World Economic Forum is very, very dark, and the hour is very, very late.
"..but this is your hour, and the power of darkness." Luke 22:53 (KJB)
In the dystopian novel '1984', George Orwell wrote "Power is not a means; it is an end. One does not establish a dictatorship in order to safeguard a revolution, one makes the revolution in order to establish the dictatorship." The people who are currently seizing power to "save democracy" and to "stop Climate Change", will never, ever in a million years relinquish that power. The path to obtaining that power runs through destroying America, destroying the fossil fuel industry, and setting themselves up as the authority. How do revolutions work out? Go ask Cuba.