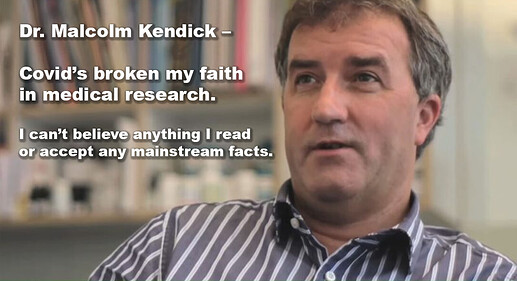 I'm a doctor, but Covid's broken my faith in medical research. I can't believe anything I read or accept any mainstream facts
Those of us who put forward an alternative view to the prevailing orthodoxy on the virus or on vaccinations are being vilified, threatened and cancelled. This is not how science, or a functioning democracy, works.

I haven't written for a while, sorry. Instead, I have been sorting out two complaints about my writing made to the General Medical Council (GMC). Also, a complaint from NHS England, and two irate phone calls from other doctors, informing me I shouldn't make any negative comments about vaccines.
Dr Malcolm Kendrick – I've lost all trust in medical research – the financial muscle of Big Pharma has been busy distorting science during the pandemic
Dr. Kendrick: I've Signed Death Certificates During Covid-19. Here's Why You Can't Trust Any of the Statistics on the Number of Victims
Dr Malcolm Kendrick: First Hand Experience - the Lowdown on Lockdown! (Ivor Cummins)
Dr. Malcolm Kendrick's Blog - drmalcolmkendrick.org/