There's another Challenge in this Post.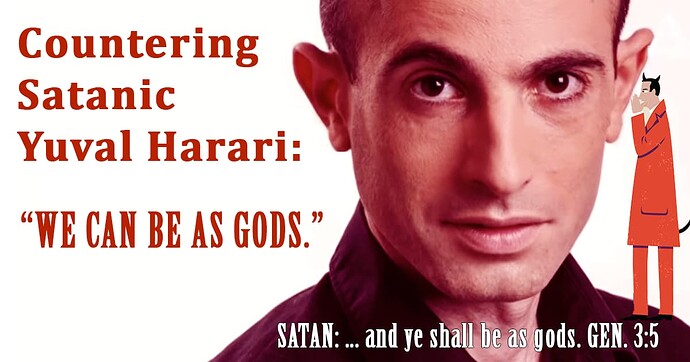 For the first 15 minutes, the video below captures Harari telling us what T.H.E.Y. are doing and have planned. Harari is a professed historian (professing themselves wise, they became fools - Romans 1:22), author and sodomite (Lev. 20:13).
Leviticus 20:13 If a man also also lie with mankind, as he lieth with a woman, both of them have committed an abomination: they shall surely be put to death; their blood [shall be] upon them.
He is said to be an advisor for Klaus Schwab (WEF).
We know T.H.E.Y. are planning depopulation, the cullilng of humans in their technocracy. We know they plan to chip our bodies "under the skin" and to try to control our "everything". Just how far they are along, and how easy leaders follow these Satanic agents, should tell us that we are close to The End. The rug will be pulled at the 11th hour. And while there is comfort in knowing God and Christ prevail, it is becoming oh so clear why so many are fooled, deceived, and simply won't make it, because of their lack of Faith, but also for following blindly these evil soul-hunters, like Harari, Schwab, Gates and more. What I find disheartening is the amount of air time Harai is given to relay his message to manipulate the masses into following their so-called science.
1 Timothy 5:20 O Timothy, keep that which is committed to thy trust, avoiding profane [and] vain babblings, and OPPOSITIONS OF SCIENCE (knowledge) FALSELY SO CALLED:
5:21 Which some professing [to have] have erred concerning the faith. Grace [be] with thee. Amen.
What Harari is saying is so blatant; and one can see how insane Lucifer is - thinking somehow he's going to escape being locked in Hell-fire with those of us who do not repent and keep God's Law and The Covenant. So, we have the controlled satanic media giving Harari all kinds of interviews, helping him to spread satan's message, but who is interviewing EliJAH The Prophet, with instructions on how to survive? EliJAH's message is the exact opposite message of Harari's.
The counter to Harari's message is simply written in a little book The Way home or face The Fire. The Way Home link with a comment can be given in a reply everywhere Harari is given "air-time".
Harari has a team to help him, as he mentions. But EliJAH has a team of Believers, so we must strive to get The Word out.
The CHALLENGE of this thread – is NOT to add more articles on Harari, some can be already found on DG, unless a quote is needed from elsewhere that isn't below. The challenge is to use The Bible and "The Way home or face The Fire" to counter Harari's message, which is really from Lucifer.
This thread is also about creating a discussion, not loading articles WITHOUT commentary.
An example would be to take a sentence or phrase Harari is quoted as saying below, and provide The Truth to counter his lies.
HIGHLIGHT the sentence/phrase Harari said with your cursor and DG will automatically quote it:
The Harari Lie:
Then provide the Counter:
THE TRUTH: Free-will is not a myth.
From JAHTruth.net/sprtlzd.htm: "This brings us to the next point about good and bad. As you have said, there would be no point in having only good without bad in this world or there would be no point in creating it at all. God does indeed, as you say, organise our lives for us, but we have the final say ourselves whether we want to do things His Way (the good way) or our own or somebody elses way (the bad way), which fulfills our God given right to free-will."
Another example:
The Harari Lie:
THE TRUTH:
The Way home or face The Fire 12:33 "Satan is ruling the world, right-now, through those very people, who are in human governments and religious-organizations (Ephesians 6:11-12)."
You can choose your own format as long as it is clear what lie you are countering and what truth you are presenting. ALSO - All constructive discussion is welcome.
Here's the video and Harari quotes:
How Transhumanism & Pharmakeia Is Tied To The End Times "Image of the Beast
Galatians 5:19 Now the works of the flesh are manifest, which are [these]; Adultery, fornication, uncleanness, lasciviousness,
5:20 Idolatry, pharmacy, hatred, variance, emulations, wrath, strife, seditions, heresies,
5:21 Envyings, murders, drunkenness, revellings, and such like: of the which I tell you before, as I have also told [you] in time past, that they which do such things shall NOT inherit The Kingdom of God.
Harari Quotes/Lies in the video compilation:
Just as God in the Bible designed and created animals and plants and humans according to His wishes, now we are learning to design and create life.
We don't have any answers in the Bible when humans are no longer useful to the economy. You need completely new ideologies, completely new religions; and they are likely to emerge from Silicon Valley... They are likely to give people visions based on technology. Everything the old religions promised - happiness, justice and even eternal life; but here on Earth with the help of technology, and not after death with the help of some supernatural being.
When asked "What are humans for?" Harari says, "as far as we know – for nothing. There is no great cosmic drama; some great cosmic plan; that we have a role to play in it; and we just need to discover what our role is; and then [plate] to the best of our ability. This has been the story of all religions and idealogies and so forth, but as a scientist, as far as I can say this is not true. There is no universal drama with a role in it for homosapiens... If you repeat a lie often enough, people will think it's the truth; and the bigger the lie the better, because people will think something so big can be a lie."
I think that fake news has been with us for thousands of years - just think of the Bible.
One option that people talk about is only a catastrophe can shake human kind and open the path to a real system of global governance. And they say we can't do it before the catastrophe, but we need to start laying the foundations so when the disaster strikes we can react quickly. People just won't have the motivation to do things before the disaster strikes. So the next step is we turn our gaze inwards, we say getting control of the world outside us did not make us satisfied, let's now try to gain control of the world inside us. This is a really big project of science, technology and industry in the 21st century will try and gain control the world inside us to learn how to engineer and produce bodies, brains and minds. These are likely to be the main products of the 21st century economy.
We have all this myth of free will; that everything we choose is of our own free will; and this is a myth that has served us well for a couple of centuries but now its becoming dangerous.
We are probably one of the last generations of homosapiens, because in the coming generations, we will learn how to engineer bodies, brains and minds. How exactly will the future masters of the planet look like? This will be decided by the people who own the data. Why is data so important? It's important because we can reach the point where we can hack not just computers, but we can hack human-beings and other organisms. What do you need in order to hack a human being? You need two things. You need a lot of computing power; and you need a lot of data, especially biometric data. But control of data might enable human elites to do something even more radical than just build digital dictoratorships. By hacking organisms elites may gain to re-engineer the future of life itself, because once you can hack something, you can usually also engineer it.
All of life for 4 billion years, dinosaurs, amoebae, tomatoes, humans were subjective to the laws of natural selection and to the laws of biochemistry, but this is now about to change. Science is replacing evolution by natural selection by evolution by intelligent design. Not the intelligent design of some God above in the cloud, but our intelligent design; and the intelligent design of our clouds, the IBM cloud, the Microsoft cloud, these are the new driving forces of evolution.
And at the same time, science may enable life, after being confined for 4 billion years to the limited realm of organic compounds, science may enable life to break out into the inorganic realm.
Humans are now hackable animals. The whole idea that humans have this soul, this spirit, they have this free will; and nobody knows what's happening inside me, so whatever I choose, whether in the election, or whether in the supermarket, that's my free will – That's over.
Today, we have the ability to hack human beings on a massive scale. Yeah, everything is being digitalized. Everything is being monitored. In this time of crisis, you have to follow science. It's often said you should never allow a good crisis to go to waste, because a crisis is an opportunity to do good reforms that in normal times people would never agree to, but in a crisis we see we have no chance, so let's do it.
Surveillance – People can look back in a 100 years and identify the corona virus epidemic as the moment when a new regime of surveillance took over, especially surveillence under the skin, which I think is the most important development of the 21st century is this ability to hack human beings to go under the skin, collect biometric data; analyze it and understand people better than they understand themselves.
By hacking organisms, elites may gain the power to re-engineer the future of life itself, because usually when you can hack something, you can also engineer it.
Maybe in a couple of decades when people look back, the thing they will remember from the covid crisis is this is the moment when everything went digital. This was the moment when everything became monitored. That we AGREED to be surveyed all the time, not just in totalitarian regimes, but even in democracies. And maybe most important of all is this is the moment when surveillence started going under the skin, because we haven't seen anything yet.
I think the big process that is happening right now is hacking human beings - the ability to hack humans - to understand deeply what's happening within it. What makes you go. For that the most important data is not what you read and who you meet and what you buy, it's what's happening inside your body.
We had these two big revolutions. We had the computer science revolution or the infotech revolution and the revolution in the biological science; and they are still separate, but they are about to merge. They are emerging around the biometric sensor. It's the thing, it's the gadget, it's the techology that converts biological data into digital data that can be analyzed by computers. And having the ability to really monitor people under the skin, this is the biggest game-changer of all.
So far, it's corporations and governments collecting data about where we go, who we meet, what movies we watch. The next phase is the surveillance going under our skin.
The mass surveillance system established even in democratic countries which previously rejected them, and we also see a change in nature of surveillance. Previously, surveillence was above the skin, now its going under the skin. GOVERNMENTS want to know not just where we go or who we met, above all, T.H.E.Y. want to know what is happening under our skin. What's our body temperature? What's our blood pressure? What is our medical condition?
Now, humans are developing even bigger powers than ever before. We are really acquiring divine power of creation and destruction. We are really upgrading humans into gods. We are requiring the power to re-engineer life.
All these stories about Jesus rising from the dead and being the Son of God, this is fake news.
In recent years, we saw populous politicians undermining deliberately the trust that people have in important institutions like universities, like respectable media outlets. These populous politicians told people, say scientists are this small elite disconnected from the real people, you should believe them. And you had all these conspiracy theorists say that climate change is just a hoax; and that the earth is actually flat; and vaccinations are bad for you; and desparate. But I don't think it's too late, especially in an emergency, people can change their views very fast and they can discover hidden reservoirs of trust.
You look in this crisis and who do people trust? They trust scientist above everything else. In Israel they closed down synagogues; in Iran, they closed the mosques. Churches all over the world are telling people, "don't come to church". The pope is doing all these ceremonies on zoom, on youtube; and why do they do all this? Because the scientists recommended it. Even the religious leaders have trusted in the scientists.
The easiest people to manipulate is the people who believe in free will, because you manipulate them and they don't even suspect, they say I chose it because this is my free-will.
We need some kind of global loyalty and global identity.
Earth will be populated or even dominated by entities that are not organic; that they don't breathe, they don't have emotions. The potential of AI is much much bigger than any historical revolution; it's really a biological revolution.
And now if you give the tools to start changing or overcoming biology. Just think about sex-life, almost every religion and every idealogy wanted to really change human sexuality it you limit it, but they couldn't. You had vows of chasity in the church and how many people actually lived up to vows of chasity? Now, really think if you can start messing with human biology, what will be the result of these sexual fantasies of different religions and idealogies?
And the big political and economic question of the 21st century will be, "What do we need humans for? Or at least what do we need so many humans for?" When asked does Harari have an answer for that, he said, "The best answer we have is to keep them happy with drugs and computer games.
An interview says, you've called yourself a prophet, but Harari says he repeatedly denied it.
Another interview asks, How do you feel being so influential (in only a few years)? You have power somehow to convince leaders yourself. Harari says, "I now have a team that is helping me deal with that. It is impossible to deal with such a thing just one person. People see me and think I'm doing everything. I actually do very little and the people that work hard are my team members, organize this and everything. I repeatedly tell people that they shouldn't see me as some kind of prophet or guru, I don't know.