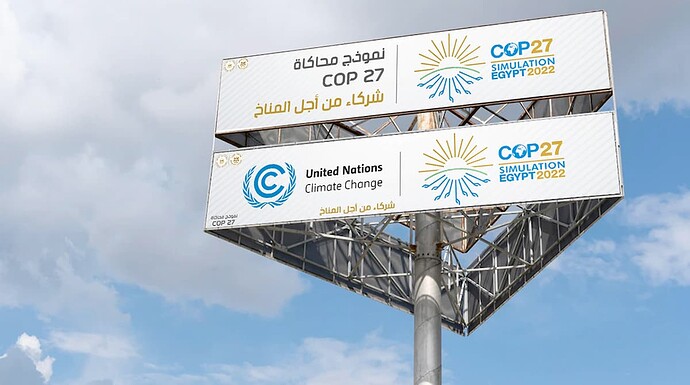 THE 27th Conference of the Parties of the UNFCCC (COP 27) will be held in Africa for the first time in the city of Sharm El-Sheikh, Egypt to deliberate on critical issues regarding climate change.
The COP27 starts Saturday, Nov 6 and will run to November 18th. Is focus: action on issues critical to addressing the climate emergency, from reducing greenhouse gas emissions, helping communities build resilience and adapt to the inevitable impacts of climate change, to financing climate action and addressing loss and damage in developing countries.
WORLD leaders will next week descend on the Egyptian city of Sharm El-Sheikh to discuss the global effort to fight climate change, with the financial sector being a particular focus.
Many have labelled this year's Conference of Parties (COP) as the "boring COP" after the equivalent event in Glasgow last year, COP26, saw Australia form its target to have net zero emissions by 2050 and the threat of a "meat tax" in the United Kingdom.
Others have labelled this year's event the first "food COP" with a "sustainable plate of food up for debate".
COP27 will have a big focus on sustainable agriculture, particularly the way it is financed. Day five will be the agriculture and adaptation day with policy makers and industry discussing an initiative called Food and Agriculture for Sustainable Transformation (FAST).
According to the FAST document, the main aim will be to form a strategy to have more finance and knowledge in the field of stainable agriculture practices.
Big business more than ever is under pressure to channel money into curbing climate change - and yet the chances of U.N. talks providing the necessary spur have slimmed as the Ukraine war, high energy prices and geopolitical tensions take precedence.
In interviews, more than a dozen U.S. and European finance leaders were pessimistic the climate conference in Sharm el-Sheikh in Egypt starting Nov. 6 can make clear progress.
"Avoiding a rollback of existing pledges and commitments... could probably be considered a success," Benedict Buckley, research analyst at ClearBridge Investments, said.
THEY might also want to brush up on their Maths skills
To have a world where vehicles use electricity, a world where sea vessels use only clean energy, and airplanes travelling using clean hydrogen air may seem like a dream or a movie, but during the COP26 meeting in Glasgow many governments and business companies said that they have begun to fulfil those dreams and make them a reality.