Colmcille 1500 is a year-long commemoration to mark the 1500th anniversary of the birth of Colmcille – also known as Columba in December of the year 521. The campaign has been set up to celebrate the renowned saint's remarkable life and legacy. The commemoration officially opened on December 7th 2020 in the lead-up to the 1500 anniversary of his birthday, which will be this December 7th.

The dedicated campaignpromotes the rich heritage of the saint whose abbey of Iona linked Ireland and Scotland and beyond. So far, events to celebrate the much-loved Irish Saint have been held in Donegal, Derry, Kells, Argyll, and in the Western Isles, many of them taking place online.

Read more on Gript.
Columba was in conflict with the Roman Catholic Church, as he faithfully kept Christ's teachings and wrote this about the church:
Senanus (Cian aneas - Kells):-

The clergy of the holy church,
Will be addicted to pride and injustice;
The advantages they will aim at,
Shall be the possession of worldly substance.
He was not Catholic.
Columba (real name Crimthann) was born a prince; on December 7, 521 A.D., at Gartan in County Donegal; a nephew of Fergus Mor Mac Erca (the then king of Scotland) and Fergus' brother, the then reigning High-king of Ireland. His mother, Eithne, from royal ancestry in Leinster, was daughter of a Munster chief, of the line of Cathair Mor. It was only in a time when, as then, the fires of Christianity glowed at white heat for some, that a man of such, and so many royal entanglements could turn his back upon wealth, rank and power like Moses had done, and give himself to God.

Columba went to Kells and built his house into the grave-mound of the great Ith Cian king of Spain. He did this because he greatly revered Ith Cian; from whose name Cian aneas Mor, or Kells as it is known today, takes its name; and he wanted to be near to his grave, so he could try to communicate with him; absorb his energy and seek knowledge from him.

This revering of Ith Cian by Columba is confirmed by his prophecy titled Senanus (Cian aneas - "Cian from the South") in which the physical Second-Coming of Christ, to be King of Ireland, is foretold: an event that will finally defeat the English Davidic monarchy, unite Ireland under Christ's Sovereignty and bring peace and prosperity to all of its people.

Read more about Columba's prophecy at this link.
Columba's House is the place where the world-famous Book of Kells was probably finished and kept before being removed to the porticus of Columba's church, from where it was stolen in 1007 A.D. and then found again; minus its cover and some pages from the Gospel of John.

Read more at this link.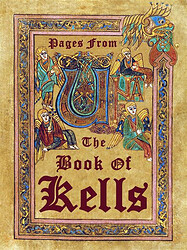 Once established on Iona, where Columba became custodian of the Lia Fail Stone, he set about making his famous Book of Kells in order to give people what he considered to be the true Gospel and so did not include in it things that he knew had already been corrupted by the church, in order to justify the church's own existence, in direct contradiction of Christ's commands to the faithful. He therefore limited the Book of Kells to the Four Gospels.

Read more at link.