Vaccine Destroyed My Daughter in 1995
by tts-admin | Jan 16, 2023 |
(Rising sun is a Satanist motif)
" If Kaiser had prevailed in keeping me away from my daughter while they sedated her into oblivion, she would not be here today.
My daughter was worth an estimated $250K as a lab specimen which Kaiser stood to benefit from by trafficking her to St Helena for an untimely death.
For the record, I learned that Kaiser, unknown to the parents whose children similarly die, harvests liver, kidney and brain samples for research in connection with the vaccinations that caused their deaths.
They were not only going to kill my daughter, she was research material for vaccination efficacy, which is human trafficking."
Sally
In 1995 my youngest daughter received a MMR (Measles, mumps & rubella) vaccination to which she reacted by becoming ill. She recovered but developed behavioral issues before starting school which Kaiser documented as Conduct Disorder at 30 months old.
Developmental milestones were interrupted, SST intervening in grade school at what time she calmed down.
Puberty revisited an escalation of behavioral issues which Kaiser mental health addressed with 14 different types of ADPS meds, every one of these prevailing in magnifying symptoms.
Her sixth trip to ER, the nurse pulled me aside and explained my daughter was coming in w/acidosis, another event and she'd be dead at 15. Meanwhile, the medical team sent her over to their St. Helena Mental Health auxiliary where staff there commenced treatment with yet more ADPS meds.
Attempting to visit my daughter while at St Helena Hospital, I was turned away at the door, staff explaining she was sleeping, although she was not. I called PD to which a SWAT officer responded. This PDO interviewed all parties, qualified my request to get her released, then raised his right hand over his shoulder and snapping his fingers declared, "She's out of here, now!"
I got her back drug induced semi-comatose. It took her 18 months to recover ambulation, the ability to dress herself assisted, use a spoon and bathe supervised, albeit she had also become suicidal.
30 months subsequent to Kaiser's monstrous medical intervention, I researched her MMR with product information from Kaiser, which it took me using an attorney to obtain, and learned the medically toxic substance used in her vaccination was Sorbitol.
Girl Sex Trafficked/RAPED After LGBT BRAINWASHING: Court Ruling Enabled Sex Trafficking A SECOND TIME!
Yeonmi Park on classroom wokeness: It's a madness
Yeonmi Park, North Korea defector and author on her defection from North Korea and how Columbia University has echoes of her past on 'Kudlow.'
Thank-you.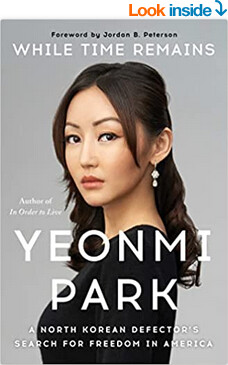 NATIONAL BESTSELLER
The North Korean defector, human rights advocate, and bestselling author of In Order to Live sounds the alarm on the culture wars, identity politics, and authoritarian tendencies tearing America apart.
ATTEMPTED ABDUCTION of 3 YEAR OLD BOY
Support our content through Ko-Fi: https://ko-fi.com/irishtruth
Subscribe to us on Rumble: IrishTruth
On March 3rd 2023, a caller rang into an Irish radio show called "Classic Hits Radio" to talk about an attempted abduction of a 3 year old blonde boy in broad daylight that was witnessed by a friend of his who was the mother to the child who was almost abducted. The perpators were described to be two foreign national men of middle eastern descent. Two Irish men intervened in the kidnapping and managed to prevent it. This happened in Dublin city Centre, Ireland along Memorial Road.
Attribution:
Picture of child in thumbnail by wirestock on Freepik
Radio audio from Classic Hits; their website: https://www.classichits.ie/
https://ko-fi.com/irishtruth Subscribe to us on Rumble: