Ukrainian President Volodymyr Zelenskyy thanked U.S. corporations for supporting the Ukrainian war effort, saying the companies' support is an opportunity for "big business" in an address Monday.
Zelenskyy spoke during the meeting of the National Association of State Chambers about how "American business can become a locomotive of global economic growth" after the war ends, according to a press release. He specifically thanked BlackRock, JPMorgan and Goldman Sachs for their cooperation with Ukraine in the country's plans for rebuilding after the war.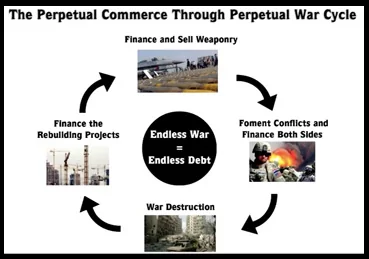 "Everyone can become a big business by working with Ukraine, in all sectors, from weapons and defense to construction, from communication to agriculture, from transport to IT, from banks to medicine. And I believe that freedom must always win. And I invite you to work with us right now, " Zelenskyy continued.
See the Cycle? Perpetual commerce through perpetual war
Related
Ukraine plans to put forward a blueprint this week for rebuilding the country that could mobilize hundreds of billions of euros. The plan, around 2,000 pages, will be introduced at a July 4-5 conference in the Swiss city of Lugano. It will map out a broad list of infrastructure and security projects, investments in climate and the digital economy as well as diversification of energy resources. European Union officials have said the 27-member bloc, which last month formally admitted Ukraine as a candidate, will contribute the bulk of overall financial assistance, a volume that could surpass 500 billion euros ($523 billion). The Ukrainian government thrashed out the draft with donors, The European Commission, the bloc's executive arm, is exploring financing options that include grants and loans, though details are scarce and officials are reticent to put forward estimates while the war is raging.