Trucker convoys happening worldwide. Canadians started a movement.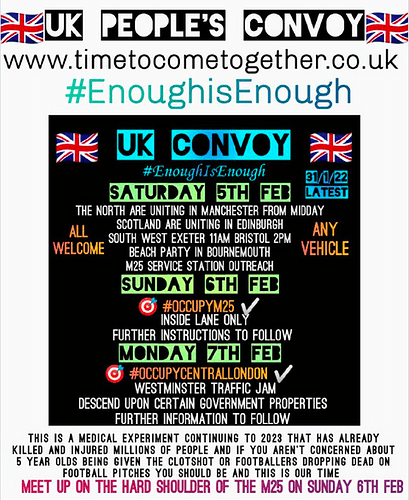 In the UK – 12 Convoys Planned:
https://timetocometogether.co.uk/
5th of February.
Ireland: Meet up at park centre, Donegall Rd, Belfast, 9.30am
Scotland: Meet up at Morrisons Baillieston, Raveswood Rd, Glasgow, 10.30am – Show your support on M8 or A1/M1
More Convoy locations: the NORTH: Newcastle, Middlesbrough, Leeds, Manchester, Liverpool, Chester, Birmingham, London
More Convoy locations: the SOUTH: Llandudno, Cardiff, Exeter, Bournemouth
Plus –
• 6th February 2022 Sunday
OCCUPY M25 - INSIDE LANE ONLY at consistent 30mph
• 7th February 2022 Monday onwards
OCCUPY CENTRAL LONDON STAND TOGETHER
More resources for news:
Truckers4Freedm - https://twitter.com/Truckers4Freedm
UK Truck Convoy Calls For End Of COVID 19 Regulations This Weekend
From today (Saturday, 5 February), UK Convoy 2022 will be hitting routes in Wales, Scotland, Ireland and England, as part of a campaign calling for all COVID 19 regulations to cease and all vaccine mandates and vaccine passports to stop around the world.

The group's website says: "The time has come to stand up in the UK and say no more!"
Still looking for video from UK, Ireland and elsewhere.