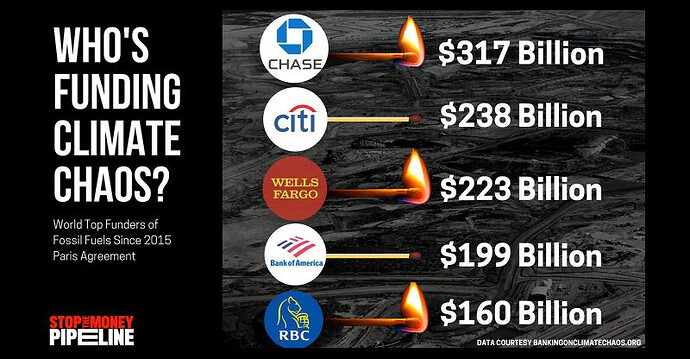 According to new reporting by the Bureau of Investigative Journalism (BIJ), HSBC wrote to the Net-Zero Banking Alliance (NZBA) — the initiative started by Mark Carney, former head of the Bank of England — on behalf of 12 large banks, calling on the alliance to loosen restrictions and delay deadlines in order to keep the banks from having to commit to far-reaching climate action.

Writing on behalf of banks including JPMorgan Chase, Citi and Bank of America, HSBC asked that the alliance remove from its pledge the list of high-emissions sectors for which banks are required to set net-zero targets for within 18 months of joining the NZBA.

The BIJ's Josephine Moulds reports that HSBC wanted to make the climate commitments from key sectors — including fossil fuels, agriculture, real estate and steel — "less rigorous" by delaying new emissions reduction targets until 2025 or even 2030.

...the grassroots Stop the Money Pipeline coalition — which aims to hold "the financial backers of climate chaos accountable" — said the bank's private actions demonstrate its true position on the climate emergency.

"HSBC's public rhetoric on climate change can't be trusted," said Adam McGibbon, UK campaign lead at Market Forces...

Since committing to net-zero financed emissions by 2050 one year ago, reported the Bureau, HSBC has "helped Saudi Aramco, the world's most polluting company, raise [$13.9 billion] and Qatar Petroleum raise [$12.4 billion] to fund the expansion of the world's largest gas field."

Read the entire article at link.