BBC accidentally admits COVID Vaccine is to blame for 2022 being Worst Year for Excess Deaths in Half a Century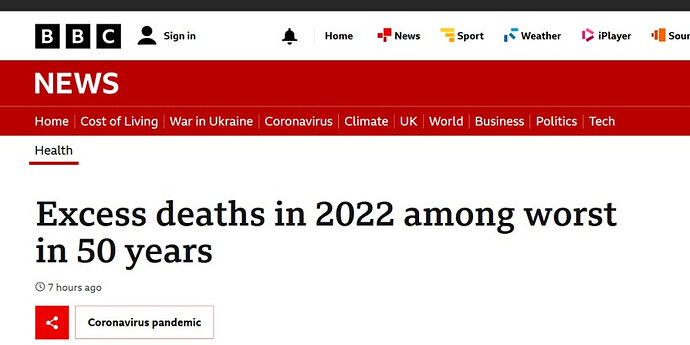 The people of the UK should now be in a state of shock.
But instead, they have been distracted by non-stop coverage of Prince Harry's new book, so will have most likely missed the tragic and devastating information published by BBC News of all organisations.
Information that reveals the UK suffered the highest number of excess deaths throughout 2022 in over half a century.
However, the reporters, driven by ambition and a belief that they will not be held accountable, made the decision to conceal the truth behind why there were so many excess deaths last year.
They most likely thought the majority of the British public would be too lazy to "mark their homework", so to speak.
But they didn't count on an independent news organisation committed to reporting the facts that the mainstream refuse to fact-checking their quietly published article.
And we can reveal that the widely but most definitely unjustly trusted news source/propaganda arm of the Government known as the BBC, and its reporters, have knowingly lied about the safety of the vaccine and lied to you.
It was all going so well for the BBC and its reporters until they decided to unequivocally state that in no way shape or form is the Covid-19 vaccine responsible for a record-breaking year of death. They even provided a "source" to prove it and claimed that –
'Figures up to June 2022 looking at deaths from all causes show unvaccinated people were more likely to die than vaccinated people.' Source- BBC News
They then went on to state that –
"If vaccines were driving excess deaths we would expect this to be the other way around."If vaccines were driving excess deaths we would expect this to be the other way around. Source- BBC News
Continued at link.
Vaccinated were already dying proportionally more than the unvaccinated up to May last year when the ONS stopped reporting
A few days ago, Daily Expose published an article (see above) that the BBC had reported that the excess deaths during 2022 were the worst in 50 years.
The day after BBC's article, other researchers also took another look at the figures and, through their own methods, confirmed our conclusion. While we exposed the BBC for not "marking its own homework," El Gato Malo and Joel Smalley expose the ONS's manipulation and hiding of data.
On Wednesday, El Gato Malo re-analysed the ONS "vaccine effectiveness" data. El Gato wrote:
The history of covid vaccine studies and health agency communication is littered with what look to be numerous layers of deliberate manipulation and misrepresentation, some wilful, some simply the result of ill-informed trust in agencies and companies.

Working through this data to attempt to remove or sidestep these injected biases has been bit of a drudge as the agencies holding the data have refused to release the raw records and have presented their analyses in such a manner as to bake in bad assumptions and worse Bayesian practice, especially when it comes to properly ascribing risk and outcome.

All this analysis is therefore never going to rise to full RCT standards, but we do the best we can with what we have and the fact remains: it's easy to do a great deal better than the agencies themselves are doing by just trying to be a bit honest.

Another look at UK all-cause mortality by vaxx status, El Gato Malo, 11 January 2022
Continued at link.