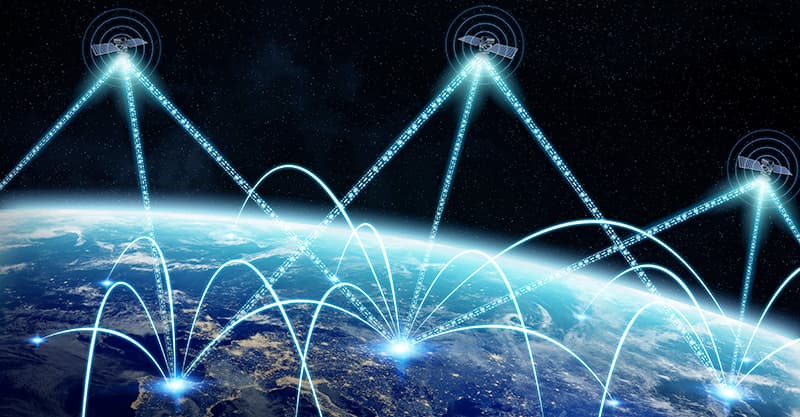 by **Arthur Firstenberg – Cell Phone Task Force Newsletter, Jan 5, 2022

While the attention of a terrified world has been riveted on a virus, and while concern about radiation has been focused on 5G on the ground, the assault on the heavens has reached astronomical proportions. During the past two years, the number of satellites circling the earth has increased from 2,000 to 4,800, and a flood of new projects has brought the number of operating, approved, and proposed satellites to at least 441,449. And that number only includes low-earth-orbit (LEO) satellites that will reside in the ionosphere.

The satellite projects include the ones listed below. The companies are based in the United States unless otherwise indicated.

17,270 satellites already approved by the U.S. Federal Communications Commission:

ALTERATION OF THE EARTH'S

ELECTROMAGNETIC ENVIRONMENT

What everyone is completely blind to is the effect of all the radiation from satellites on the ionosphere, and consequently on the life force of every living thing. The relationship of electricity to qi and prana has escaped the notice of modern humans. Atmospheric physicists and Chinese physicians have yet to share their knowledge with one another. And at this time, such a sharing is crucial to the survival of life on Earth.

"The pure Yang forms the heaven, and the turbid Yin forms the earth. The Qi of the earth ascends and turns into clouds, while the Qi of the heaven descends and turns into rain." So the Yellow Emperor's Classic of Internal Medicine described the global electric circuit 2,400 years ago — the circuit that is generated by the ionosphere and that flows perpetually between the Yang (positive) heaven and the Yin (negative) earth. The circuit that connects us to earth and sky and that flows through our meridians giving us life and health. A circuit that must not be polluted with frequencies emitted by a hundred thousand satellites, some of whose beams will have an effective power of up to ten million watts. That is sheer insanity, and so far no one is paying attention. No one is even asking whether the satellites have anything to do with the profound and simultaneous decline, planetwide, in the number of insects and birds, and with the pandemic of sleep disorders and fatigue that so many are experiencing. Everyone is so focused on a virus, and on antennas on the ground, that no one is paying attention to the holocaust descending from space.

Arthur Firstenberg:

Continued at link.