Dear @Softly ,
Sending a warm welcome, good thoughts, prayers and well wishes your way today.
God bless,
Persistent
Dear Persistent,
Thank-you for your kinds words and well wishes, they're appreciated and reciprocated.
Hope you have a pleasant day and take care.
God bless,
Softly
You are certainly welcome. Thank-you kindly.

Likewise.
"Larry Fink is the CEO of BlackRock, which is the largest investment house in the world, is the most dangerous man in America"
Croatian MEP: The Huge Inflation We're Facing is Due to the Insatiable Greed of Blackrock and Vanguard
BY RHODA WILSON ON JUNE
BlackRock, Vanguard and State Street are funds that own all key companies in all areas of life – finance, health, media, military industry and wars.
They own assets that are several times larger than the national budgets of countries such as USA, China, Brazil, and India.
They are the ones who run the world and appoint presidents and prime ministers. They are the ones who decide our real lives and the world order.
Elizabeth Battenberg's long arms
are likely closely aligned with these, just how much? Who knows- states secret?
You are welcome to the truth forum.
Feels good to be close to our Lord spiritually especially through this forum, even if we are far physically. Christs.net
Investment Giant BlackRock Loses $1.7 Trillion In Six Months
BlackRock lost $1.7 trillion of its clients' money since the beginning of the year — the largest sum ever lost by a single firm over a six-month period, according to a Wednesday report from Bloomberg analyst Marc Rubenstein.
Among BlackRock's largest holdings are technology companies such as Apple, Microsoft, Amazon, and Tesla, according to filings with the Securities and Exchange Commission (SEC), even though technology firms were the first to lay off large portions of their staff as the stock market entered its months-long tailspin.
"The first half of 2022 brought an investment environment that we have not seen in decades," BlackRock CEO Larry Fink said in the company's second quarter earnings report. "Investors are simultaneously navigating high inflation, rising rates and the worst start to the year for both stocks and bonds in half a century, with global equity and fixed income indexes down 20% and 10%, respectively."
Rubenstein attributed the loss to an increased reliance on passive investment, which tends to suffer during short-term declines in the stock market. "BlackRock is increasingly giving up: At the end of June, only about a quarter of its assets were actively managed to beat a benchmark — rather than track it seamlessly as passive strategies are designed to do," Rubenstein wrote, observing that BlackRock's "roots" lie in active fixed income.
BlackRock has also garnered attention for its embrace of Environmental, Social, and Governance (ESG) investing, which in turn has suffered in the current downturn. By adopting ESG goals — or, in the case of BlackRock, pushing portfolio companies into adopting ESG goals — executives commit themselves to pursuing green energy, appointing a certain number of minorities to serve as managers, or otherwise blending profitability with progressive politics.
For instance, iShares' ESG Aware MSCI ETF — which has its largest holdings in companies like Microsoft, Alphabet, and Tesla — is down 18% since the beginning of 2022, slightly lower than the overall S&P 500 index. Meanwhile, iShares' Global Energy ETF — dominated by oil and gas conglomerates like Exxon Mobil, Chevron, and Shell — has risen nearly 25% over the same time period.
A May report detailing BlackRock's "firm-wide" ESG efforts said that the company seeks to "engage with investee companies on ESG issues to enhance long-term value." Indeed, Fink said in 2017 that he desires to change the direction of corporate America toward progressive outcomes. "At Blackrock we are forcing behaviors," he said of the company's ESG scoring approach. "You have to force behavior and if you don't force behavior whether it's gender or race or any way you want to say the composition of your team, you're going to be impacted."
BlackRock — which maintains a 4.2% stake in Apple, a 4.5% stake in Microsoft, and a 3.6% stake in Amazon — is among the most influential asset managers in the world. Combined with the holdings of Vanguard and State Street, the three firms control an average 20% stake in every Fortune 500 company and have been willing to jointly exercise their power toward progressive ends — for instance, by placing three environmental activists on the 12-person board of oil giant Exxon Mobil.
In essence, BlackRock and other large asset managers direct the policies of corporate America on the basis of their clients' funds — which is often the retirement and pension savings of typical American investors. However, an exclusive Daily Wire poll conducted by Echelon Insights showed earlier this year that 64% of respondents believe "individual investors whose savings are being invested" should ultimately decide whether retirement funds and pension plans are allocated according to ESG criteria. A mere 20% believe that "Wall Street asset managers" should make such decisions.
Revelation 18:23 And the light of a candle shall shine no more at all in thee; and the voice of the bridegroom and of the bride shall be heard no more at all in thee: for thy merchants were the great men of the Earth; for by thy sorceries were all nations DECEIVED.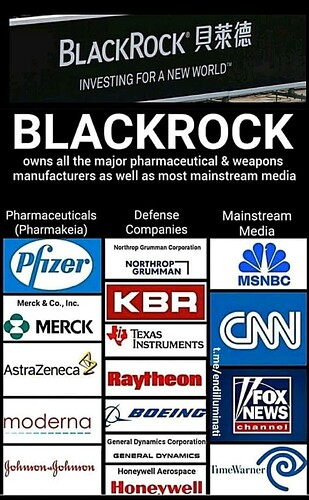 West Virginia's leads states de funding Black-Rock because they boycott fossil fuel companies making them ineligible for state banking contracts.
JP Morgan responded claiming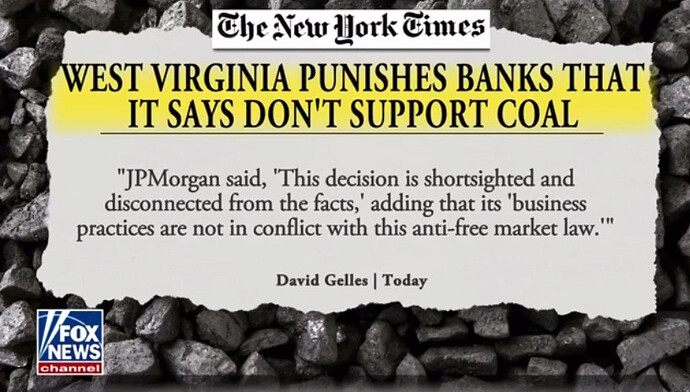 1 Timothy 5:10 For the love of money is the root of all evil: which while some coveted after, they have erred from the faith, and pierced themselves through with many sorrows.
Antitrust laws have gone kaput.
Monoploy is the name of their game.
The blueprint for the NWO in fiction form authored by atheist (or possibly agnostic) Ayn Rand:
In January 2022, Blackrock filed for bankruptcy. On 20 September 2022 a hearing was held, but the motion is "locked".
BlackRock Accused of Pushing 'Radical Agenda'
https://www.newsmax.com/newsfront/consumers-research-blackrock/2022/09/20/id/1088244/
BlackRock Investment Management Company pushes a radical agenda, and consumers should be wary of investments managed by the firm, Consumers' Research said.
During the National Association of State Treasurers (NAST) annual convention, Consumers' Research accused BlackRock and CEO Larry Fink of cozying up to dictators.
Consumers' Research says the firm is violating its fiduciary duty by not prioritizing shareholder value through its investments in environmental, social, and governance (ESG) and ties to China.
"Led by Chairman and CEO Larry Fink, the company uses its clout to push a radical agenda in coordination with other financiers through a network of international organizations," Consumers' Research said on its website.
"This Consumer Warning highlights the commitments BlackRock has made with their investors' money — commitments that adversely impact the U.S. economy and likely violate their fiduciary duty to seek the best return, putting your retirement at risk in the name of progressive politics."
Consumers' Research, a conservative independent educational nonprofit organization, has worked to criticize BlackRock and Fink involvement with China and for its embrace of ESG goals in investing, the Washington Examiner reported.
Republican state treasurers have been using their power to push back against ESG and BlackRock, which is the world's largest money manager, the Examiner said.
Consumers' Research chose to run a mobile billboard – showing Fink handing cash to China's Xi Jinping and Russia's Vladimir Putin with the text "BlackRock: Our Enemy, Their Ally" – outside of the NAST meeting because BlackRock representatives were in town for the conference.
"Consumers' Research has confirmed that meetings between state treasurers and BlackRock's lobbyists are taking place during the NAST convention," Consumers' Research Executive Director Will Hild told the Washington Examiner. "This is the latest attempt by BlackRock to cover up the tracks of their anti-American ESG agenda."
Hild told the Examiner that BlackRock spends "money hand over fist to cozy up to" and gain access to different parties involved in the dispute over ESG by telling them different things, depending on whether they're on the left or right.
Nineteen GOP attorneys general, claiming BlackRock's policies are undercutting shareholder profits in managing state pension funds, last month sent a letter to Fink challenging his firm's commitment to ESG priorities.
The AGs say that BlackRock's actions may violate state laws concerning pension funds that require a sole focus on financial returns.
"Our states will not idly stand for our pensioners' retirements to be sacrificed for BlackRock's climate agenda," the attorneys general said, the Examiner reported.
"The time has come for BlackRock to come clean on whether it actually values our states' most valuable stakeholders, our current and future retirees, or risk losses even more significant than those caused by BlackRock's quixotic climate agenda."
US fines 16 Wall Street firms $1.1 billion on lax recordkeeping
US regulators fined 16 Wall Street firms a total of $1.1 billion over failures to keep electronic records such as text messages between employees, the Securities and Exchange Commission announced Tuesday.
Barclays, Bank of America, Deutsche Bank and Goldman Sachs were among the firms that agreed to pay $125 million each to settle the charges.
An SEC press release faulted the companies over "longstanding failures" to maintain and preserve electronic communications that must be available to regulators in the course of oversight.
"Finance, ultimately, depends on trust. By failing to honor their recordkeeping and books-and-records obligations, the market participants we have charged today have failed to maintain that trust," said SEC Chair Gary Gensler in a statement. "Since the 1930s, such recordkeeping has been vital to preserve market integrity.
"As technology changes, it's even more important that registrants appropriately conduct their communications about business matters within only official channels, and they must maintain and preserve those communications."
An SEC investigation uncovered "pervasive off-channel communications" involving a range of senior and junior investment bankers and traders.
These omissions "likely" deprived the SEC of communications in agency probes, the press release said.
Other financial giants agreeing to a $125 million settlement were Citigroup, Credit Suisse, Morgan Stanley and UBS. Jefferies and Nomura agreed to penalties of $50 million each, while Cantor Fitzgerald agreed to a $10 million penalty.
The SEC in December 2021 fined JPMorgan Chase $125 million for the offense, spurring an industry-wide regulatory crackdown on poor recordkeeping, the SEC said.
Gibraltar Sells Yacht Linked to Russian Oligarch for $37.5 Million
A Gibraltar court announced on Tuesday that a luxurious superyacht linked to a Russian billionaire currently under EU and U.K. sanctions was sold at an auction last month for $37.5 million.
The 237.8 feet (72.5-meter) long vessel, Axioma, which had been owned by oligarch Dmitry Pumpyansky, was docked in Gibraltar on March 21 and was subsequently detained by authorities following a complaint filed by U.S. creditor JP Morgan.
The American bank said the yacht's alleged owner, steel pipe manufacturing company, OAO TMK, owned by Pumpyansky, had reneged on the terms of a €20.5 million loan ($21.7 million).
Gibraltar's Admiralty Marshal, the branch of the U.K. overseas territory that handles the sale of ships, said an unidentified buyer had been selected.
The sale's proceeds—$37,500,055—would go towards settling the ship's debts to creditors, and anyone with additional claims should come forward within the next 60 days, it said in a statement. The court would then decide what to do with any surplus funds, it added.
Pumpyansky, 58, was until March the owner and chairman of the steel pipe manufacturing company, which has supplied Russia's state-owned energy company Gazprom since 1998.
The Russian oligarch's net worth was estimated at $2.44 billion prior to the yacht's sale. He was sanctioned by the EU and U.K. shortly after Moscow's attack on Ukraine.
Since the war in Ukraine began, Russian-linked yachts have been stuck in several countries including Italy, Spain, and Germany.
Defaulting on Loan Terms
According to court papers reviewed by Reuters, JP Morgan said it lent €20.5 million ($21.7 million) to British Virgin Islands-listed Pyrene Investments Ltd. which was owned by Furdberg Holding Ltd. Furdberg's owner was Pumpyansky, who acted as guarantor for the loan.
The papers said Pyrene Investments defaulted on the loan terms after Pumpyansky on March 4 transferred his shares in Furdberg to a third party and was then sanctioned, blocking the repayment of the loan.
JP Morgan subsequently requested the Gibraltar government to impound the superyacht—vessels for entertainment classed as more than 100 feet long—and use it as collateral for the loan, the papers said.
The Malta-flagged Axioma—which has a swimming pool, spa, and 3D cinema—attracted 63 bids and was auctioned at a higher-than-expected price.
James Jaffa, a lawyer for U.K. firm Jaffa & Co that specializes in yachts, told the network at the time of the auction that he expected the vessel to sell for less than the value of the JP Morgan loan due to potential gaps in its maintenance and uncertainty about whether Pumpyansky might try to reclaim it eventually.
Jaffa also said that any money left over could be claimed by the ship's previous owner.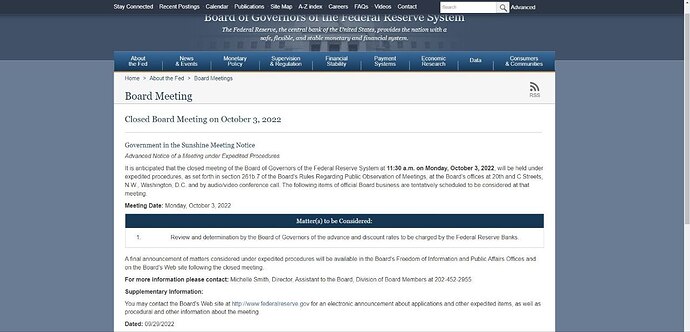 It is anticipated that the closed meeting of the Board of Governors of the Federal Reserve System at 11:30 a.m. on Monday, October 3, 2022, will be held under expedited procedures, as set forth in section 261b.7 of the Board's Rules Regarding Public Observation of Meetings, at the Board's offices at 20th and C Streets, N.W., Washington, D.C. and by audio/video conference call. The following items of official Board business are tentatively scheduled to be considered at that meeting.

Meeting Date: Monday, October 3, 2022
"Everything is About to Change". "Nesara / Gesara / Debt Cancellation."
Is it?