With transcript of speech.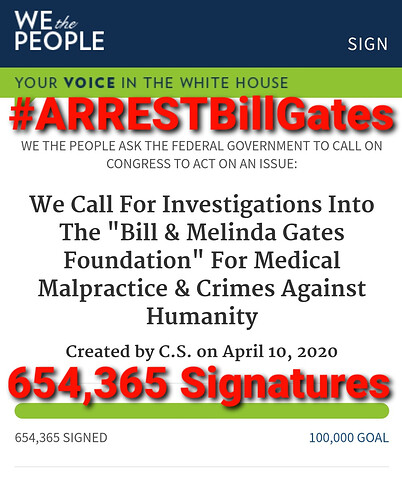 Call For Investigations Into The Bill & Melinda
For Medical Malpractice & Crimes Against Humanity. 654,365 SIGNATURES Goal100,000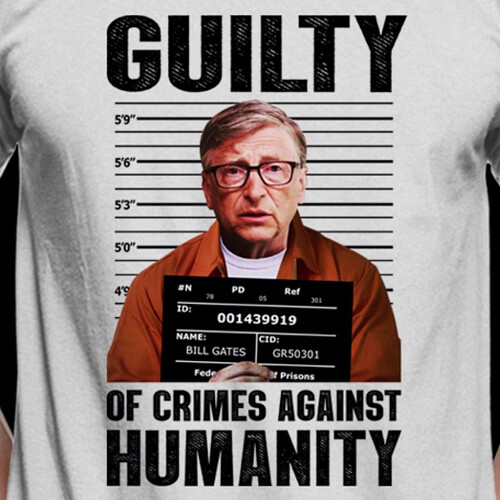 "Gates took control of India 's (NAB) and mandated 50 polio vaccines...Indian doctors blame the Gates campaign for a devastating vaccine-strain polio epidemic that paralyzed 496,000 children between 2000 and 2017." - Robert Kennedy Jr.
He committed crime against humanity, innocent children and it should be punishable and he must be brought to justice. He only cares for billions of dollars he will make on each faulty vaccine. Wake up judges & justice!!
Petitioners want the foundation to be probed for "crimes against humanity and medical malpractice"**
A White House petition that was launched in April to investigate Bill and Melinda Gates for "crimes against humanity and medical malpractice" has amassed six times the number of signatures needed in order to get an official response.
Created by "C.S.," the petition states that Microsoft founder Gates should not be trusted with helping finding a cure for COVID-19. In one portion, the petition states: "At the forefront of this is Bill Gates, who has publicly stated his interest in 'reducing population growth' by 10–15%, by means of vaccination. Gates, UNICEF & WHO have already been credibly accused of intentionally sterilizing Kenyan children through the use of a hidden HCG antigen in tetanus vaccines."
The petition was launched on April 10. Within days, it garnered 100,000 signatures, thereby meeting the site's terms to review the petition, place it in front of appropriate policy experts, and issue an official response.
As Sunday night, more than 618,000 people have signed the petition.
Gates, the Microsoft founder, has been one of the world's most generous health donors, pledging and spending billions to address the AIDS crisis, mosquito-born diseases and pandemic preparedness. The Bill & Melinda Gates Foundation this spring committed $1.6 billion to the Gavi vaccine alliance, and an additional $100 million to support COVID-19 vaccines in impoverished countries.
But his philanthropy has sown distrust among some fearful that Gates relies too much on technology and vaccines and the World Health Organization.
Robert F. Kennedy Jr., the nephew of former President John F. Kennedy, has sharply criticized Gates for what he describes as a "messianic conviction that he is ordained to save the world with technology."
Gates has addressed the criticisms, mostly recently two months ago after the petition began. His foundation said the attacks are often based on misinformation.
"Whenever science intervenes to stop a disease, there's often an adjacent outbreak of misinformation," Mark Suzman, CEO of the Bill and Melinda Gates Foundation, told the Wall Street Journal. "These falsehoods can spread faster than the disease itself—and cause real harm.
"Covid-19 is infectious and deadly enough. We don't need misinformation to make it even deadlier," he added. "Right now, one of the best things we can do to stop the spread of this disease is spread the facts."
**The petition is listed as among the most popular on the White House's** "We the People" page.
Bill Gates Blasted as "Vaccine Criminal" in Italian Parliament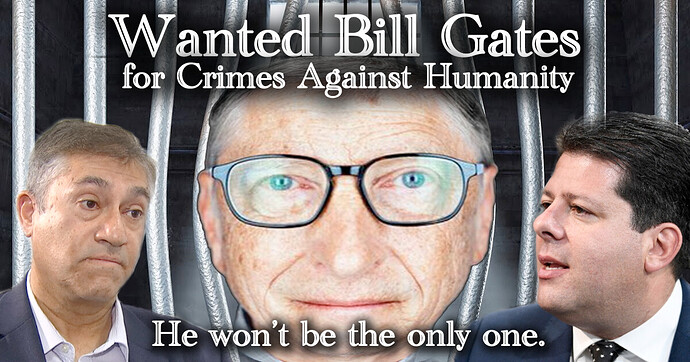 The news about Bill Gates wanted for Crimes Against Humanity is trending again.
Concerning Gibraltar, what names also belong on that list?
Gates has repeatedly declared on multiple television programs in the U.S. that the world could not go back to normal unless and until virtually everybody on the planet had been vaccinated with an as-yet undeveloped, experimental vaccine.
Weren't Gates and his toadies also instrumental in shaping the Gibraltar government's economic disastrous and totalitarian response to the coronavirus?
In Foreign Affairs, the mouthpiece for the globalist Council on Foreign Relations, Gates boasted about the prospect of editing people's DNA using new technologies known as "CRISPR" — all "for good," of course (Isaiah 5:20).
The involuntary medical treatments, illegal persecution, intimidation, facial-recognition schemes, and other abuses by government officials endorsed by "dogmatic scientism" must not be tolerated and must be halted. They are against the Nuremberg Code.
The "corrupt mass media" is being used to brainwash and "anesthetize" the mind, to the point of regulating people's emotions and feelings. This means the GBC as well as the Gibraltar Chronicle.
The United Nation is controlled by the same Globalists' forces that run the Gates-funded the WHO and other UN institutions of "global governance." The WHO has also been instrumental in how Gibraltar has handled the situation.
The article on The New American goes into further detail about what was brought up in the Italian Parliament and other related topics:
More evidence, he comes right out and tells the truth about vaccines but still lying calling them vaccines when in truth they are bio-weapons.
Surprise! Watch Bill Gates reveal truth about COVID shots
by tts-admin | Nov 20, 2021 Bob Unruh – World Net Daily Nov 10, 2021
Ever since the "shot" became available in the government's COVID arsenal, there's been discussion and argument about whether it helps.
Many people have developed so-called "breakthrough" cases of COVID-19, that is, they got the virus even though they'd been vaccinated. Others say the shots absolutely prevent damage.
Now Bill Gates, a longtime vaccine activist although he's no doctor, has openly admitted the mRNA shots being used today don't help prevent transmission.
He was interviewed recently on the topic of COVID and vaccines, and said, "Economic damage, the deaths, it's been completely horrific and I would expect that will lead the R and D budgets to be focused on things we didn't have today."
He continued, "You know, we didn't have vaccines that blocked transmission. We got vaccines that help you with your health, but they only slightly reduce transmission."
A commentary at Rebel News blog pointed out Gates said the nation needs "a new way of doing things."
The commentary said, "Gates has helped to fund and promote vaccine passports globally. He has promoted and defended authoritarian lockdowns. He has aggressively pushed for these vaccines to be injected into every man, woman and child. But now, Gates acknowledges — and publicly states — that the current COVID shots are not effective at stopping transmission."
Another blog posting noted that Twitter, ironically, fact-checked the statement as "misleading," but what was significant about that was that the statement was allowed to remain on social media.
Most of those giant corporations are censoring anything that diverges from the politically correct line regarding COVID and the shots.

Horrors of Genetic Engineering - Vernon Coleman