In COVID & the Great Reset – Connecting the Dots (PART 2)
The video from the World Economic Forum (WEF)
How to survive the 21st Century...
Orit Gadiesh who is the Chairman of Bain & Company, also served in the Isreal Army in the Deputy Chief of Staff Office.
https://www.bain.com/our-team/orit-gadiesh/
Bain is one of the world's leading consulting firms for the telecommunications industry. We have worked with 85% of the world's top 50 global telecom operators (excluding China), and 80% of the largest telecom equipment companies.
    **WHAT DO WE DO**...                                         

Telecom operators are waging a war for connectivity and customer intimacy. As profit pools decline, mobile and fixed services converge, and business boundaries in the broader ecosystem blur, Bain can help.
We serve telcos around the world, helping them to better understand their customers, build superior networks, find a sustainable path to growth and achieve cost leadership while maintaining a high-performance organization.
Our clients are passionate about seizing opportunities to transform their businesses, and our telecommunications consulting experts provide critical support and expertise to help companies achieve lasting results. We focus on developing pragmatic strategies to address our clients' most critical challenges.
at the 45:27 mark Orit Gadiesh states How to Survive the 21st Century | DAVOS 2020 - YouTube
**"Let me actually give a word for Europeans from a business point of view. A very important part in what is going to be going on is the way actual decisions are being made about technology, where its bought and how its used. And while the United States and China have the big platform that people talk about as far as technology companies, Europe is actually quite unique to the United States. It has 5G. People who can still actually make 5G working. Now in America there isn't a single company that can do that today. And the reason for that is because when mobile started the United States went a different direction. Europe agreed on a single format and they went down the experience curve both cost wise and experience wise. All US companies were sold to Europe or disappeared. Europeans are consolidated now. There is now China Korea and Europe.
That is an opportunity in my mind to actually take a step in technology and make a difference,, because when you think about the future those who control 5G or those who make 5G will also control all the infrastructure in which the technology that were talking about is gonna be."**
She says this with a crooked smile...
its truly frightening to think that who controls the 5G controls the infrastructure. As the 5G is tied to Corona virus, IOT, AI,
and just about every aspect of your life in the GREAT RESET
Kind of reminds you of Zbigniew Brzezinski: It Is Infinitely Easier to Kill a Million People than it is to Control Them. Or Kissinger: "Control oil and you control nations; control food and you control the people."
Her deep involvement with implementing 5G around the Globe is genocidal
If you go to Bain & Company, Orit Gadiesh - Management Consultant | Bain & Company) she states on a different video that the companies that are making this technology are Nokia and Ericsson, AND that the Chinese are ahead of the rest of the world.
Gibraltar Messengers report on 5G covers the crimminal activities surrounding Ericcson and 5G, bribes/corruption...
The Gibraltrar Messenger's, in depth Report on 5G [Gibraltar's Gamble with 5G] Gibraltar-Messenger.net
https://gibraltar-messenger.net/Gibraltar's%20Gamble%20With%205G%20-%206%20-%20GIBRALTAR%20Welcome%20to%20the%205G%20Trials.pdf
SECTION 6 – GIBRALTAR: Welcome to the 5G Trials
Ericsson's deplorable and criminal track record is laid bare for all to see.
Ericsson to pay $1B to resolve corruption investigation:
*GIBRALTAR'S GAMBLE WITH 5G –SECTION 6: GIB–WELCOME TO THE 5G TRIALS
Ericsson to pay $1B to resolve corruption investigation:
On Friday, December 6, 2019, the U.S. Department of Justice released details about the investigation. Notes from the release:
**Today, Swedish telecom giant Ericsson has admitted to a years-long campaign of corruption in five countries to solidify its grip on telecommunications business. Through slush funds, bribes, gifts, and graft, Ericsson conducted telecom business with the guiding principle that 'money talks.
'In 2000 and continuing until 2016, **the Company conspired with others in a longstanding scheme to pay bribes, to falsify books and records and to fail to implement reasonable internal accounting controls. Ericsson used third party agents and consultants to make bribe payments to government officials and/or to manage off-the-books slush funds. These agents were often engaged through sham contracts and paid pursuant to false invoices, and the payments to them were improperly accounted for in Ericsson's books and records.
Ericsson's corrupt conduct involved high-level executives and spanned 17 years and at least five countries, all in a misguided effort to increase profits.** Swedish telecom giant Ericsson has admitted to a years-long campaign of corruption in Djibouti, China, Vietnam, Indonesia and Kuwait to solidify its grip on telecommunications business.
Between 2010 and 2014, Ericsson, via a subsidiary, made approximately $2.1 million in bribe payments to high-ranking government officials in Djibouti in order to obtain a contract with the state-owned telecommunications company valued at approximately €20.3 million to modernize the mobile networks system in Djibouti.
In Kuwait, between 2011 and 2013, an Ericsson subsidiary promised a payment of approximately $450,000 to a consulting company at the request of a sales agent, and then entered into a sham contract with the consulting company and approved a fake invoice for services that were never performed in order to conceal the payment. The sales agent provided an Ericsson employee with inside information about a tender for the modernization of a state-owned telecommunications company's radio access network in Kuwait. An Ericsson subsidiary was awarded the contract valued at approximately $182 million; Ericsson subsequently made the $450,000 payment to the consulting company and improperly recorded it in its books.
In China, between 2000 and 2016, Ericsson subsidiaries caused tens of millions of dollars to be paid to various agents, consultants and service providers, a portion of which was used to fund a travel expense account in China that covered gifts, travel and entertainment for foreign officials, including customers from state-owned telecommunications companies. Ericsson used the travel expense account to win business with Chinese state-owned customers.
The story made headlines around the world: Gulf Times News – Ericsson to pay $1B to resolve corruption investigation –
This is a reflection of some hugely embarrassing and unacceptable behaviour in the past, and of course that is something we as a company are ashamed of and I personally am ashamed of, Ericsson's chief executive officer Borje Ekholm said in a phone interview.
But the settlement also allows us to put an end to a very long and wide-ranging process so now we can move forward and build a much stronger company for the future.
Maybe they are just embarrassed they got caught.
Ericsson Paid Out Millions in Bribes While CEO Borje Ekholm sat on Board – Light Reading, Networking the Communications Industry
Ericsson had already warned the market to expect fines of around $1 billion for earlier wrongdoing, but the alleged details of its activities -- disclosed in various statements published at the weekend -- will trouble investors and risk damage to the firm's reputation as it tries to land new 5G deals. Nor could Ericsson rule out the possibility of further probes in other jurisdictions following the US investigation.
Ericsson's response to the scandal has included the dismissal of 49 employees it describes as the key individuals, including some high-level executives.
The most glaring is how such widespread corruption went unnoticed for so many years.
It is certainly a shame that the money used for bribes and fines did not go for proper research into the health effects of EMF radiation over the past 17 years; or to employees – allowing them to keep their jobs. It's also disrespectful to the citizens.
Ericsson isn't exactly squeaky clean – Ericsson Bribery & Corruption – too little, too late? Or perfect – O2 to slap Ericsson with multi-million pound bill over network failure O2 and its Spanish parent Telefónica scheduled crisis talks in Dec. 2018.
See also:
Teller Report – Suspected corruption crimes that dropped Ericsson
Did Gibraltar media report it?
What other events get ignored by local media?
With these charges, one has to automatically ask, did any of these activities occur in Gibraltar?
It's also ironic that politicians claim the 5G rollout will help the economy by providing jobs, given Ericsson's own job cuts.
In Jan. 2016, Ericsson cut 3,900 jobs in Sweden.
Ericsson has been struggling in recent years with falling demand for mobile technology. Network carriers spent heavily on 4G networks, so smartphone and tablet users had access to network speeds fast enough to stream videos and music, but now have little left to upgrade.
In January 2018, Ericsson announced it cut 10,000 jobs and two top executives amid a costly turnaround.
Ericsson's major customers are wireless carriers, which largely already have all the equipment they need. They aren't expected to increase spending until the next generation of wireless technology, called 5G, is widely available in a few years.
Back in 2017, media reported that Ericsson considered laying off 25,000. That one might have been a market play, because its stocks spiked after the announcement.
The company faces mounting competition from China's Huawei and Finland's Nokia as well as weak emerging markets and falling spending by telecom operators with demand for next-generation 5G technology still years away.
The market is really full of ups and downs.
"Ericsson should be able to earn high returns on its 5G offerings for quite a long time to come," according to Investor Place article "Ericsson Stocks is Heading to at Least $10/share" in July 2018.
"Ericsson was one of the top stocks to buy in 2019, according to Morning Matters in November 2018, "Swedish networking equipment maker Ericsson (NASDAQ: ERIC) estimated in a 2017 study that new 5G-based opportunities could generate as much as $1.3 trillion in additional annual revenue by 2026 just for carriers."
Maybe even Gibraltarians who stay abreast of these market trends made a few quid on Ericsson stocks.
Of course, stocks may drop when scandals make the news. In Dec. 2015, Ericsson was involved in a bribery scandal in Greece.
But the latest scandal was in December 2019.
Greek businessman Thomas Liakounakoswas sent to jail pending trial on Friday after a seven-hour testimony on his role in Swedish telecom Ericsson's cash-for-contracts scandal before an investigative magistrate on corruption
You are feeding the beast (Revelation Chapter 13).
It only becomes more insatiable over time – and so powerful you don't think you can fight it. And you are clueless to the amount of power they hunger for – especially with the capabilities of 5G.
They are trying to convince you the world needs 5G – why, so we can entertain ourselves to death. The intelligent thing to do would be to stay at the drawing board and produce a safe product, instead of jumping the gun.
We are in no means the advanced society we think we are. If that were the case, we'd have used fibre optics decades ago. We knew it was more advanced then. T.H.E.Y chose WIFI – and are now introducing military-grade frequencies on the public. If it's a race – it's akin to an arms race – especially given its military and technocratic applications for The Empire.
An advanced society would have chosen free-energy that Tesla introduced – a Satanic one chose dirty oil.
*Picardo may claim 5G it's a Revolution – it's actually a Technocratic Coup d'état.
...for thy merchants were the great men of the earth; for by thy sorceries were all nations DECEIVED – Rev. 18:23
You can read all about THEIR EVIL AGENDA with 5G being part of The Great reset / NWO / Gibraltar-Messenger.net
Adam Green from Know More News has an interesting take on the Klaus Schwab WEF Great Reset
He scours thru articles that have been posted on the site in relation to the subversion of "the goyim", and the "messianic rise of the (Idumean) Jews".
He refers to the "reconciliation" of Esau and Jacob.
Its clear that Esau are the AshkeNAZI counterfeit Jews and not Jacob/Isreal, but they have twisted everything around and lied for thousands of years.
This is the fight of good against evil...
His video is about an hour, 'Shabbos in Davos', Great Reset, 4th Industrial Revolution, Israel, & Noahide Laws |
Covering such things as Klaus Schwab started this new foundation with the money he received from Dan David, of Isreal.
Klaus Schwab is knighted by Her Royal Hiney Elizabeth Mountbatten
Klaus Schwab received Annual Sir Stigmund Sternberg Award for Jewish Christian relations and "not boycotting Isreal"
32 countries for Noahide Laws...
Also Klaus Schwab talks about combating antisemitism many times, its part of the agenda
He also mocks Klaus Schwabs attire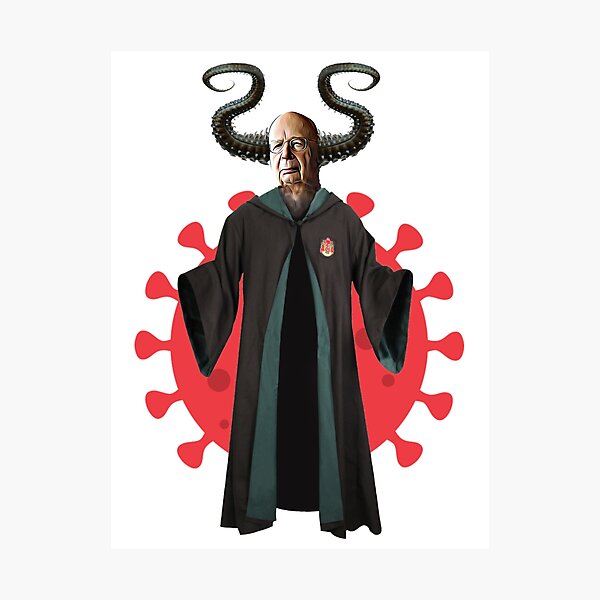 Also discussed in COVID & the Great Reset – Connecting the Dots (PART 2)
https://thetruthaboutcancer.com/great-reset-part-2/
Farmers & Food Imperialism
Problems with the WEF's Great Reset plan for the food industry:
The architects of the plan claim it will reduce food scarcity, hunger and disease, and even mitigate climate change. But a closer look at the corporations and think tanks the WEF is partnering with to usher in this global transformation suggests that the real motive is tighter corporate control over the food system by means of technological solutions."
The WEF insists the future of food and public health hinges on genetically modified organisms (GMOs), laboratory-grown protein, drugs and industrial chemicals. It's basically a corporate takeover of the entire food supply and system.
Much like the fake COVID pandemic, in order to further the fake food takeover, the WEF has partnered with the EAT Forum, which will set the political agenda for global food production. As noted by The Defender, the ultimate aim is to replace healthy nutritious foods with GMO "food," and EAT is working with UNICEF to create global food guidelines, sustainable development initiatives, and implement the permissible diet (which everyone will "choose"). The diet aims to decrease global meat and dairy intake by up to 90% and replaces it with lab-made foods, GMOs, and oil.
The WEF has partnered with Cargill as cheif sustainibility officers with governments to improve supply integrity with food and agriculture...
Here is an article on their track record:
Cargill: The Worst Company In the World
https://stories.mightyearth.org/cargill-worst-company-in-the-world/
The people who have been sickened or died from eating contaminated Cargill meat, the child laborers who grow the cocoa Cargill sells for the world's chocolate, the Midwesterners who drink water polluted by Cargill, the Indigenous People displaced by vast deforestation to make way for Cargill's animal feed, and the ordinary consumers who've paid more to put food on the dinner table because of Cargill's financial malfeasance — all have felt the impact of this agribusiness giant. Their lives are worse for having come into contact with Cargill.
...perhaps Cargill's largest negative impact on the natural world is its role in driving the destruction of the world's last remaining intact forests and prairies.
A Pattern of Deception and Destruction
Today, one privately-held company just may have more power to single-handedly destroy or protect the world's climate, water, food security, public health, and human rights than any single company in history. And it's not an oil company or a coal company, or any of the usual suspects. It's the Minnesota-based agribusiness giant Cargill....