More orange skies.
VILLAGES IN TURKEY EVACUATED AS FIRE RAGES
FIERCE FOREST FIRE IS SPREADING ACROSS POTRERO DE LOS FUNES, SAN LUIS PROVINCE, ARGENTINA
WHY ARE THERE SO MANY FIRES?
Why Are There So Many Fires? Dr. David Martin Unveils What He Thinks Is Behind It.
The whole world seems like it's on fire. Fires are ravaging Maui, Canada, Greece, France — you name it. But when you dig deeper, something's off.
More than 70 killed in building fire in South Africa's Johannesburg
A fire that engulfed a five-storey building killed more than 70 people including children in central Johannesburg on Thursday, the South African city's emergency services said.
Another 52 were injured, some suffering from smoke inhalation, and were taken for treatment at local hospitals, Emergency Management Services spokesman Robert Mulaudzi said.

"We have now 73 fatalities and 52 people injured who were transported to various healthcare facilities for further medical care," Mulaudzi said.

At least seven children were among those killed by the flames, in what is on track to become one of the deadliest fires worldwide in recent years.
WEF CAUGHT PAYING ARSONISTS TO 'BURN DOWN THE WORLD' AS PART OF SICK DEPOPULATION PLAN
Possibly, a new type of arson working on the principle of ground to cloud lightening (but without the natural lightening) using high tech weaponry.
MSM NOW COVERING PLASMA FIRE MAY CAUSE ALL HELL TO BREAK LOOSE
The devastation looks like Lahaina, Maui but it is British Columbia.
Hundreds of people have fled their homes, some forever, as flames closed in on the North Shuswap region of B.C.'s Interior, leaving a trail of devastation.
This is the damage in Scotch Creek, B.C., after wildfire
UPDATED: Nine crews work through the night to tackle Algeciras blaze as ash falls over Gibraltar during the night
Published by GBC News
UPDATE SUNDAY 9AM:
Nine firefighting crews have been working through the night to extinguish the forest fire in the area of las Pantallas to the south of Algeciras. It remains active this morning.
The spread of the fire, which has affected parts of the Natural Park of the Strait, triggered an evacuation of residents in the area a little after 2am.
Spanish firefighting agency INFOCA however reports no casualties or injuries.
It says the spread of the fire has been aided by the nature of the terrain and the difficulty of access to some areas for the fire fighting crews.
Fire fighting crews continue working to extinguish the fire. If you are travelling in the area, drive with caution. A number of road closures and diversions remain in effect.
SATURDAY NIGHT
Reports of ash falling over the Upper Town on Saturday night, as six firefighting crews tackle a forest blaze in the area of Las Pantallas in Algeciras.
Late on Saturday night, Public Health advised anyone who has a long term lung condition such as severe asthma, to remain indoors where possible.
It said that while it detected no concerns with the air quality in Gibraltar, it would continue to monitor the situation of the fire.
.
Firefighting agency, INFOCA says the fire started at 18.26hrs, and it has progressively had to increase the number of crews working on the fire. Three helicopters have been called in and are currently collecting water from the Guadiaro river and Getares beach as part of the effort to bring the fire under control.
If you are travelling in the area, drive with caution as there're a number of diversions in place.
Ash falls over parts of town as Spanish firefighters tackle forest blaze in Algeciras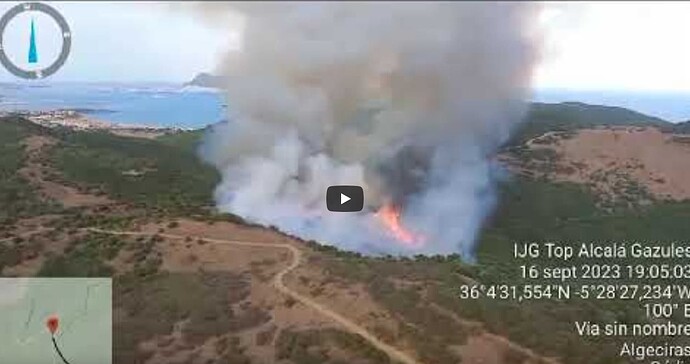 MENDOZA ARGENTINA FIRE - CORRUPTION AT IT AGAIN
RueTruths: "After doing a little bit more research I have found out that this town has some not so good politicians, elite with lots of money that belongs to the citizens. Reminds me of a mix of Lahaina, and a hint of the west stealing from Africa. It seems these days no matter where you go, you can't get away from these corrupt individuals who take from their citizens and then cover up the evidence in whatever sick fashion they see fit."