Picture a child-like spirit keeping his animal on a short leash and under control.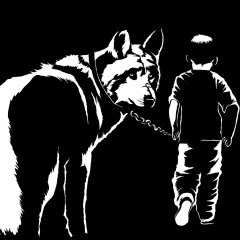 https://thewayhomeorfacethefire.net/
TWHOFTF 8:68 To get God's help, Jesus said that you HAVE TO BE BORN AGAIN IN THE SPIRIT (John 3:3-6), and become like little children (Matt. 18:3-4 & Mark 10:15 & Luke 18:17), with child-like (100%), NOT childish, faith and trust in God's protection.
8:69 Being "born again of the spirit", means that you must be born again AS your spirit, and STOP thinking of yourself as being a human, and START to think of yourself as being your REAL self - your spirit(soul) - and act accordingly. Whilst-ever you think of yourself as being a human, and think in a human-way, you automatically condemn yourself, to always being a human, until you are executed on the Last-Day.
8:70 You MUST become your spirit (real self) and control the body, and NOT the other way round, where the animal-body controls you.