In a previous edition of Gibraltar Messenger, we warned you about China encroachment in Gibraltar.
Read Gibraltar's Interest in China's Belt and Road Initiative Might NOT BE in the Best Interest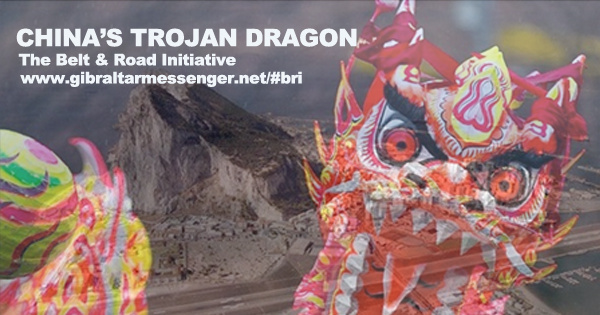 In this in-depth report, questions were asked about possible secret Memorandums of Understanding between Gibraltar and China, especially because the Government would not disclose details about its 300 million pound loan, using housing estates as collateral.
This report took a Gibraltar angle, but suspicions about the hidden agenda behind China's BRI hasn't gone unnoticed on the world stage; and it's certainly not hard to find articles that question their movements.
But what is the motive of local politicians who help facilitate Chinese investment on The Rock?
Albert Isola is certainly one of these.
Read this thread: Albert Isola, Finance Minister of Gibraltar, Exposes Himself. Why do his ideas sound so communist?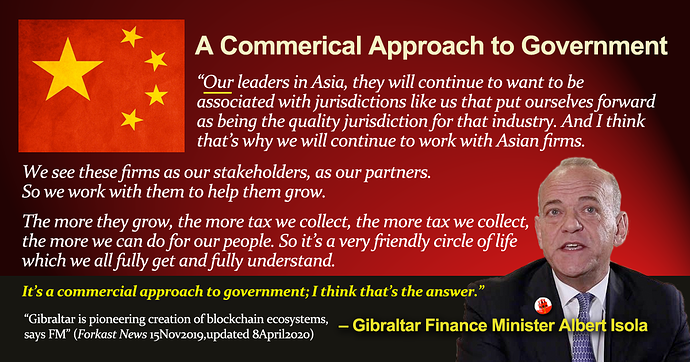 ---
Related:
---
And Roy Clinton recently has asked another brow-raising question, replying to an Aqui Que Pasa, as illustrated by these tweets: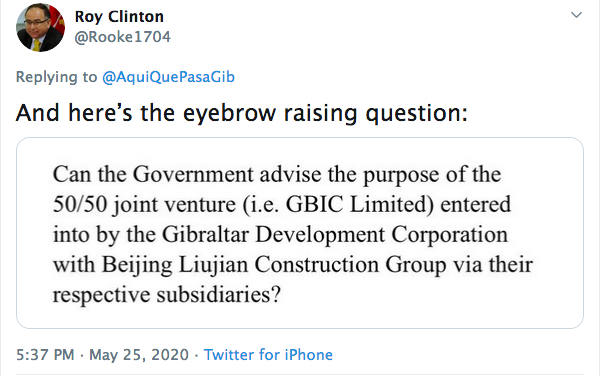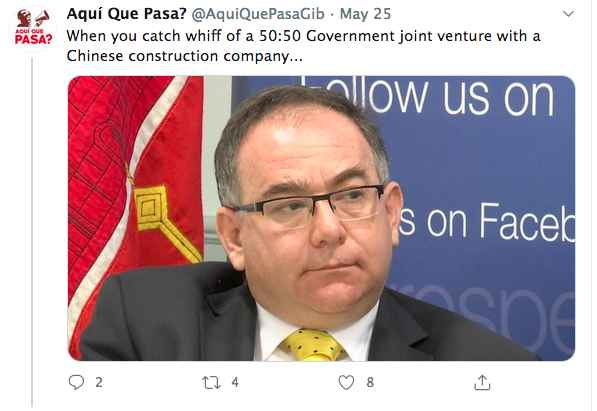 We'd like to know the answer to Roy Clinton's question as well. What was the purpose of the 50:50 joint venture between Gibraltar and China subsidiaries?
Aren't shell/subsidiaries companies used to hide parent companies in many cases?
Isn't it your right to know about any deals that Gibraltar makes with China, especially because many Chinese practices aren't inline with Western culture, especially where human-rights are concerned. Would you give up your Christian values to please the atheist red dragon for the sake of financial gain?
You cannot serve two masters. A Christian nation should not be in debt/servitude to foreign powers whose god is the government (i.e. Chinese Communists Party CCP).
In fact, you were told specifically not to in The Law.
Exodus 23:32 Thou shalt make no covenant with them, nor with their gods.
Exodus 23:33 They shall not dwell in thy land, lest they make thee sin against Me: for if thou serve their gods, it will surely be a snare unto thee.
Time and time again your local politicians are blind leaders leading you to Hell-fire, getting you to stray away from God's Law, by enacting fraudulent/unlawful legislation to directly contravene/break God's Law.
A recent example of the EU questioning China's involvement is "Time for the EU to offer CEE an alternative to China"
Excerpts:
"I think that the politically impotent EU, which is more concerned with internal affairs and less dedicated to geopolitical goals in a changing world, is frightened of China, which through the Belt and Road project is realising not only an economic but also a geopolitical agenda," said Dušan Proroković, research fellow at the Institute of International Politics and Economics of Belgrade
According to the European Union Chamber of Commerce in China, in countries like North Macedonia, Moldova and Armenia, the lack of a strong public debate about the BRI has meant that governments have generally had more leeway when it comes to taking part in China's connectivity agenda.

Maybe it's time to offer Gibraltar an alternative to China.
Also, how much will China play a part in the post-covid crisis?
Decisions European leaders make in coming months will set the course for its post-pandemic future.
China's proliferation of surveillance technology – used for repression at home and increasingly exported – is a direct threat to democratic values.
The UN´s ITU is increasingly targeted by Beijing to influence the make-up of the digital economy. (Gibraltar Regulatory Authority is associated with ITU).