CENSORSHIP - HEARTS OF OAK IN THE WAR ROOM
Israel-Hamas "war" – another excuse to shut down free speech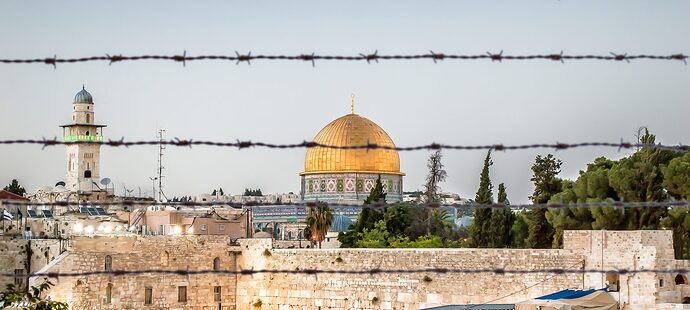 As a brand new war-narrative unfolds, there's already efforts underway to parlay the conflict into tighter controls on free speech and freedom of expression, both in person and on the internet.
Pharma-Funded Fact Checkers Control the Internet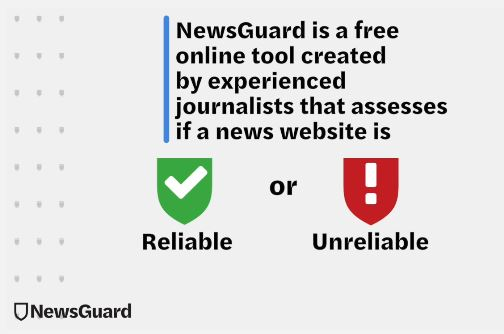 Analysis by Dr Joseph Mercola
Story at-a-glance
• NewsGuard is a for-profit fact checking organization backed by Big Pharma, Big Tech, the teachers union and the U.S. government
• NewsGuard has set itself up as the self-appointed global arbiter of what information is "trustworthy" based on nine "credibility and transparency" factors, for information viewed on private electronic devices, in schools and in public libraries. Its true reason for being, however, is to bankrupt alternative media sites by driving away advertisers
• In late October 2023, Consortium News sued NewsGuard and the U.S. government for defamation and First Amendment violations, arguing the fact checker colluded with U.S. intelligence to suppress foreign policy dissent
• NewsGuard labeled Consortium News as an "anti-U.S." media organization, even though NewsGuard only took issue with six of its more than 20,000 articles and none of its videos
• One of NewsGuard's CEOs, Louis Gordon Crovitz, is a member of the Council on Foreign Relations (CFR), a key player behind The Great Reset. Since its inception, the CFR's goal has been to undermine U.S. sovereignty and national independence in order to usher in an all-powerful one-world government
In the video above, PragerU CEO Marissa Streit takes a look at NewsGuard, a for-profit fact checking organization backed by Big Pharma, Big Tech, the teachers union and the U.S. government.
Article continued at link.
Jew York Governor cracks down on "hate speech" going after everyone except criminal Zionists.
New York's Hunger Games Governor Is Now "Collecting Data" From "Surveillance Efforts" On Social Media To Monitor "Hate Speech"
New York Gov. Kathy Hochul (D) announced threw off some serious Hunger Games vibes Monday, announcing that the state of New York has been 'collecting data' from social media platforms in order to combat "hate speech" following an alleged rise in antisemitic attacks.
MISINFORMATION BILL WILL ENABLE BUREAUCRATS TO POLICE WHAT ALL AUSTRALIANS SAY
The proposed Misinformation Bill will enable faceless bureaucrats to police what all Australians say, and ultimately think. It will be done in collusion with Big Tech, itself a purveyor of misinformation during Covid that indirectly led to the injury and deaths of thousands of Australians. "This crosses a threshold that we cannot cross!" Nick Cater tells Alan Jones.
UNESCO Launches Action Plan To Regulate All Internet Content And Social Media Platforms
https://winepressnews.com/2023/11/19/unesco-launches-action-plan-to-regulate-all-internet-content-and-social-media-platforms/
The United Nations Educational, Scientific and Cultural Organization (UNESCO) – a group that claims to seek equity around the world, and whose sponsored groups work to fulfil the "achievement of the Sustainable Development Goals defined in the 2030 Agenda" – has detailed a new action plan that lays out the blueprint to mitigate content on social media and online as a whole.
The plans were announced on November 6th, which UNESCO boasts "is the result of a consultation process on a scale unprecedented," with contributions from 134 countries and other stakeholders over the course of 18 months in the works. The action plan "outlines the principles which must be respected as well as the concrete measures which must be implemented by all stakeholders: governments, regulatory authorities, civil society and the platforms themselves," UNESCO adds.
Germany says raids underway on homes of Hamas supporters
Germany on Thursday said raids were underway in four regions on the homes of members and supporters of Hamas and another Palestinian organisation which are banned in the country.
"We are carrying out action against radical Islamists. By banning Hamas and Samidoun in Germany, we have sent a clear signal that we will not tolerate any apology or support for Hamas's barbaric terror against Israel," Interior Minister Nancy Faeser said in a statement.
"Islamists and ant-Semites must not feel safe anywhere," she said.
The interior ministry said 15 properties had been raided so far since 6:00 am after courts in four regions ordered the raids.
Germany on November 2 banned Hamas and Samidoun. There are an estimated 450 Hamas members in the country, according to official figures.
The ministry said that while Hamas members had not staged "violent action" in Germany so far, they had tried to raise funds to help the group overseas and "influence the social and political discourse in Germany".
It said Samidoun on the other hand was "prone to use violence … and denies the right of Israel to exist".
Around 240 hostages were taken by Hamas and other Palestinian gunmen during bloody raids into Israel on October 7, which also killed 1,200 people, most of them civilians, according to Israeli authorities.
The attack prompted a blistering Israeli offensive into Hamas-run Gaza, which authorities there say has killed more than 14,000 people, thousands of them children.
POLICE ARREST TOMMY ROBINSON IN LONDON
Arrest video: https://twitter.com/freedomonfire/status/1728772008723542431
Tommy Robinson not welcome at march against antisemitism, say leaders
Organisers of a march against antisemitism billed as Britain's biggest since the second world war have demanded that the far-right leader Stephen Yaxley-Lennon stay away.

ARRESTED FOR SELLING BOOK ON ZIONISM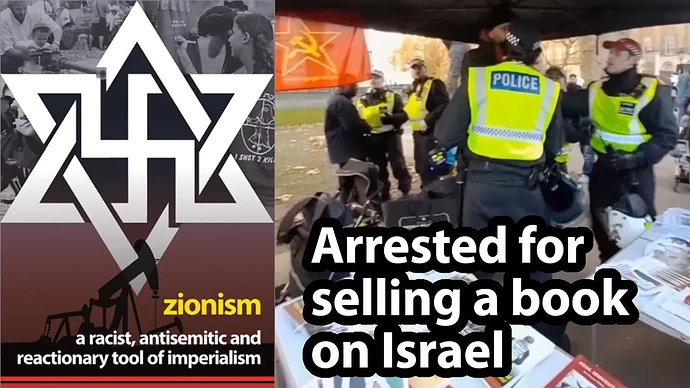 Anti-zionism is not racism! Join our protest today!
Communists arrested for telling the truth about zionism and imperialism. Free speech is dying in Britain today.
Four members of the CPGB-ML were arrested in London yesterday (see video above). They were manning a party stall at a demonstration in support of Palestine and against the genocide in Gaza.