You will not find a single line in the Spanish press about the unusual fact that the bilateral defence agreement between Spain and the US, which places the Spanish bases at Rota and Morón at the disposal of the US, expired last month. However, it was automatically extended for another year, due to the indifference of Washington and Madrid, which preferred the automatic extension to having to sit down and talk about renewing the agreement.
Rota is is the Campo of Gibraltar.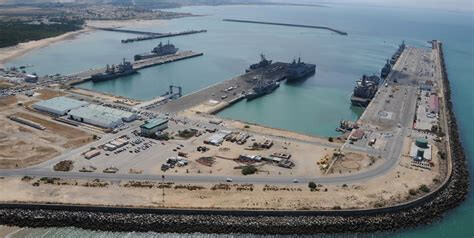 Naval Station Rota Naval Base in Rota, SPAIN
Compared to other military bases in Europe, Naval Station Rota, Spain is way different. If other bases are mostly operated by the US government under the strict regulations of other governments, this one is actually operated by the Spanish Vice Admiral. The connection with the United States of America comes with the money. In other words, the base is fully funded by the USA. The base is located in Rota, a small town close to El Puerto de Santa Maria. The base inhabitants form the largest US community on the Spanish territory. It hosts sailors, Marines, US Army troops and US Air Force experts. Most of the inhabitants are American. The base is fully operational and run by both countries through a mutual agreement. This means it is a co-base – Naval Station Rota Naval Base in Rota, SPAIN | Military Bases
Naval Station Rota is strategically located near the Strait of Gibraltar and at the halfway point between the United States and Southwest Asia. Because of this ideal location, the base is able to provide invaluable support to both US Sixth Fleet units in the Mediterranean and to USAF Air Mobility Command units transiting to Germany and Southwest Asia. The Naval Station is the only base in the Mediterranean capable of supporting Amphibious Readiness Group post-deployment wash-downs. The base also provides Quality of Life support to Morón Air Base, ARG support sites at Palma de Majorca, NATO headquarters in Madrid and the Military Sealift Command's Maritime Prepositioning Squadron 1.
Commander, U.S. Sixth Fleet Visits Five Destroyers in Rota, Spain-
On June 11, Vice Adm. Gene Black visited the USS Arleigh Burke (DDG 51), USS Donald Cook* (DDG 75), USS Porter (DDG 78) and USS Ross (DDG 71) are forward deployed to NAVSTA Rota. USS Paul Ignatius (DDG 117) is operating in the Sixth Fleet area of responsibility (AOR) in support of operations and exercises with partner nations.
*The incident with the USS Donald Cook where a Russian SU-24 tactical fighter-bomber disabled all its defenses and teased and mocked the crew was mentioned in a previous edition of Gibraltar Messenger – Gibraltar's Choices on War Strategies & God's Protection.
---
Morón de la Frontera is in the Province of Seville (not Cadiz), Andalusia
Moron Air Force Base Moron De La Frontera, SPAIN