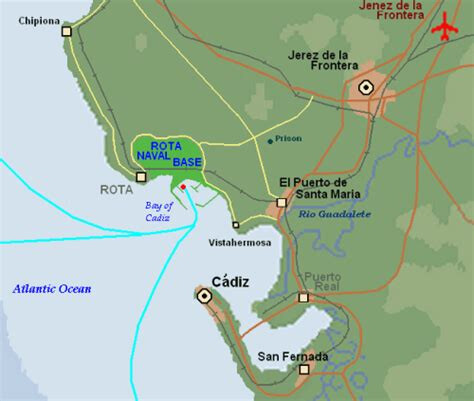 The US and Spanish joined forces to assist refugees arriving in Rota, a first stop for the many Afghans destined to be relocated across US states.
Naval Station Rota coordinated with its allies from the Spanish Navy and Government to serve as a transit location for Afghan evacuees before their onward movement to other locations.
"Operation Allies Refuge" is the U.S. Department of State's mission to facilitate the safe departure and relocation of U.S. citizens, Special Immigration Visa recipients, and vulnerable populations from Afghanistan.
Biden and Spain's Prime Minister Sanchez agreed to use Spain's Rota and Moron military bases to host Afghans. Sanchez "reportedly informed Biden that Spain would continue to work closely with its international allies in the evacuation of the most vulnerable Afghans.
He spoke of the mechanism that the country put into place, in order to be able to act as a hub for the European Union's External Action Service.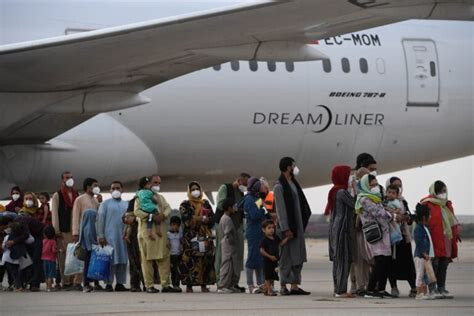 Afghan refugees queue on the tarmac after disembarking from an evacuation flight from Kabul, at the Torrejon de Ardoz air base.
Sánchez turns Spain into the corridor to flee Afghanistan

Spain had been evacuating its nationals and local contractors from Afghanistan via Dubai since the Taleban swept to power, but warned it will have to leave some Afghans behind. Taleban checkpoints and violence were making it difficult for people to reach Kabul airport to catch one of Spain's daily military flights out of Afghanistan.

A week after the Taliban seized power in Kabul, Spain became the main route of entry for evacuees to the European Union and on a strategic basis for the United States.

Spain offered at a meeting of European Foreign representatives to be a Reception Center for Afghans than the EU.

It was then that the machinery was activated and in just a few hours the personnel of the Torrejón air base and members of the Military Emergency Unit deployed a provisional camp in the Madrid base.

The provisional reception camp set up in record time in Torrejón de Ardoz. It had initially received more than 500 people with Executive plans to increase that capacity with the launch of the Morón and Rota bases.

Two more planes arrived in Madrid on Sunday, 22 August. One of them with Afghans who have collaborated with the European Union and the other, chartered by Spain, with 110 people who have helped the national security forces and some Americans in recent years.

As reported by different ministries involved, Afghans who arrive in Spain remain in the provisional camp for the first 72 hours.
Under an agreement signed by Madrid and Washington, the evacuees could stay at the airbases, which are used jointly by the United States and Spain, for up to 15 days.
Spain agreed to host up to 4,000 Afghans who will be airlifted by the United States to airbases in Rota and Moron de la Frontera in southern Spain.
On August 20 two days after Spain launched the European Union hub for the reception of Afghan refugees, a US colonel visited the Torrejón de Ardoz air base to see first-hand what was reported by the media – that in just 24 hours a group of Spanish soldiers had set up a fully conditioned camp for 800 people on the airport runway? – This is how the Afghan camps set up in the US bases in Spain are - Archyde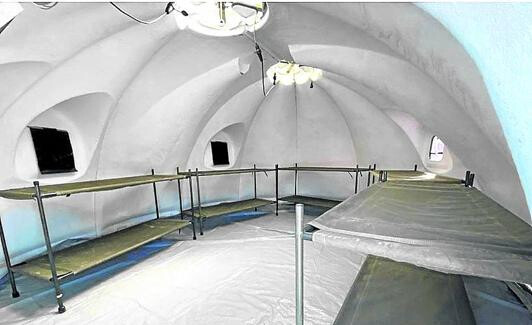 "The air-conditioned 'polyhedral igloos', which are used as modular accommodation for families of six; the multipurpose dining room for 200 people; the potable water and electricity supply network; or recreation areas for children. A "habitable space" set up against the clock by 150 members of the Emergency Support Group (GAEM) of the UME, based in the same base in Torrejón de Ardoz."

At the Cadiz air-naval base, the gym is closed for its 2,800 marines for the duration of the device. The swimming pools, basketball courts or bowling alley are not open either. In addition, 20 tents with capacity for 20 people each have been erected on the baseball field. This material was loaned by the Tercio de Armada Unit, based in San Fernando. The Marines themselves took care of its assembly in one day.

The well-known charity of the Americans was evident in the appeal made by the non-profit organization 'Navy-Marine Corps Relief Society' of Rota. He asked the military population for all kinds of belongings to make life easier for the refugees...The appeal had a direct effect not only on Rota stores, but also on the shelves of two large areas of a well-known sports equipment chain, located in the neighboring cities of Jerez de la Frontera and El Puerto de Santa María.

The Spanish civilian employees of the base have been in charge of equipping the facilities to receive the Afghan collaborators from the United States and their families. They have prepared a large bunkhouse with air conditioning and smoke detectors, which is used as a multifunctional space. And the rooms where expats are staying take up the space typically used by marines in transit.
The arrival of Afghans was processed by US officials, American & Spanish soldiers, Red Cross workers, and base volunteers, the US embassy in Spain. The bases located in the Andalusian towns have already received the first Afghans, who arrived through Torrejón de Ardoz.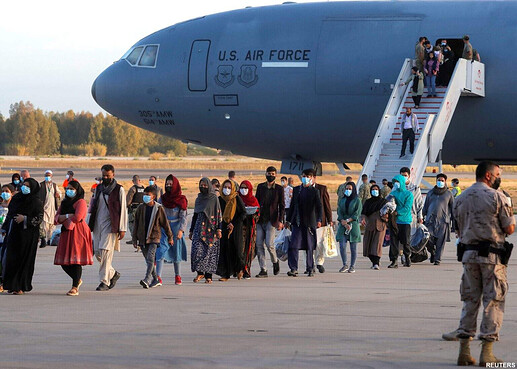 31 August – Last U.S. military plane from Kabul, Afghanistan landed at Spain's Naval Station Rota - Maria Memon
Spain's Rota welcomes over 1,700 Afghan refugees with open arms - La Prensa Latina Media
To house arriving evacuees, Naval Station Rota designated Liberty Field as a temporary lodging area, with Halal dining, religious and recreation areas also available.
The air base turned into a temporary camp and makeshift US consulate, with three military barracks and 53 tents with the capacity to accommodate some 1,500 people.
"Mission accomplished" – Pedro Sánchez
Spain considers the mission in Afghanistan "completed" but will continue to seek ways to evacuate more Afghans. According to provisional data managed by the Executive, Spain has evacuated 2,206 people from Kabul, of which 1,671 are from the Spanish contingent; 333 of the European Union; 131 from the US; 50 from NATO and 21 from Portugal.
Spain to keep extracting Afghan allies in months, years ahead -PM Sanchez - Metro US – Declaring "mission accomplished," Sanchez said Spain had evacuated 2,206 people on 17 flights, most of them Afghans who had worked with Spanish forces and the embassy, European Union institutions and with the U.S. forces. Spain will keep trying to extract Afghans who worked with Western countries in the coming months and years, Prime Minister Pedro Sanchez said on Friday, hours after the last two Spanish rescue planes left Kabul for Dubai.
Spain sent some 27,000 troops to Afghanistan over almost 20 years of involvement in the conflict. A total of 102 of its soldiers died.
"The Spanish Army built hospitals and main roads in the Asian country during those two decades and that 'thanks to these efforts', Spain had helped to 'guarantee a certain level of prosperity' in Afghanistan, said a Spanish soldier.
"Because Afghanistan and Spain are closely linked – we were there for 20 years when Afghanistan asked us for military support," said Sánchez.
Spain's work in the Afghan crisis is being recognized by the international community. This Saturday, the President of the Government, Pedro Sánchez, received the applause of the President of the European Commission, Ursula von der Leyen, and the President of the European Council, Charles Michel, who supported him during his visit to the camp installed in Torrejón de Ardoz.
3 September – Nearly 2,700 Afghan evacuees head for the U.S. – Nearly 2,700 Afghan evacuees leave naval bases in Spain and Italy | Stars and Stripes
About 1,900 evacuees have left Naval Air Station Sigonella in Sicily and another 750 have departed Naval Station Rota in Spain, said Capt. Tamara Lawrence, U.S. Naval Forces Europe-Africa spokeswoman.

Evacuees from NAS Sigonella and NS Rota are flown to Washington Dulles International Airport or Philadelphia International Airport. The U.S. Department of Homeland Security is overseeing resettlement of evacuees, who initially are processed through several U.S. military bases.

The number of evacuees at NAS Sigonella and NS Rota changes several times each day with multiple flights arriving and departing from each base. NAS Sigonella has a maximum capacity of 4,000 persons with NS Rota at 3,000, neither of which have been exceeded.

Four U.S. military bases in Europe have accepted nearly 38,000 Afghan evacuees during the past two weeks with about half already in the U.S.
Meanwhile...
EU vows not to allow Afghanistan to create new migration crisis
Time will tell if that "vow" is true.
Related -
The Spain-US Agreement On The Rota And Morón Bases Was Automatically Extended In May 2021